Known for her mental toughness, can Jennings power through the Lightweight event and earn a podium spot?
Growing up in Athens, West Virginia, athletics were always a part of Hannah Jennings' life. With seven brothers and two sisters, there was always some sort of athletic event taking place whether it be football, basketball, or capture-the-flag. A member of her high school soccer and track teams, Hannah continued to thrive in athletics and sought off-season lifts to stay on top of her game. Once enrolled at West Virginia University, she competed with the equestrian team while focusing on her studies. It was here where Hannah would discover a true passion, a sport she finally could call home. Now, she finds herself competing at the NAS National Championships for her pro card and a top spot on the podium.
After years of playing soccer, Hannah was left dealing with back pain and sought some sort of relief. A friend referred her to a local strength trainer, John "The Viking" Mouser, who also actively competes in Strongman. After working with him for a few months, her back pain began to disappear and Mouser suggested powerlifting as a sport to consider. After a few powerlifting meets, Mouser then suggested she compete in a local Strongman show. Hannah was hooked. From back pain, to an interested competitor, to a determined strongwoman, Hannah not only found a sport she loves, but also a partner. After a few years of training together, she and Mouser began dating and Strongman brought her the love of her life.
Taking her own experience of competing and working to complete her Masters degree, Hannah felt a strong desire to share her way of life with other women to strengthen and empower them as Strongman did for her. Her business is focused on training women to get strong, prepare for competition, but more importantly, understand the importance of and develop a powerful mindset. Taking control of her own life, becoming more assertive, thinking more for herself, and realizing her true potential are all benefits Strongman provided for Hannah and her mission of sharing that with other women should be commended and applauded.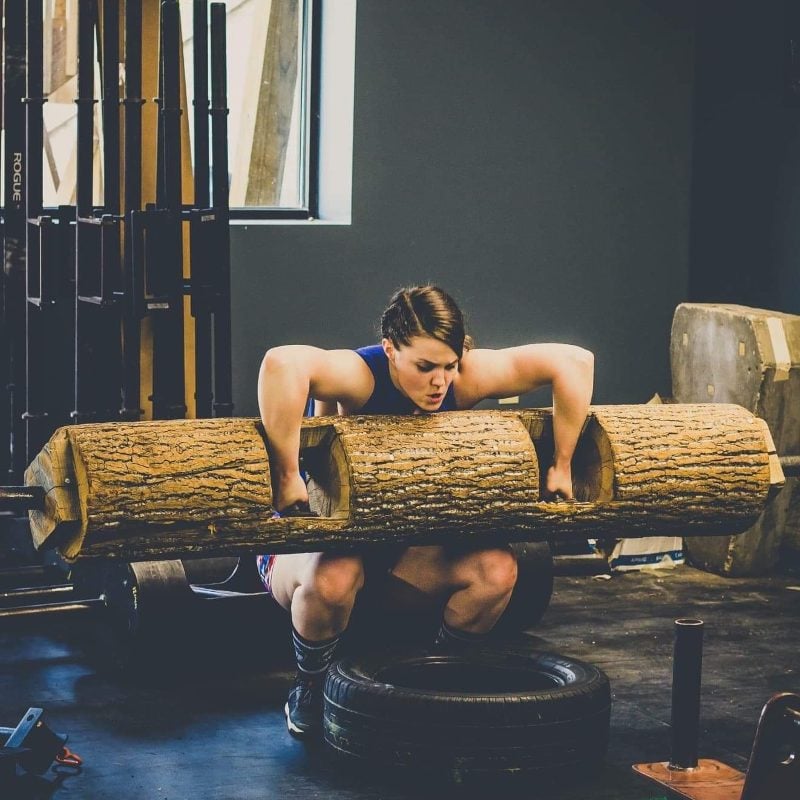 Hannah's Routine
Training
When it comes to training, Hannah views this simply as structuring your plan around heavy sets of squats, presses, and deadlifts. While we all like the fad programs designed to get us cut in 30 days with crazy PR's, strength training just isn't that complicated. Those three big powerlifting lifts are more than enough to get Hannah primed for any competition. Even with Strongman competitions, those events are always included in her training routine.
For Hannah, squats are king and they need to be in her training cycle given their ability to build the most strength. While many people skip out on squats since they are not usually a Strongman event, nothing builds raw, functional strength like deep squats and it is a mistake to not include them.
Her training week is typically set up with a four-day split. It looks like two days in a row of training, one day off, two more days on of training, and the rest used for recovery days. Her cardio consists of 2-3 Ruck runs per week after a training session or on one of her recovery days. If not running, she will work with an acupuncturist or spend a fair amount of time body tempering on her recovery days.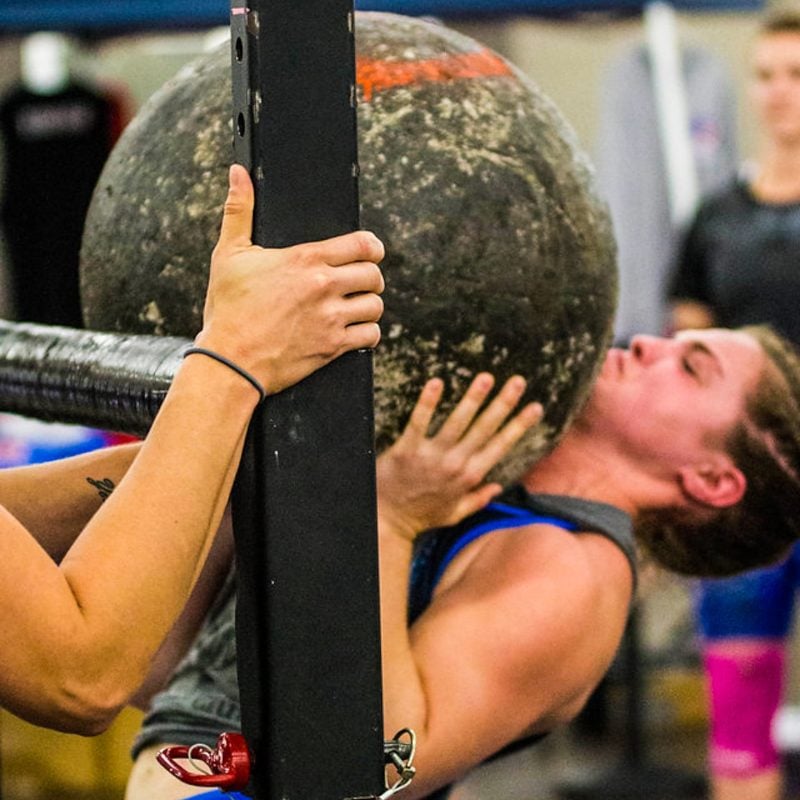 Nutrition
Nutrition can be tricky, especially for those in sports like Strongman which require such a calorie load. Hannah's approach has been similar to so many of us and when it's come to nutrition, she's tried it all. Her conclusion is helpful for those of us struggling to find the proper balance and for her, it's all about your goals and what you aim to accomplish. She eats to perform, but she also enjoys good food and does not deprive herself of what she loves when it isn't necessary to do so. When eating to perform and eating what you love are in perfect union, nutrition becomes a whole lot easier.
Some foods that Hannah needs in her diet are salmon, Brussel sprouts, eggs, and cheese, but after a tough workout, a good local pizza or a Chick-fil-A sandwich will do the trick. To aid in her overall exercise and nutrition plans, she supplements with vitamins D3 and K2, as well as fish oil for all of her omega-3 needs.
NAS National Championships
Moving into this event, Hannah is confident and more than ready to perform. With multiple top ten finishes at Nationals and the Arnold, her mental toughness and physical ability have made this West Virginian strongwoman a force in the Lightweight category. Her strongest events will be the overhead pressing ones and her preparation has come from strengthening all the muscles, joints, and movement patterns involved with such a movement. Since the triceps and lats cannot be overlooked, exercises like pull-ups and rows are perfect to hit these muscle groups, but variety is key to see a huge difference in growth. It isn't enough to be a good log press specialist. You need all the tools to be a good, strong presser.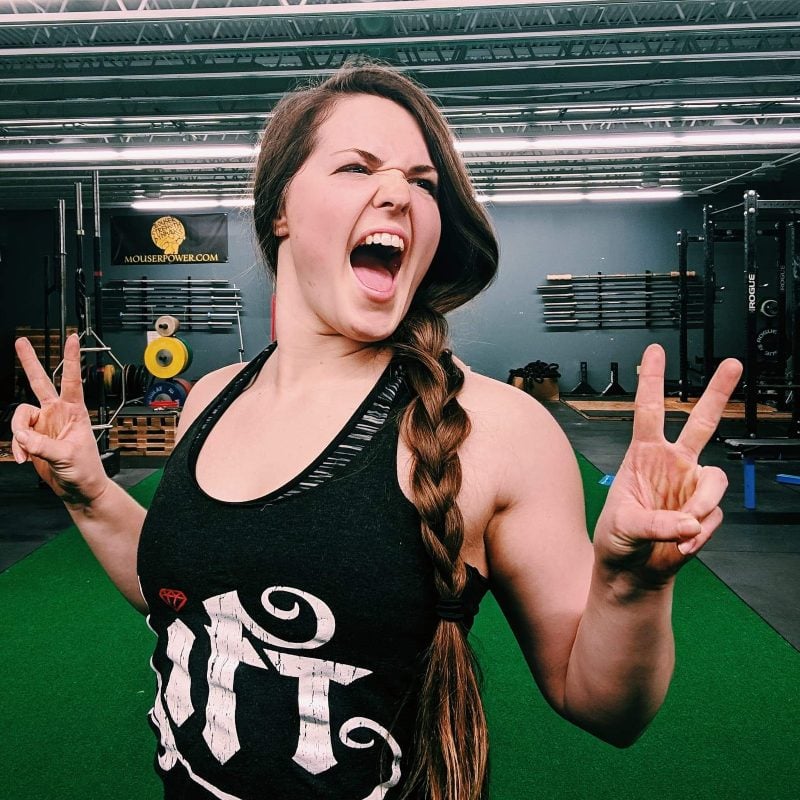 Since Mouser has a unique background in strength training, they use a lot of variations that others may not know or just flat out won't understand. But because of these variations and the differences in difficulty and attention required, Hannah has become a great presser regardless of the object.
The deadlift event tends to give Hannah some trouble and is what she considers to be her most challenging event. Through constant work with squats, which are a great way to improve your deadlift, but also working towards strong hamstrings, glutes, lats, abs, and a bulletproof back, Hannah has made it her goal to crush this event. Box squats are another great exercise to assist with deadlifts. When training for the deadlift, she never maxes out and does her best to avoid forcing those last few reps, or missing them. Her attitude towards this is one of positivity and fostering a winning attitude which will be key in taking down the deadlift.
Hannah's Journey Unfolded
From her days as a soccer player, runner, and equestrian, Hannah never saw Strongman coming. While she was active and enjoyed lifting and staying fit, that chance encounter with "The Viking" Mouser would change the course of her life. Now a confident strongwoman, she seeks to empower those around her so they too can benefit from the lessons of resilience, determination, strength, and love that Hannah has found through Strongman. Earning her pro card and a podium spot is the goal, but for Hannah, this sport means so much more. A community of support and positivity, this Lightweight strongwoman has made it her goal to not only be the best in her field, but also be the best version of herself.
For information on the NAS National Championships including event details, ticket prices, and more, click here!
Let us know what you think in the comments below. Also, be sure to follow Generation Iron on Facebook, Twitter, and Instagram. 
*Images courtesy of Hannah Jennings Instagram