Can this Georgia fireman and strongman move through this event to take the Super Heavyweight title?
Justin Kealhofer spends his days in the firehouse, protecting his community of Newnan, Georgia from whatever emergency may strike. As a go-getter, he owns his own lawn care business, so when not suited up in his gear, you can find him outside and staying active. Always doing something to better himself and the lives of those around him, Justin keeps his plate plenty full. But what those don't see out of this humble and dignified athlete is the passion that lies deep within, the drive to compete and succeed in a sport he loves: Strongman.
From an early age, Justin loved football. Starting in the second grade working to a brief career in college, lifting weights was always a staple for him to stay in shape and keep his performance high on the field. While upper body strength always came naturally, it was in middle school when he started to take lifting seriously. By the end of high school, Justin was putting up nearly 450 pounds on the bench press alone.
But his Strongman journey would be one of chance and in 2015, he would find himself enthralled in a sport that 5 years later would see him competing for the Super Heavyweight title at the NAS National Championships and the opportunity to earn his pro card. A local CrossFit gym held their own annual version of a Strongman competition and while Justin watched a friend compete, he wondered what the amateur world of Strongman looked like. After learning of the potential opportunities, he entered the competition the following year and placed second. For Justin, the rest is history. A new sport and passion blossomed and his natural ability combined with his new found desire to explore this new world led him to start his Strongman journey.
Competing in powerlifting competitions as well, he earned the title of World's Strongest Firefighter after competing in the 2019 SPF/ISPF World Championships where he totaled over 2,100 pounds. Powering through a foot injury, he proved that mind over matter truly is no myth and sticks to that mantra in all facets of each competition.
Justin's Routine
Training
To train for strongman events, Justin focuses on incline exercises and the incline press is the biggest building block for him to increase his overhead press strength. Working with coach Mike Westerling, the 12-week training programs designed are beneficial to make the necessary changes in his training and have proved to be great for his strength gains in both pressing lifts as well as the deadlift. Core strength is important for any athlete, and Justin finds that building such strength works best for him when training through lifts. He won't use a lifting belt on certain exercises and what that does is forces him to rely on proper form with an engaged core in order to avoid injury, but through this, serious gains in core strength are made. So while you won't find him doing crunches or other isolation exercises, this strongman works to activate his core in other ways to provide for a solid foundation and increased strength to keep him stable and avoiding injury.
Although his training week consists mainly of three days, he makes the most out of each day to progress his Strongman career and overall performance. Working one day of upper body and another day of lower body, it is Saturday where Justin finds himself in the gym for 4-5 hours working with fellow strongmen to train for events in a competitive, yet supportive environment. Working in a gym in North Atlanta, Justin focuses on the implements and specifics that strongman requires to keep himself in top shape and building his overall work load and strength with sport specific lifts required to succeed.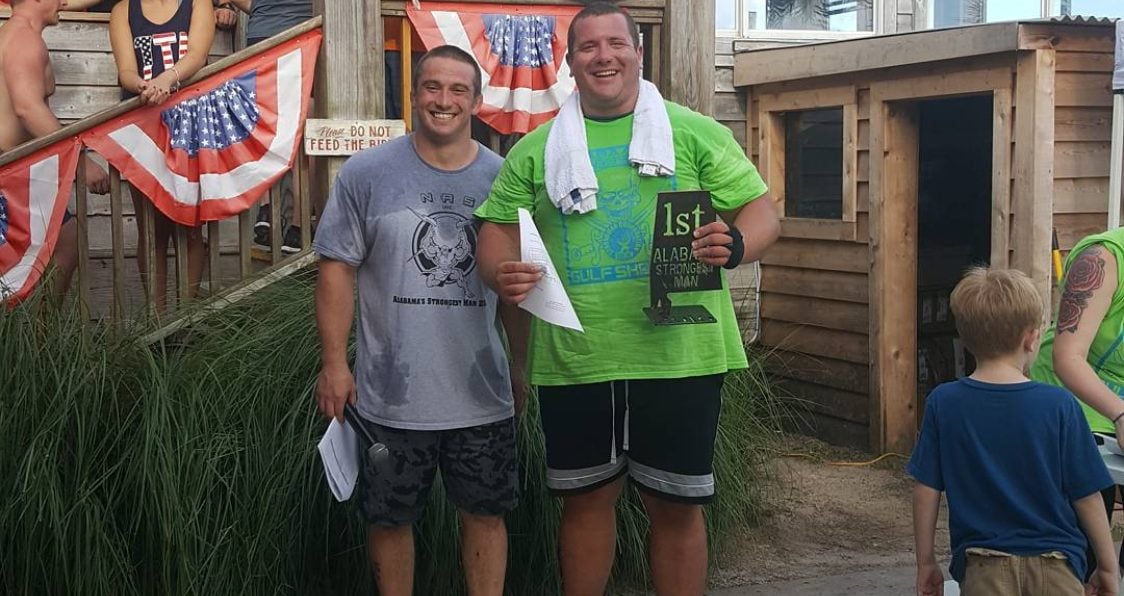 Rehab
Recovery and rehab are key for Justin, for while training is obviously required to build and maintain overall strength, it is that pre- and post- work that keeps him healthy and able to perform. While traditional techniques like foam rolling are essential for him, his weekly visits to the chiropractor and massage therapist provide huge benefits to keep him relaxed and feeling good for whatever for the next day's lift may bring. One interesting tool he uses is rather unconventional but is one he finds to be the most beneficial. While some may not believe it, a car buffer machine is something he keeps at the ready at all times. Battery powered and portable, this machine builds up heat and the flat surface provides for overall coverage, while the edge works to target specific spots of pain. A useful machine to not only wax a car, it has the unusual benefit of loosening up those tight muscles to keep Justin loose and ready for any challenge.
Nutrition
Nutrition is of the highest importance to Justin and when it came time to really nail down a solid nutrition plan, he worked with the highly sought after Nathan Payton for all of the nutritional knowledge needed to put him on the right track. Payton has worked with professional strongmen and athletes and is a source of true knowledge when it comes to eating well for whatever your intended goal is. Working to lose weight, while also increasing strength, Justin found great success with the methods put before him. His diet consists largely of protein shakes, chicken and beef, and white rice every few hours throughout the day. Cheat days were something he found to work well for him and as those "dirty" foods entered his body, his metabolism would kick into overdrive to burn all of that out of his system resulting in beneficial results for weight loss.
When it comes to supplements, Justin uses Orange TRIad from Controlled Labs to aid in joint, digestion, and immune health. He first started taking this for joint support and while the pain he experienced is now gone, this supplement is one he swears by for all the benefits included. On top of this, he also takes fish oil, CoQ10, and vitamin D3.
NAS National Championships
Going into this weekend's event, he feels that his strength is at a high level, but more importantly, his conditioning, which has typically been his Achilles heel, is at an all-time high. An event like the stone carry, which requires a high level of endurance, can be a make or break for strongmen competing at any level and while this may be his most challenging event, Justin feels his versatility and adaptability coupled with his increased training has prepared him well for such an event.
His bread and butter event will be the log press, and after coming off a world record in the block press in January, Justin prides himself on his ability to thrive in any overhead event. Whether it be pressing a log, axle, block, or stone, this lift has come naturally for him and makes him a threat in any overhead event. But regardless of strength, the mental game is the most challenging part of any competition, and rightfully so. Learning to prioritize the nerves comes with experience and although there will be plenty of them, once that first event concludes, the nerves will fade, and pure enjoyment kicks in. He is always dialed in and ready to perform but makes sure to enjoy the weekend and everything his process has laid before him.
Justin's Journey Unfolded
From his first competition back in 2015, Justin has embarked on a journey not even he could have foreseen. His training has not come without its fair share of injuries, but the experiences gained and the connections he has made have been more than memorable for him coming into this event. Earning his pro card will advance him to bigger competitions for the sport he loves and with the opportunity to compete at America's Strongest Man in November on the line, this event holds a lot of promise for Justin in his quest for greatness. While he may be going into this event with the same traditions, the same motions, and the same confidence he's always had, this event holds the key to boosting this world's strongest firefighter to the next level.
For information on the NAS National Championships including event details, ticket prices, and more, click here!
Let us know what you think in the comments below. Also, be sure to follow Generation Iron on Facebook, Twitter, and Instagram. 
*Images courtesy of Justin Kealhofer Instagram