Can this California native make her mark and take home the Middleweight title?
Nadia Stowers was born in West Covina, California and has lived in the Inland Empire all of her life. Spending much of childhood in Fontana, just outside San Bernardino, she spent her formative years of elementary and middle school making friends and enjoying her life as a sprightful youth. Her transition to high school in neighboring Riverside was one of musical intrigue, as she spent all four years in the high school marching band. But athletics were never in the picture. Now, an accomplished strongwomen seeking the Middleweight title at the NAS National Championships, she is out to prove she has what to takes to compete at the next level.
Her journey into Strongman competitions was one of chance, brought on by now good friend and coach, Jacob Finerty. Little did Nadia know that her meeting with this professional strongman would open new doors into a life of athletics she never had imagined.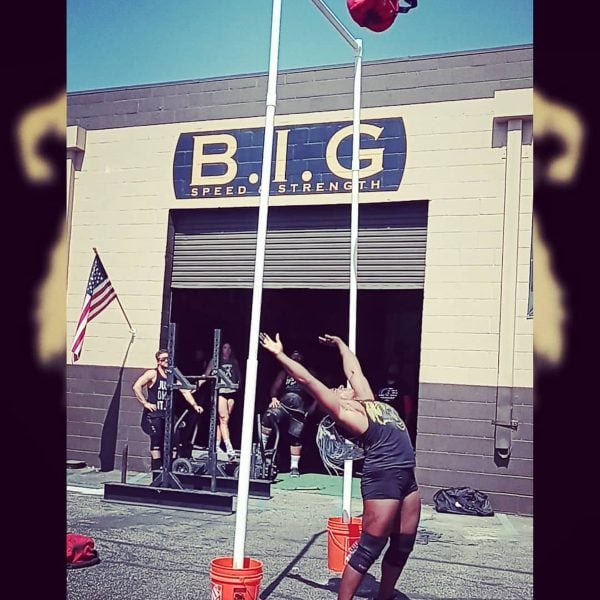 In her first year of lifting, she and some friends from her gym decided to compete in a Spartan run. Once there, Nadia was introduced to fellow racers and competitors, one of whom was Jacob Finerty. Jokingly, Finerty asked Nadia what she was strong for and Nadia was speechless. His simple question hit her harder than she thought and no answer came. She had only just started to lose weight, and had never lifted or played a sport before and her goals were unclear in terms of direction or what to work on. Stuck looking for an answer, she diverted and asked what he did. His answer: Strongman. Finerty invited Nadia to watch him compete and after seeing the grit, the drive, and the competitive nature of it all, she knew then she wanted to compete. She had found the answer that eluded her from earlier. She would become a strongwoman.
Strength has now become a part of her identity and she can never see herself without it. Not only is it her physical appearance, but it is her passion and her spirit. With limitless goals of championships and records, her plans are big and bold but for this humble and driven athlete, absolutely attainable. Her plan is to impact this sport with a bang, make a name for herself as one of the best all while enjoying every single minute of it.
Nadia's Routine
Training
Training for Nadia can be tricky as she doesn't follow any typical guides that you would expect out of a strength athlete. But what she does clearly works and no one person is tied to a set structure when it comes to growing, maintaining, and caring for their body. Working with Finerty, Nadia follows what he has planned for the week and mostly it is split between pressing, leg workouts, back exercises and prehab. While they are often on the same days, the two have worked out a solid system where the program is flexible based on how she feels on any given day or what competition is approaching. If a muscle group isn't fully recovered, she will allow proper rest and focus on something else to still progress her training.
One exercise Nadia cannot go without is the deadlift. A test of pure strength to pull from a dead stop and pure will to power through the finish makes this lift a test of mental grit and determination. As you fight gravity, every part of your body screams at you to drop it, but mind over matter always pulls through. Nadia also finds the moving events like the yoke or farmer's walks to be a fun challenge. For Nadia, finding the right rhythm for breathing and movement is key and once she finds it, there is no stopping this strongwoman. Not only are you deadlifting or squatting, but that extra element of running is added to the mix.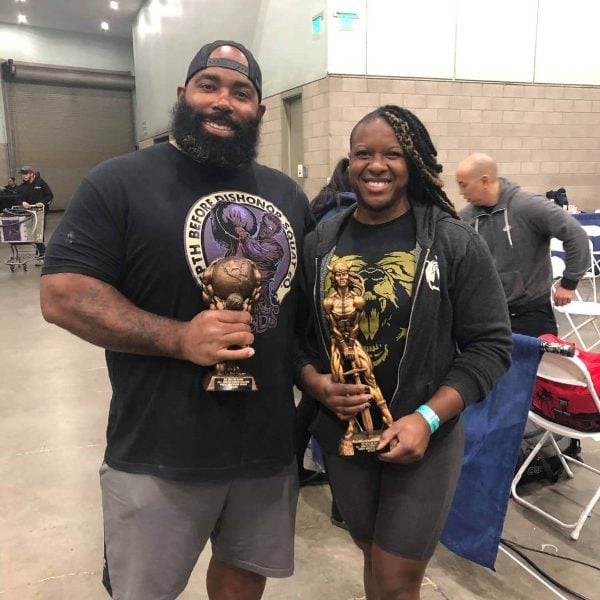 Nutrition
Like her training, Nadia doesn't follow any set guidelines when it comes to nutrition. She doesn't restrict or cut anything from her diet, but is always aware to take in a lot of protein and high carbs with constant hydration. While her approach may not work for some, different things work for different people and she has found what works best for her lifestyle and performance when it comes to nutrition.
As someone who never gets tired of chicken, Nadia always has that on hand. Hearty meals that promote her high carb and high protein diet include various sandwiches, burgers, pizza, and her absolute favorite dish, carne asada fries. Her reputation at her gym is that of someone who loves food, but as an athlete who needs the appropriate intake to fuel and power those grueling workouts, again, what works for her has proven to make her a dynamite strongwomen so don't fix what isn't broken.
Her supplement use is largely centered around recovery and working to provide that post-workout care her body desperately needs after a big lift. While BCAAs are debated on whether they truly work or not, she feels they help her recovery and will use them to reduce inflammation and that achy feeling. Occasionally, Nadia will take CBD as an aid to recover and get proper sleep and protein shakes are sometimes included in her dietary routine depending on the time of day and placement in between meals.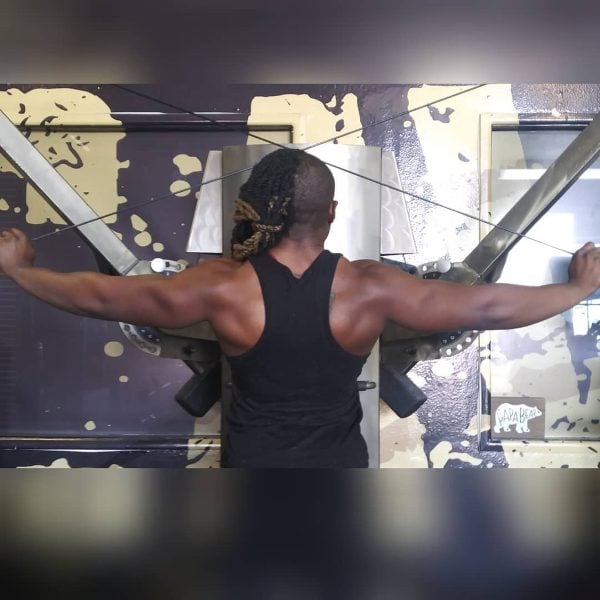 NAS National Championships
Gearing up for this weekend's competition, Nadia is more than ready. Doing a soft run of the events with lighter weights or accessories will get her mind right on how to properly execute for maximum efficiency and touching heavier weights once a week allows her to stay on top of just how to execute with full weights.
She has been training hard for the medley, which is her most challenging event, but has built up a very solid base for conditioning by using work sleds, kettlebell swings, and sandbag runs. The benefit of building an aerobic base is that it allows her to get used to breathing with those heavy, often cumbersome objects sitting on her chest. This event will be a real mental test for Nadia, but her training has proven she absolutely has what it takes to conquer the medley.
Keep an eye out for her in the deadlift and the log press. Her strongest events, she trains by working up to the percentages and accessories that complement each and slowly build the intensity to reach the perfect peak for a max lift. Both of these events will see Nadia as major threat as she seeks to use these to her advantage in the points game.
Nadia's Journey Unfolded
When Nadia first showed up for that Spartan run, little did she know she would be competing for the Middleweight title at the NAS National Championships for the chance to stand tall on the podium in her quest to be a dominant strongwoman. Working with professional strongman Jacob Finerty has given her valuable insight and knowledge into training, nutrition, and what it takes to truly reach the next level. After this event, she is gearing up for Static Monster in San Diego and going into 2021, she will make her powerlifting debut and the Arnold's come March. For now, her sights are on that Middleweight title and the chance to prove just how dominant she is as a fierce competitor and resilient strongwoman.
For information on the NAS National Championships including event details, ticket prices, and more, click here!
Let us know what you think in the comments below. Also, be sure to follow Generation Iron on Facebook, Twitter, and Instagram. 
*Images courtesy of Nadia Stowers Instagram