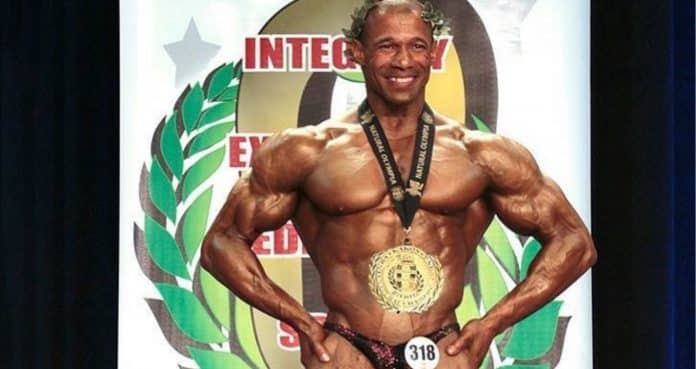 PNBA Natural Olympia champ Philip Ricardo Jr. says extending his competition prep to 20 weeks has improved his physique. 
Some athletes do longer competition preps, and others opt for shorter ones. Of course, both have pros and cons. Professional Natural Bodybuilding Association (PNBA) Natural Olympia champ Philip Ricardo Jr. gave us insight into why he's extended his competition prep this year compared to last year. He stated:
"Although my energy levels are low, my mindset, focus, and confidence is very high. I feel that I am much improved from the physique I had last year at the Mr. America and Natural Olympia as I was able to go back to what has brought me the most success previously, which is a longer preparation to eat away at the body fat and maintain muscle. Last year I rushed my prep, so this year my body has reacted positively to this 20 week preparation for the stage.

I hope to be able to display a much improved physique on August 20th, and September 2nd at the Natural Universe."
Philip Ricardo Jr. has won 4 Natural Olympia titles in the Men's Bodybuilding category, winning his first championship in 2007. Now, he's the reigning Natural Olympia Men's Bodybuilding Grand Master's champion and plans to have a big month to set himself up for the rest of the year. 
Philip Ricardo Jr. is set to compete at the INBA PNBA Pro/Am Nationals in Connecticut on August 20, 2022. Ricardo Jr. hopes this competition prepares him for the INBA PNBA Natural Universe in Tampa, Florida, just two weeks after the show in Connecticut. 
Longer Competition Preps Vs. Shorter Preps
According to Philip Ricardo Jr., a longer competition prep has allowed him to lose more body fat and maintain muscle mass. That's because a shorter competition prep didn't let him lose the body fat he wanted or likely hold onto as much muscle. 
If you lose body fat too quickly, you often lose muscle mass too. The slower you lose body fat, the more muscle you'll preserve and the easier it will be. If you try to lose body fat too fast, you could put your body in a catabolic state, eating away muscle tissue. That's because you'll have to cut your calories more to lose weight faster, making it hard to hold onto muscle. Of course, your diet will be more rigorous too.
Your muscles need enough calories to function and grow. Calories are also crucial for you to have the energy required to lift the weight and volume essential to building or maintaining muscle mass. Therefore, a longer prep can allow bodybuilders a smaller caloric deficit and give them the flexibility to lose weight and body fat at a slower rate, allowing them to hold on to more muscle. And even if the athlete chooses to do a more extreme cut, regardless of starting their contest prep sooner, they'll have more time to lose body fat. 
On the contrary, a shorter competition prep will allow lifters a longer time in a bulking or maintenance phase. And give them more freedom with their diet for extended periods, meaning more calories and delicious foods if they indulge in occasional cheat meals. 
Follow us on Instagram, Facebook, and Twitter for the latest updates on PNBA athletes!