Everything you need to know about the Carnivor Shred protein and fat burner supplement
Product Overview
Consuming enough protein each day is essential to building quality muscle mass. That being said, a protein supplement makes hitting your protein intake easier since it can be tough to get enough protein from food alone. On top of that, a good fat burner will help you shed the unwanted body fat to better show off that hard earned muscle. However, choosing the right fat-burning and muscle-building supplement can be confusing with the numerous products; plus, it's usually one or the other–a protein supplement or a fat-burner. Yet, Carnivor Shred is a supplement that gives you two in one–a fat burner and protein. 
Many people's fitness goals include gaining muscle and losing body fat. And unlike a standalone protein or fat-burning product, Carnivore Shred helps you build muscle and burn fat. Of course, eating enough protein is imperative for muscle growth (1). However, many protein food sources, such as steak, are high in fat and cholesterol. Moreover, consuming the right ingredients is essential to losing body fat. 
Carnivor Shred Overview
30% OFF
CARNIVOR SHRED helps activate brown adipose tissue (BAT) and boosts your metabolism to get you ripped. Reduce hunger, boost your energy levels, and build lean muscle tissue with this one of a kind product.
Carnivor Shred from MuscleMeds is a supplement that gives you optimal amounts of protein needed to build muscle and contains the potent agents to stimulate fat loss. MuscleMeds focuses on producing the highest quality supplements to improve your peak performance, using quality ingredients and premium protein that's easy to digest. In addition, it's lactose, sugar, and fat-free. 
Main Takeaways
Carnivor Shred builds muscle and burns fat simultaneously. 

Carnivor Shred doesn't contain lactose, sugar, gluten, or fat. 

This supplement has a potent blend of beef protein isolate and creatine to supercharge muscle mass. And 6-paradol, green tea, yerba mate, and green coffee bean to burn fat. 
Carnivor Shred Beef Protein Isolate and Fat Burner Highlights
Carnivor Shred contains beef protein isolate and creatine for building muscle. And it has 6-paradol, green tea, yerba mate, and green coffee bean to shred body fat. This powerful blend aids in brown adipose tissue (BAT) activation and speeds up your metabolism to get you ripped. 
Although steak is an excellent source of protein, Carnivor Shred delivers 350% more protein than steak and whey protein and 20x more creatine than steak, and it's fat-free and cholesterol-free–which steak is high in. In fact, according to MuscleMeds, clinical research performed on male athletes has shown Carnivor Shred to increase athlete's muscle mass by an average of 7.7 lbs and increase their lean body mass by 6.4% in just eight weeks–the placebo group only gained 0.7 lbs of lean body mass. Moreover, the athletes consuming this supplement increased their total combined bench press and deadlift one rep max by 147.7 lbs, compared to an 82.6 lbs increase in the placebo group.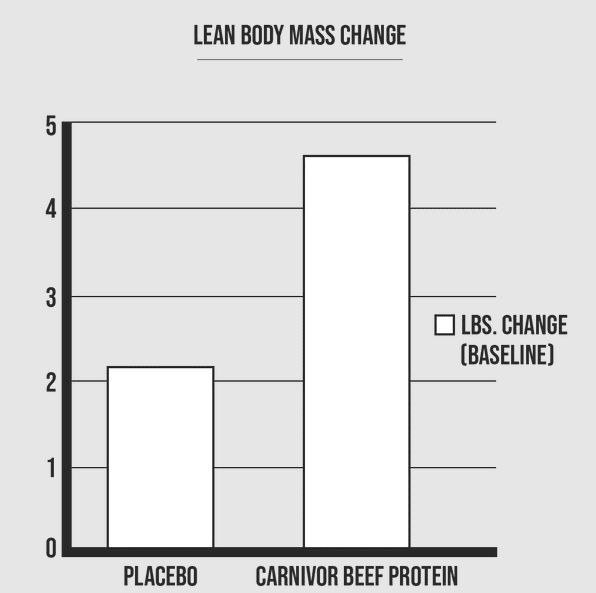 Carnivor Shred travels through your digestive system much smoother than protein food sources like beef since it contains zero fat, sugar, and lactose. And it's been shown to help you burn an additional 100 calories with its clinical dose of Grains of Paradise (ginger-related plant). Furthermore, its caffeine additive and other thermogenic properties increase your energy and help you lose weight. 
Ingredients to Build Muscle and Burn Fat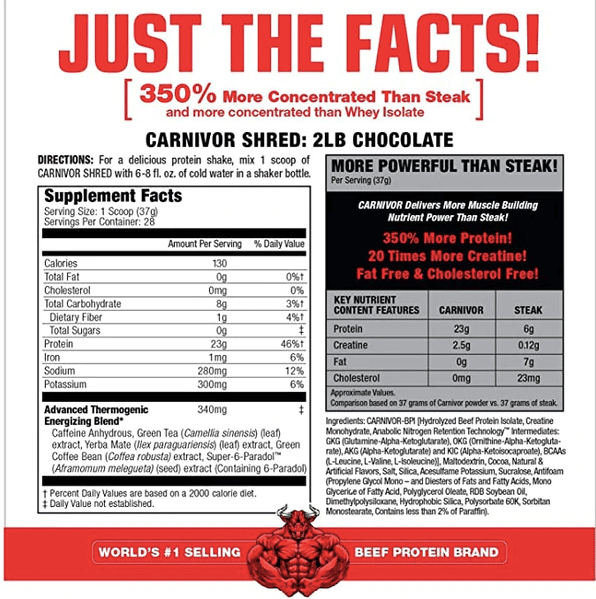 Beef Protein:

Beef protein is a high protein source and provides other beneficial properties, such as beta-alanine, which can reduce fatigue and improve athletic performance. 

6-Paradol:

This ingredient is found in Glunean pepper and ginger and aids with fat loss. 

Green Tea:

Green tea has caffeine to boost workout performance and can boost your metabolic rate to increase fat burning (

2

). 

Yerba Mate:

Yerba mate is a South American drink that can increase your body's ability to use fat as fuel during exercise to boost physical performance and weight loss. It can also blunt your appetite and boost your metabolism. 

Green Coffee:

Green coffee beans are raw, unroasted coffee beans that can help reduce your body weight. 

Creatine:

Numerous studies back creatine for its effectiveness in increasing lean body mass (

3

).
Other Ingredients
This product also contains iron, sodium, and potassium. 
| | |
| --- | --- |
| Number Of Servings | 28 |
| Serving Size | 1 Scoop |
| Stim Or Non-Stim | Stim |
| Best Way To Take | Mix 1 scoop with 6-8 fl. oz. of cold water in a shaker bottle.  |
Effectiveness, Flavors, Price of Carnivor Shred
Since Carnivor Shred is effective at building muscle and burning fat, you won't need to buy a separate protein shake or fat burner. Plus, 28 servings should last about a month if you take one serving daily. 
Pros
It boosts energy and metabolism. 

This supplement is a fat burner and muscle-building product. 

It blunts your appetite. 

You get all the benefits steak provides without the fat and cholesterol. 
Cons
It contains caffeine, so it may cause jitters for people who are caffeine sensitive. 

Some protein supplements have more protein. 

Creatine monohydrate supplements have more creatine per serving. 
Flavors
Whether you have a sweet tooth for chocolate or prefer vanilla, Carnivor Shred has a flavor you'll enjoy. It's five different flavors–New! Rock Pop, Chocolate Peanut Butter, Chocolate, Vanilla Carmel, and Cookies & Cream–will taste mouth-watering when mixed in water. 
*Pro Tip: Use unsweetened almond milk (low in calories and fat) to enhance the flavor. 
Who Should Buy Carnivor?
Who Should Buy: This is the product for people looking to build muscle and burn fat simultaneously. 
Who Shouldn't Buy: If your sole focus is building muscle, you'll be better off with a product that contains more creatine and protein. And without the fat-burning properties of this supplement. 
How Carnivor Shred Protein and Fat Burner Can Help You Build Muscle and Lose Weight
With the unique blend of protein-infused ingredients containing properties of steak without the cholesterol and fat, Carnivor Shred protein is an excellent source of protein. It has 23g per serving, which is about how much whey protein has per serving. However, getting protein from food alone can be a challenge, and many, like pork and beef, are high in protein but also high in fat and cholesterol, making burning fat a challenge. 
Furthermore, this supplement has creatine, amino acids, and BCAAs, which are effective for building lean muscle mass. Moreover, Carnivor Shred contains quality ingredients to help you burn fat, such as 6-paradol, green tea, yerba mate, and green coffee. And with the Grains of Paradise dosage, you'll already burn an additional 100 calories. 
How to Best Use Carnivor Shred
MuscleMeds recommends mixing Carnivor Shred in 6-8 fl. oz. of cold water in a shaker bottle. It's best to consume this supplement after working out since consuming protein after a workout will help with protein synthesis (4). 
Overall Value
Considering Carnivor Shred is a great two-in-one–protein supplement and fat burner–it will save you money if you're looking for a quality protein supplement and fat-burner. The amount of protein in this shake is close to the amount most whey protein powders give you. And it gives you the benefits of consuming steak will, without the extra fat and cholesterol. In addition, you're reaping the benefits of all the fat-burning ingredients Carnivor Shred contains, such as green tea and yerba mate. When you include our exclusive Generation Iron discount, for $39.89 and 28 servings that should last you a month, it's an excellent product for improving your physique.  
---
Generation Iron may receive commissions on purchases made through our links. See our disclosure page for more information.
Follow us on Instagram, Facebook, and Twitter, and let us know what you think of the supplement in the comments section on social media. 
References
Stokes, T., Hector, A. J., Morton, R. W., McGlory, C., & Phillips, S. M. (2018). Recent Perspectives Regarding the Role of Dietary Protein for the Promotion of Muscle Hypertrophy with Resistance Exercise Training.

Nutrients

,

10

(2), 180.

https://doi.org/10.3390/nu10020180

Mousavi, A., Vafa, M., Neyestani, T., Khamseh, M., & Hoseini, F. (2013). The effects of green tea consumption on metabolic and anthropometric indices in patients with Type 2 diabetes.

Journal of research in medical sciences : the official journal of Isfahan University of Medical Sciences

,

18

(12), 1080–1086.

Wang, C. C., Fang, C. C., Lee, Y. H., Yang, M. T., & Chan, K. H. (2018). Effects of 4-Week Creatine Supplementation Combined with Complex Training on Muscle Damage and Sport Performance.

Nutrients

,

10

(11), 1640.

https://doi.org/10.3390/nu10111640
Weinert D. J. (2009). Nutrition and muscle protein synthesis: a descriptive review. The Journal of the Canadian Chiropractic Association, 53(3), 186–193.