Italian PNBA Pro Classic Physique competitor Luigi Musella details his preparation for the 2022 Natural Olympia. 
The world's most significant natural bodybuilding competition is a couple of weeks away, Natural Olympia taking place November 10-13, 2022, in Las Vegas, Nevada. Italian Professional Natural Bodybuilding Association (PNBA) athlete Luigi Musella gave us insight into his natural bodybuilding background and his training and diet for the 2022 Natural Olympia. Musella stated:
"I plan to arrive at Natural Olympia similar to the previous ones but with some small variations. I have always aimed for a muscular but harmonious, aesthetic body. Therefore at the base of every preparation, I always try to improve symmetries and volumes.

My training is five times a week, training upper three times and two times lower by varying the exercises, intensity, volume, and density. 

The diet is quite balanced, I cycle carbohydrates in the high, medium, and low method. and I prefer carbohydrates such as rice, spelled, pearl barley, wholemeal pasta, and oats, but there is no shortage of potatoes. and also gnocchi, a typical dish in my area made with 0 flour and potatoes."
Musella says he followed a Mediterranean diet for his Natural Olympia training and diet in the off-season. Although, he admits that he still eats his favorite foods, including pizza, which he eats twice a week. 
Natural Bodybuilding Background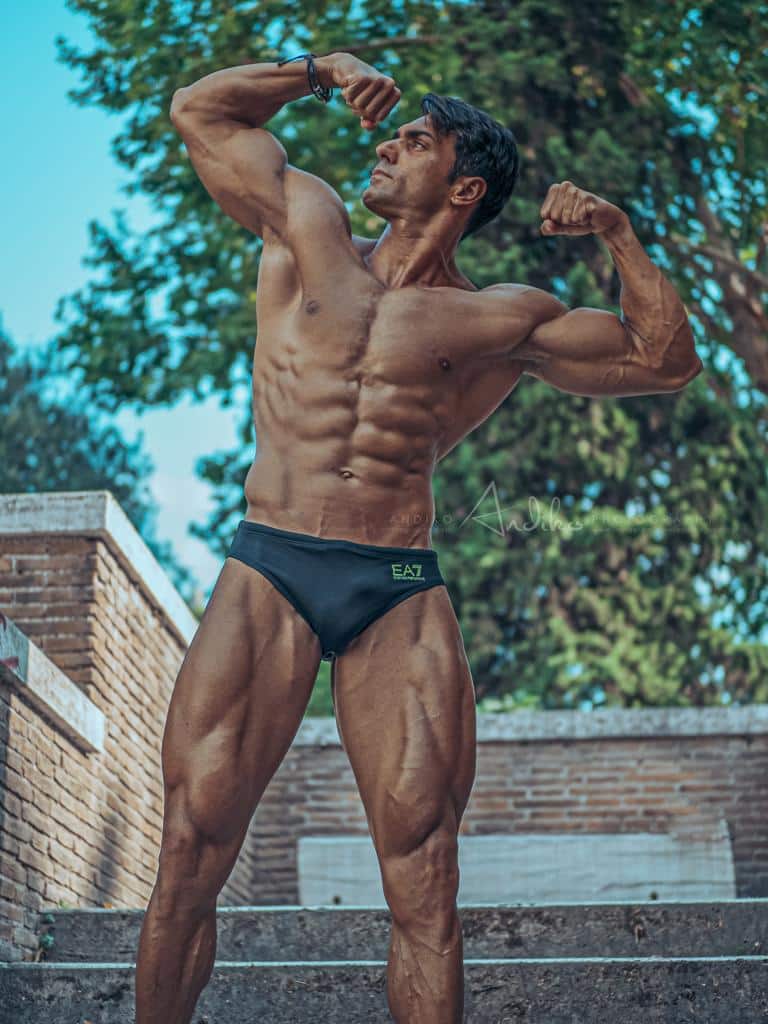 Luigi Musella was born in Naples, Italy, on August 9th, 1983. Musella grew up in a challenging environment, but despite that, his parents always made sports a priority for Musella. Therefore, Musella always prioritized physical fitness to prepare for the various sports he played. He did martial arts, swimming, football, and modeling. 
Musella started studying fitness and nutrition and became a personal trainer. From there, Musella started competing in natural bodybuilding. He wanted to set an example for people and show you could build a fantastic physique without doping. Musella stated:
"Believing a lot in the principles of Natural bodybuilding, I decided to compete and get involved. I wanted to be a positive example and show many guys who started this discipline that to have a great body and get important results; you could also do it healthily and without doping."
Musella has competed in several natural bodybuilding organizations: WBFF, the NBFI, and the PNBA. And he's won multiple championships across all leagues, including the PNBA Classic Physique division at the 2021 World Championships in Romania, followed by defending his title at the 2022 World Championships in his home country, Italy. 
Luigi Musella's 2022 Natural Olympia Expectation
Now, Musella looks ahead to the 2022 Natural Olympia. But, first, Musella expressed his excitement for the upcoming Natural Olympia and said:
"From this American experience, I expect to grow and improve further. I will meet the strongest natural athletes on the planet. and we will all be there to win. and stand on the Olympia of Natural bodybuilding.

 I will try to improve the condition. and the posing further and represent the prototype of a classic physique, natural at best.

always believe in your dreams…these are the ones that never leave us …

 Good life to everyone."
Follow us on Instagram, Facebook, and Twitter for more highlights of 2022 Natural Olympia competitors!