This supplement will power your performance while aiding in muscle growth and enhancing recovery.
Product Overview
When looking to find a solid intra-workout product, it can be challenging to really dig deep and find a high-quality supplement. While many pre-workout and post-workout products are touted as essential, those mid-workout supplements often take a back seat. But the benefits of an intra-workout supplement are too great to ignore and can seriously enhance your gains while elevating training and performance to the next level. NutraBio Intra Blast is one such supplement to tackle all of your mid-workout needs to keep you working harder for longer while aiding in that much needed recovery.
Branched-chain amino acids (BCAAs), along with essential amino acids (EAAs), have been debated by many as both necessary and not needed in the sports industry. But what these amino aids do is important to understand before making a decision about whether or not to buy an intra-workout product. In short, 20 amino acids make up protein, which is the building block of muscle. Of those 20, nine are considered essential amino acids, and of those nine, three are branched-chain amino acids.
BCAAs work to stimulate protein synthesis while also aiding in recovery and decreasing muscle soreness. EAAs come into play as amino acids which actually build the muscle tissue so those gains you desire most come to fruition. Intra Blast's EAA/BCAA complex is packed with everything you need for this growth to occur, and along with other high-quality ingredients, your all-in-one supplement has finally arrived.
NutraBio is a high-quality sports supplement company creating top tier products for athletes everywhere. Their mission is clear: maximize the health and wellness of all consumers by bringing advanced nutrition products with science-backed research to enhance training and performance while aiding in an overall better quality of life. They are a standout in the industry for clean and effective products with no artificial fillers or excipients and stand by their goal of being honest and transparent with their labels.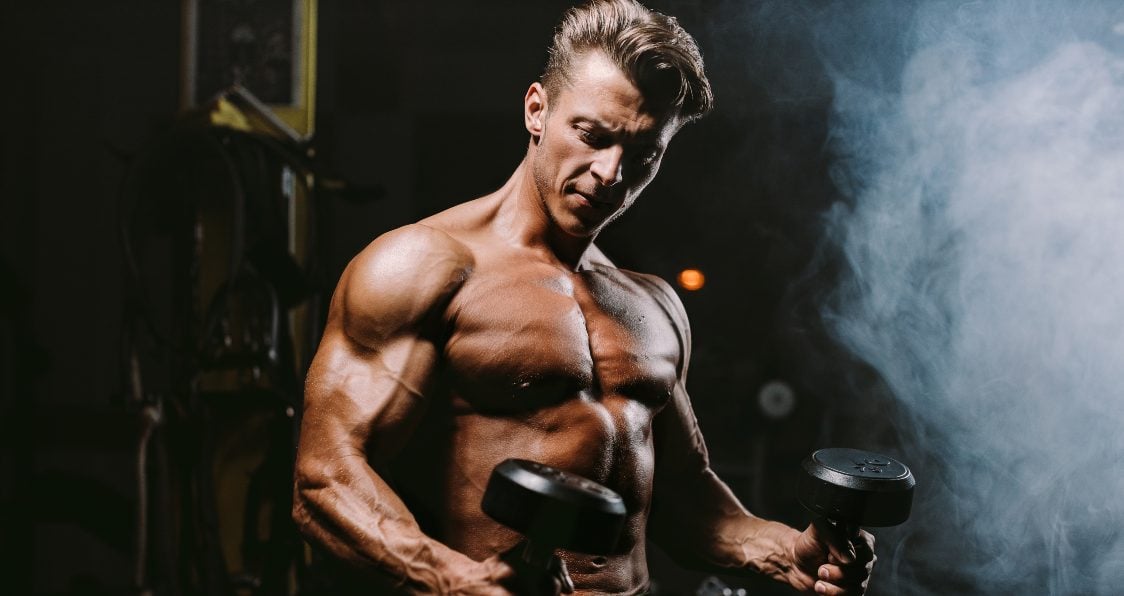 NutraBio Intra Blast Highlights
NutraBio Intra Blast is a powerful intra-workout supplement to bring your training and performance to the next level. This advanced formula works to fuel performance, blunt fatigue, and accelerate recovery during your workout to give you that much-needed edge. Working to stimulate muscle protein synthesis and decrease muscle soreness as well, this will fuel performance like no other.

Packed with 16 research-backed ingredients and a complete EAA profile, this will promote that muscle growth and decrease soreness from even the most intense training sessions. The 2:1:1 ratio of BCAAs will maximize absorption and other ingredients like betaine anhydrous and L-ornithine alpha-ketoglutarate will improve exercise performance ten-fold. An electrolyte and hydration optimizer helps maintain water balance in the muscles. Zero fillers or additives only adds to this 100% transparent label and overall effectiveness.
Ingredients
Muscle Growth EAA/BCAA (10g)
BCAAs (Leucine, Isoleucine, Valine): This perfect ratio of these three amino acids can stimulate protein synthesis while aiding in recovery and decreasing muscle soreness. By preventing muscle breakdown, it will keep your gains intact (1).
EAAs (Lysine, Threonine, Histidine, Phenylalanine, Methionine, Tryptophan): These essential amino acids will work in tandem with the above BCAAs to maximize muscle growth so you capitalize on all that hard work. Helping with muscle growth, tissue repair, and regulating energy levels will keep you on top of your game (2).
Strength & Performance Matrix (8g)
Glutamine: Reduce oxidative stress and eliminate free radicals from harming your body. Can lower cell damage while boosting brain health and making protein for muscle tissues (3).
Betaine Anhydrous: Improve athletic performance, strengthen muscle power and reduce fatigue while also aiding in changing body composition.
Others: OKG (L-ornithine alpha-ketoglutarate)
Electrolyte & Hydration Optimizer (2.8g)
Taurine: Supports metabolism as well as protects the health of both your eyes and heart. Protects muscles to ensure proper function and less damage (4).
Sodium Phosphate: A combination of sodium and phosphate, it works as an emulsifying agent and can balance pH levels to stabilize levels of acidity and alkalinity.
Others: Calcium potassium phosphate citrate, Di-magnesium malate
Other Ingredients: Citric acid, natural and artificial flavor, malic acid, sucralose, acesulfame potassium, beet powder, beta carotene.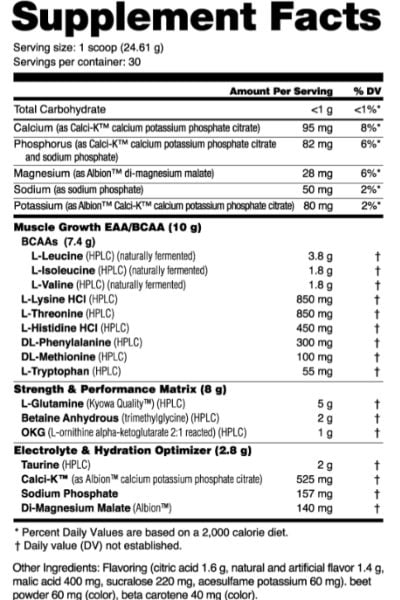 Price, Flavors & Effectiveness
NutraBio Intra Blast is a hard-hitting intra-workout supplement to tackle all of your training and performance needs. With 30 servings per container, one scoop serving size will pump you will all of these great ingredients.
Eight great flavors include:
Grape Berry Crush
Tropical Fruit Punch
Orange Mango
Passion Fruit
Sweet Tea
Dragon Fruit Candy
Strawberry Lemon Bomb
New York Punch
Pros: Clinical doses of 16 research-backed ingredients and a complete EAA profile offer effective benefits. Great flavors at a great price. From a trusted and reputable company in NutraBio.
Cons: Does contain sucralose and acesulfame potassium.
Price: $39.99/ 30 servings
Featured Athlete
Brandon Smitley is a strength coach and personal trainer who has competed in multiple disciplines such as wrestling, bodybuilding, powerlifting, and Olympic lifting. As a serious athlete who knows the dedication needed to thrive inside and out of the gym, Smitley works with NutraBio as a team member to promote these high-quality products while also fueling his own training and performance to stay on top of his game. As a lifter who holds the all-time world record raw squat, a supplement like Intra Blast is just one of many NutraBio products that push Smitley to be the best every single day.
Wrap Up
NutraBio Intra Blast is one of those intra-workout supplements that sits high above the rest for its hard-hitting formula and amazing ingredients. Complete profiles and serious effectiveness are matched with great flavors and a 100% transparent label. NutraBio works to bring only the best to the table to enhance all the needs of consumers while promoting better lifts and an overall better quality of life. What you are really getting is a high-quality intra-workout supplement that is effective, great tasting, and honest from a company who prides themselves on creating only the best products. Try Intra Blast today and see what this supplement can do for you and your fitness goals.
Try NutraBio Intra Blast Today
Generation Iron may receive commissions on purchases made through our links. See our disclosure page for more information.
Let us know what you think in the comments below. Also, be sure to follow Generation Iron on Facebook, Twitter, and Instagram. 
*Images courtesy of NutraBio and Envato
References