This intra carb supplement will boost those gains so you train every day like its leg day.
Product Overview
We know exactly what to take on either end of our workouts. A solid pre-workout can pump us with energy and power to fuel any workout that comes our way and a proper protein supplement can enhance any gains by boosting growth and recovery post-workout. But what about that island that is our workout? Knowing what to take during your workout is just as important as what you take on either end. At the end of the day, its during the workout that sparks those gains we want most. NutraBio Leg Day is an awesome intra workout supplement for serious athletes who want the most out of their workouts.
What a solid intra-workout supplement will do is work to improve performance, boost stamina, delay fatigue, and make sure those muscle are hydrated so they lift serious weight. Our ability to push through fatigue and train longer may come from a winning mindset but having some assistance when it comes to our physical capabilities is something we can't argue against. Typically packed with EAAs and BCAAs, our chances at growth just increased ten-fold and our ability to recover did so as well. NutraBio has created this intra-carb workout supplement to carry you through any workout so you come out on top.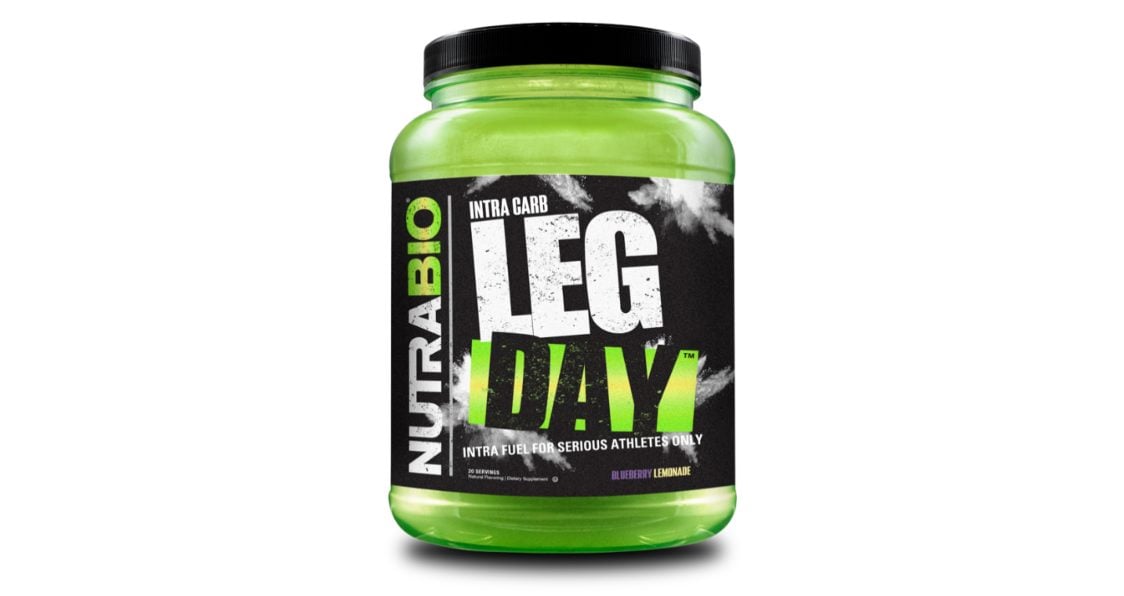 NutraBio is a high-quality sports supplement company creating top tier products for athletes everywhere. Their mission is clear: maximize the health and wellness of all consumers by bringing advanced nutrition products with science-backed research to enhance training and performance while aiding in an overall better quality of life. They are a standout in the industry for clean and effective products with no artificial fillers or excipients and stand by their goal of being honest and transparent with their labels.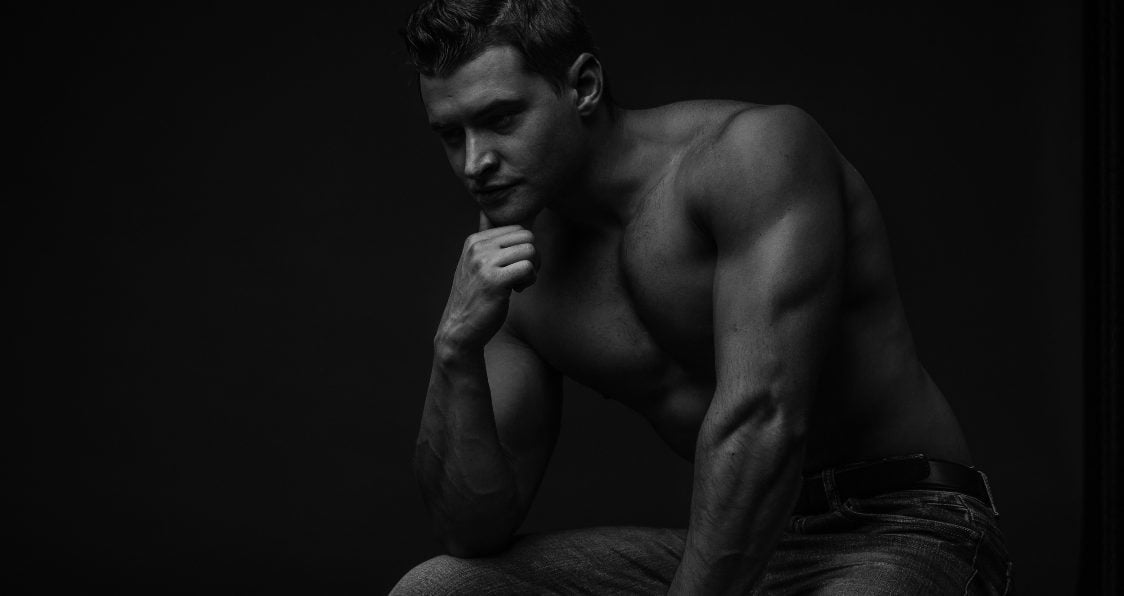 NutraBio Leg Day Highlights
NutraBio Leg Day is a powerhouse product packed with amazing ingredients to take you through even the most grueling of workouts. This intra-carb is packed with a healthy amount of carbohydrates to offer fuel for those dynamite workouts as the other ingredients, consisting of a Dual Carbohydrate Energy Blend, a Leg Day Performance Matrix, Intra Blast Aminos, Electrolyte & Hydration Optimizer, and a Nutrient Absorption Enhancer, work to cover all other areas to ensure this supplement works efficiently as possible for your gains and your gains only.
With just 120 calories, Leg Day contains 32 grams of carbs and only 5 grams of sugar while working with some quality amounts in terms of other ingredients. Packed with 7.6 grams of EAAs and 5 grams of BCAAs, this rivals many other intra-workouts that are purely focused around an EAA/BCAA blend. What Leg Day does is it takes the traditional intra-workout idea and brings an innovative and worthwhile product to the table in order to improve the lives of serious athletes. Designed for energy, stamina, strength, hydration, and focus, this supplement is an awesome intra-workout product for serious fuel.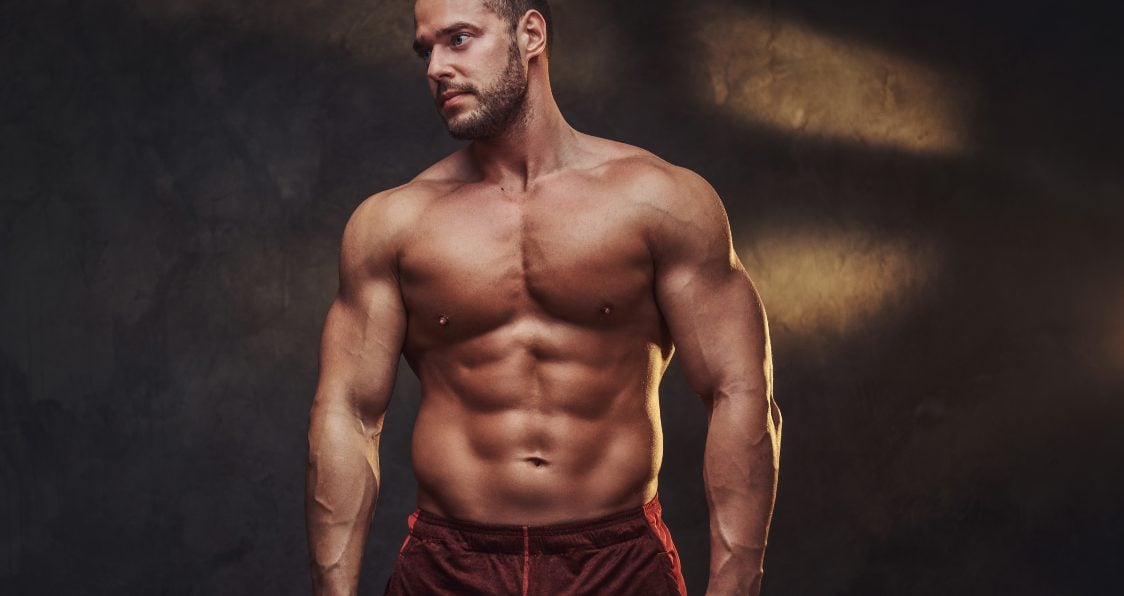 Ingredients
Dual Carbohydrate Energy Blend
ClusterDextrin (highly branched cyclic dextrin): A premium-grade high performance carbohydrate that has a high molecular weight and ultra-low osmolality allowing for more efficient transportation to muscle cells. It may improve time to exhaustion and reduce stress hormone response (1).
Bioenergy Ribose (D-Ribose): A novel 5-carbon carbohydrate that regulates the body's natural energy production. Can help improve performance, boost stamina, delay fatigue and promote stable energy levels (2).
Leg Day Performance Matrix
L-Dopa (Mucuna pruriens extract): An amino acid naturally produced by the body, it serves a precursor to dopamine which is involved with mood, motivation, and focus.
elevATP (ancient peat and apple fruit extract): A blend of plant bio-inorganic trace minerals and polyphenols shown to increase intracellular ATP levels in whole blood and muscle (3).
Others: NeuroFactor (coffee berry extract) and Senactiv
Intra Blast Aminos
EAAS & BCAAs
Out of 20 amino acids used to construct protein, nine cannot be produced by the body. These are essential amino acids (EAAs) and they must be obtained from your diet. Three of these are branched-chain amino acids (BCAAs) which differ slightly in structure. Both EAAs and BCAAs are vital for performance, recovery, muscle growth, and overall health functions (4, 5)
Electrolyte & Hydration Optimizer
Taurine: Can help maintain proper hydration and electrolyte balance in your cells (6).
CocoPure (coconut water powder): Can work to maximize hydration and is a good source of several nutrients with great antioxidant properties.
Others: Calci-K (calcium potassium phosphate citrate), Pink Himalayan sea salt, sodium phosphate, and Di-Magnesium malate
Nutrient Absorption Enhancer
Astragin: Shown to increase bioavailability and absorption of key nutrients, including amino acids.
Other Ingredients
Natural flavors, citric acid, black tea extract, malic acid, sucralose, acesulfame potassium
| | |
| --- | --- |
| Calories | 120 |
| Protein | 0g |
| Carbs | 32g |
| Fat | 0g |
| Sugar | 5g |
| Flavors | Blueberry Lemonade, Sweet Tea |
| Number Of Servings | 20 |
| Best Way To Take | Mix 1-2 scoops (1-2 servings) with 32-36 ounces of cold water. |
Price, Flavors & Effectiveness
NutraBio Leg Day is that intra-carb supplement you need to fuel any workout that comes your way. With 20 servings per container, 1 scoop as a serving size will pump you with awesome ingredients to boost growth. Two great tasting flavors include Blueberry Lemonade and Sweet Tea.
Pros
Great ingredients put into an awesome formula for max effectiveness.
Different than other intra-workout supplements in terms of the innovative formula.
Great flavors and from a reputable company in NutraBio
Cons
Price: $54.99
Featured NutraBio Athlete
Hunter Delfa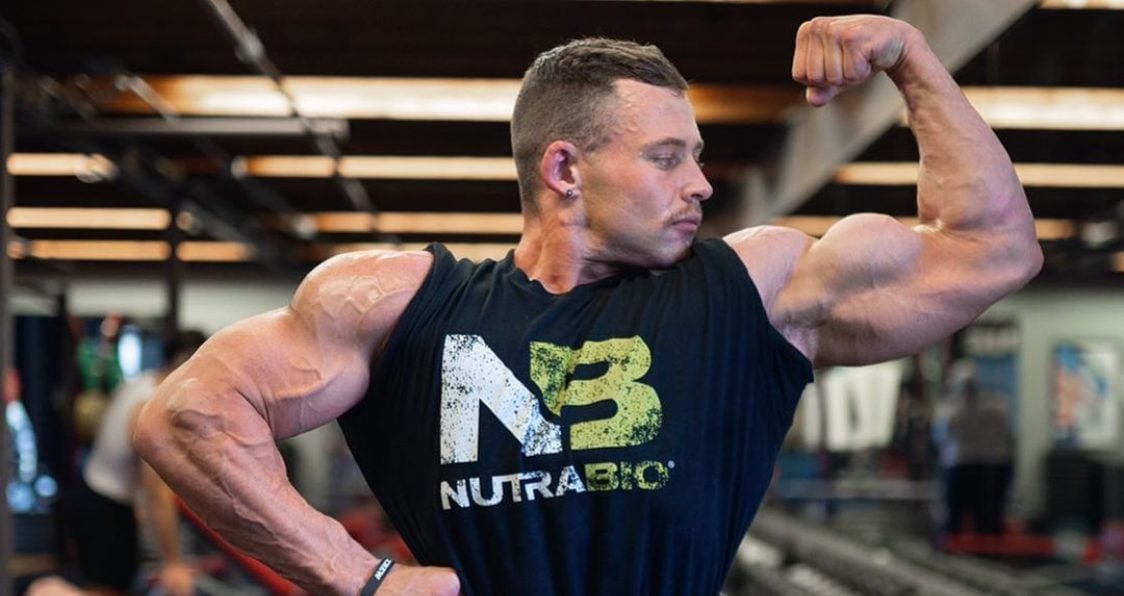 Hunter Delfa is a NutraBio athlete and national level Classic Physique contender who uses their supplements to enhance all areas of his gains. As a bodybuilder, and someone who takes fitness incredibly seriously, it is important for Delfa to only use the best supplements around. NutraBio has him covered and a product like Leg Day ensures nothing goes to waste and that his workouts are as great as they can be. As an absolutely shredded athlete who knows what it takes to be the best, Delfa is one to watch moving forward.
Overall Value
NutraBio Leg Day is that intra-workout supplement you need to power you through your workouts by providing serious fuel to aid in whatever your body needs. Packed with a healthy amount of carbs and being low in calories, this innovative formula brings you something different than others on the market. NutraBio knows the needs of athletes and is determined to bring only the best to the table to help those athletes progress forward. What you are really getting is a high-quality intra-workout supplement with awesome ingredients and a great formula from a reputable and honest company. Try NutraBio Leg Day today and see what it can do for all your gains.
Generation Iron may receive commissions on purchases made through our links. See our disclosure page for more information.
Let us know what you think in the comments below. Also, be sure to follow Generation Iron on Facebook, Twitter, and Instagram. 
*Images courtesy of NutraBio and Hunter Delfa Instagram
References