This multivitamin is specially designed to support the needs of active men.
Product Overview
As active individuals, it is important to realize that we put our bodies through constant stress, both physically and mentally, in order to achieve the gains we want to see most. While a good diet and proper sleep will enhance recovery and boost our overall health and wellness, sometimes we still come up short in fueling many of our body's essential functions. Multivitamins are the perfect supplements for they will help fill in those gaps of missing nutrients while providing a host of benefits to our training and performance, as well as our health and wellbeing so we never falter with our goals. NutraBio MultiSport For Men is a specially designed multivitamin for active men to support any lifestyle.
What a good multivitamin can do is provide real assistance to your daily life including vital health functions, cognitive capabilities, and physical maintenance, all to ensure you're operating at full capacity. With great benefits like increasing energy for more power throughout the day and promoting muscle maintenance, your workouts will never suffer. Filling in nutritional deficiencies, working to boost mood and focus, and supporting your immune system are other important aspects of a multivitamin, as well.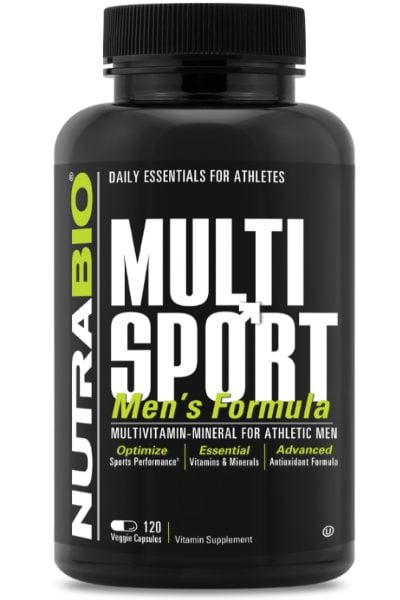 NutraBio is a high-quality sports supplement company creating top tier products for athletes everywhere. Their mission is clear: maximize the health and wellness of all consumers by bringing advanced nutrition products with science-backed research to enhance training and performance while aiding in an overall better quality of life. They are a standout in the industry for clean and effective products with no artificial fillers or excipients and stand by their goal of being honest and transparent with their labels.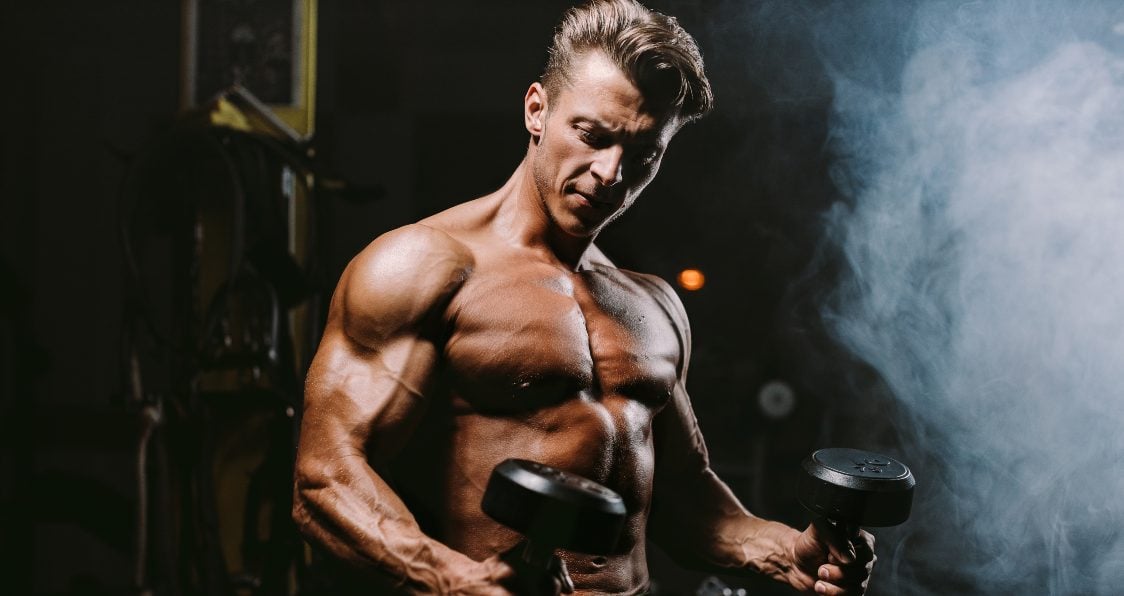 NutraBio MultiSport For Men Highlights
MultiSport For Men is specifically formulated to support the demands of athletic men to encourage peak performance and promote an overall healthier quality of life. While every athlete seeks to get their essential nutrients from whole foods, it is much easier said than done. This multivitamin will ensure all those nutrient gaps are filled to support optimum health, as well as support your metabolism, increase all day energy, and pump you with a powerful antioxidant formulation.
This advanced and therapeutically dosed formula of vitamins, minerals, and antioxidants contains 33 ingredients of the highest quality. Gentle of your stomach and formulated with Albion certified chelated minerals, this multivitamin is perfect for elite athletes looking to train hard and enhance recovery, those on a calorie-restricted diet seeking to build lean muscle, or for those who want a healthier lifestyle and better supported immune system. MultiSport is one of the best investments you can make into your health and you won't be disappointed by the results.
Ingredients
Vitamin A: Assists with growth and repair of body tissues and muscle and can help with infections (1).
Vitamin K: Plays a role in bone health.
Thiamin: Vital for a host of functions including supporting your nervous system and muscle function, digestion, and carbohydrate metabolism (2).
Folate: Important for brain function and plays a role in mental and emotional health.
Calcium: Important for bone maintenance and is necessary for muscle contractions (3).
Selenium: May help support immune system working as an antioxidant while also helping with muscle strength.
Alpha Lipoic Acid: Beneficial against forms of inflammation and oxidation and is highly involved with energy metabolism (4).
Vanadium: Has potential to promote effects of insulin which can increase muscle growth and fat loss.
Other Ingredients
Vitamin C, vitamin D, vitamin E, riboflavin, niacin, vitamin B6, vitamin B12, biotin, pantothenic acid, iron, phosphorus, iodine, magnesium, zinc, copper, manganese, chromium, molybdenum, potassium, choline bitartrate, citrus bioflavonoids, inositol, silica, boron
Price & Effectiveness
NutraBio MultiSport for Men is a specially designed multivitamin supplement for active men to boost training and performance, while promoting overall health and wellness. Each container comes with 120 capsules with 30 servings. Four vegetable capsules is a serving size to pump you with all these essential nutrients.
Pros: Specially designed for athletic men and packed with clean and clinically dosed ingredients. Full spectrum vitamin B profile and powerful antioxidant formula is great. From a reputable and honest company in NutraBio.
Also available in a "For Women" formula with modified ingredient dosages as well as additional ones for women's health.
Cons: Four capsules is a lot for a serving size.
Price: $29.99/ 120 capsules
Featured Athlete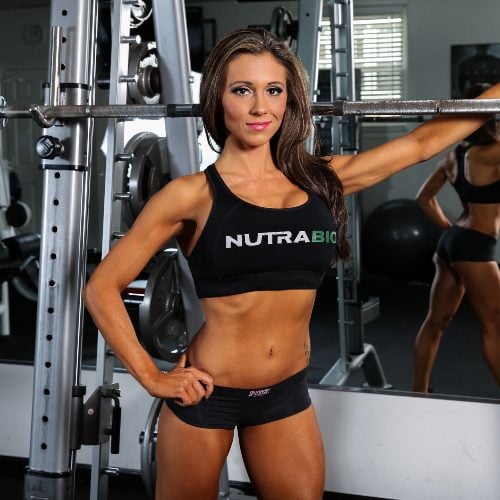 Amanda Occhipinti is a certified fitness and nutrition specialist and bodybuilder who uses NutraBio supplements to further not only her performance, but health and wellness as well. She won the Overall Bikini Novice and Short Class A event at the 2015 OCB Charm City Classic and feels that fitness is a lifestyle. While preparing for a show and having a winning mindset is important, Occhipinti firmly believes each day should be a challenge to better yourself physically and mentally. After recently becoming a mother, Amanda utilizes the key ingredients found in products like MultiSport, which are also found in a "For Women" formula, to maintain optimal health all around.
Overall Value
NutraBio MultiSport for Men is a great multivitamin designed for athletic men to provide 33 clean, effective, and powerful ingredients in one advanced formula to seriously boost not only your health and wellness, but training and performance goals. While seeking to get all of these essentials from a well-balanced diet is important, that just doesn't happen and we need to fill those gaps with a powerful supplement like MultiSport. NutraBio understands the needs of their athletes and only seeks the best for them with all supplements. What you are really getting is a high-quality multivitamin with amazing ingredients and an advanced formula from a reputable and honest company. Check out NutraBio MultiSport For Men today and really give your health the best possible support.
Try NutraBio MultiSport For Men Here
Generation Iron may receive commissions on purchases made through our links. See our disclosure page for more information.
Let us know what you think in the comments below. Also, be sure to follow Generation Iron on Facebook, Twitter, and Instagram. 
*Images courtesy of NutraBio and Envato
References