This fat burner will boost metabolism, burn calories, and increase energy for that shredded physique.
Product Overview
Losing fat is hard. A good training routine and proper diet are sure fire ways to shed calories and see a desired physique unfold, but even then, you may not see the exact results you want most. This is where supplements come into play and a fat burner is that supplement to help. Able to kickstart your metabolism and curb your appetite, a good fat burner will work wonders in addition to that great training plan and strict diet. NutraBio ThermoFuel V.9 For Men is a powerful and well-designed fat burner to help boost your fat loss goals so you see the desired results you want most.
A high-quality fat burner will provide for a host of benefits including increasing your metabolism and supporting thermogenesis, curbing your appetite, maintaining lean muscle, and increasing energy. Those fat burners with stimulants can also enhance focus and lead to sharper mental function as well. Non-stim fat burners do exist and can work well for your goals, but a fat burner like NutraBio ThermoFuel V.9 For Men is that stimulant-driven, result-orientated fat burner you need most.
NutraBio ThermoFuel V.9 For Men is a great fat burner designed to boost metabolism, burn calories, and increase energy. With 9 clean ingredients, this supplement is perfect for those fat burning needs.
NutraBio is a high-quality sports supplement company designing and producing top tier products for athletes everywhere. Their mission is to maximize the quality of life for all consumers by providing advanced nutrition products with science-backed research to enhance training and performance. NutraBio is a standout when it comes to clean and effective products and sought to revolutionize the industry by using zero fillers, additives, or excipients of any kind and working to ensure accurate dosages for all active ingredients. With the utmost quality in mind, NutraBio is a transparent and honest company working for your benefit only.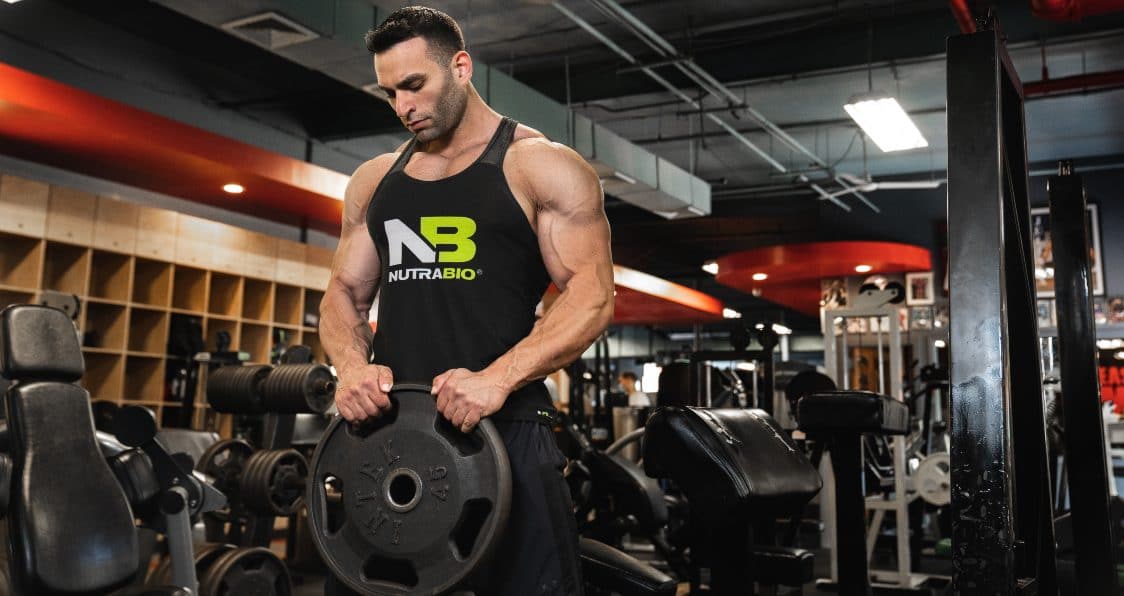 NutraBio ThermoFuel V.9 For Men Highlights
NutraBio ThermoFuel V.9 For Men is a powerful fat burning supplement designed to help you see those fat loss goals become reality. This fat burner will work to support fat metabolism, improve thermogenesis, increase energy, and support appetite reduction. The added caffeine will improve mental focus and alertness, so you stay on top of your workouts and your goals. With 9 clean and effective ingredients, NutraBio works with the best to produce an all-star formula capable of helping you see your fat loss needs happen.
Ingredients
Acetyl L-Carnitine: Can move fat stores which will increase energy expenditure and push your metabolism to burn more fat (1).
Green Tea Leaf Extract: Enhances your body's thermogenic process and provides powerful antioxidants (2).
L-Tyrosine: Can help curb your appetite for less snacking and increase your metabolism leading to weight loss.
Epigallocatechin Gallate (ECGC): May increase thermogenesis leading to weight loss and can also reduce inflammation (3).
Caffeine: Increases thermogenesis for more fat burn and better energy. Caffeine can also enhance focus and your level of alertness. This can be in something like coffee bean extract or green tea for example (4).
Synephrine: Can boost your metabolic rate for faster weight loss, as well as work on suppressing appetite (5).
Banaba Leaf Extract: Can delay the absorption of carbohydrates and work for weight loss or weight management.
Cayenne Pepper: Works to increase your metabolism to burn more calories and aid in weight loss.
Theobromine: May improve lipid metabolism and is considered to be a good ingredient for weight loss while also supplying energy.
Other Ingredients
Vegetable Capsule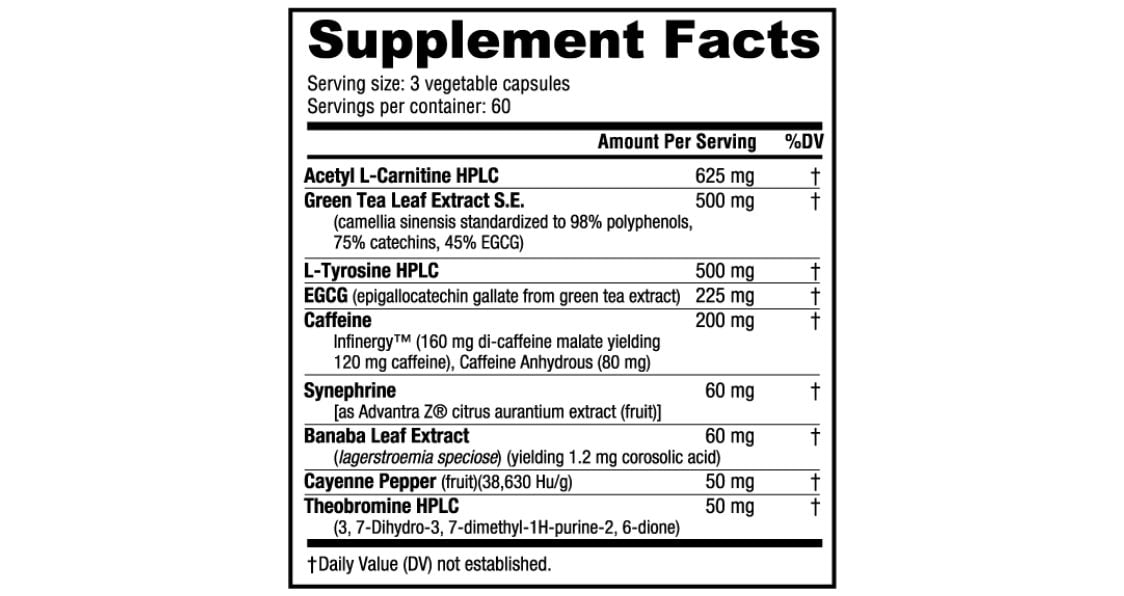 | | |
| --- | --- |
| Number Of Servings | 60 |
| Serving Size | 3 Vegetable Capsules |
| Stim Or Non-Stim | Stim |
| Best Way To Take | Take 2 capsules with 8 oz. of water once per day to assess tolerance. Once assessed, take 3 capsules two time daily 30-60 minutes between meals. |
Price & Effectiveness
NutraBio ThermoFuel V.9 For Men is a great fat burning supplement designed to boost your metabolism, burn more calories, and increase energy so you shed that unwanted fat and see that desired physique you want most. With 60 servings per container, 3 vegetable capsules will give you all these clean ingredients efficiently.
Pros
Great fat burner with benefits like faster metabolism, more calorie burn, and more energy to burn fat
Clean and effective ingredients to work for you overall health and results
Easy to take capsules for better absorption and digestion
From a reputable company in NutraBio
Cons
3 capsules two times daily may be a lot for some who want results
For professional, collegiate, or amateur, synephrine can lead to a positive drug test
Price: $41.99
Featured Athlete
Jon Linden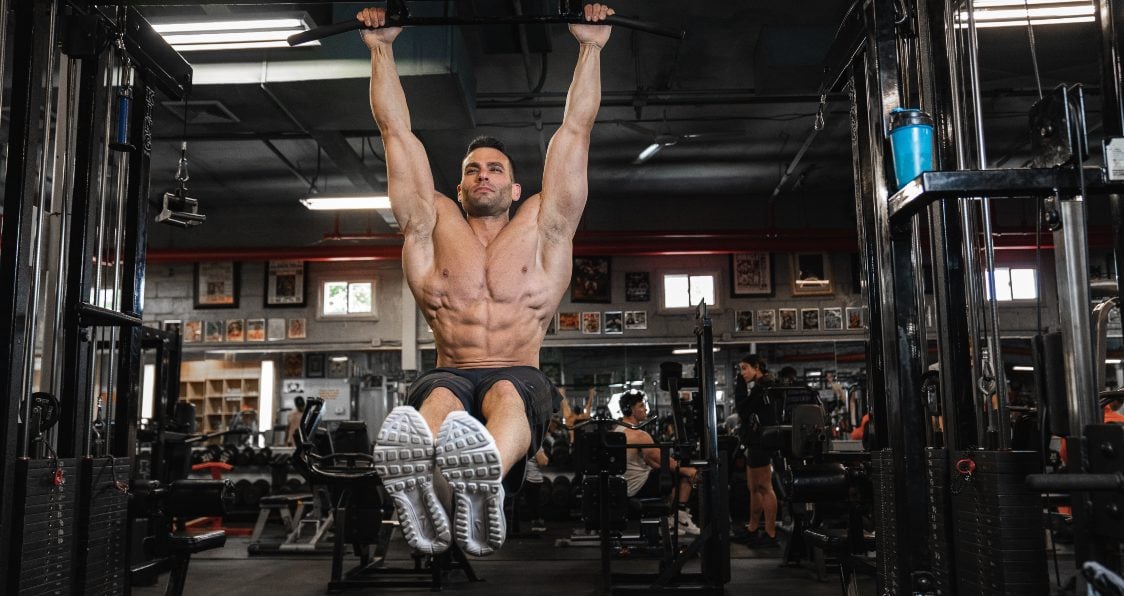 Jon Linden is an IFBB Classic Physique Pro bodybuilder and NutraBio Athlete using their high-quality supplements to boost his training and performance, as well as his overall health and wellness. As someone who knows what it takes to constantly fuel his body and his workouts, Linden relies on the best supplements when looking to see the results he wants most. Working with NutraBio allows Linden to push himself and use only the best for growth and recovery as he seeks to walk amongst the best in the world under the bright lights of the stage.
Overall Value
NutraBio ThermoFuel V.9 For Men is a great fat burning supplement designed to increase your metabolism, improve thermogenesis, and burn more calories so you see great fat loss results. Losing fat can be a hard, but with the right supplement it doesn't have to be. NutraBio works with clean and effective ingredients to work for your benefit and ThermoFuel is no different. What you are really getting is a high-quality fat burner with great ingredients, a powerful formula, and an honest company behind the product. Try NutraBio ThermoFuel V.9 For Men today and shed that unwanted fat you want gone.
Try NutraBio ThermoFuel V.9 For Men Today
---
Generation Iron may receive commissions on purchases made through our links. See our disclosure page for more information.
Let us know what you think in the comments below. Also, be sure to follow Generation Iron on Facebook, Twitter, and Instagram. 
*Images courtesy of NutraBio
References