Will the Olympia 2020 Men's 212 come down to Kamal Elgargni and Shaun Clarida?
This morning saw the Olympia 2020 Men's 212 pre-judging and comparison rounds. For fans, this is the first chance to see these athlete's physiques on full display. After a year of waiting and fear that the event itself may not happen – we are finally here with the Men's 212 bodybuilders on stage.
On first impressions, it seems obvious that the Olympia 2020 Men's 212 will come down to four individuals; Kamal Elgargni, Shaun Clarida, Derek Lunsford, and George Peterson. These four pro bodybuilders stood tall in the final top 4 callout.
Let's break it down in our full pre-judging and analysis report:
Olympia 2020 Men's 212 Pre-Judging Breakdown
In the first callout, all four of these top competitors appeared showcasing that they were at the front of the pack. While Derek Lunsford was in the middle of the callout initially – he was quickly bumped out by the judges off to the side. Switched in his place was Shaun Clarida. He was moved center stage right alongside returning champion Kamal Elgargni. Very quickly the judges initial impressions became clear – Kamal and Shaun were leading the pack.
1st Callout Lineup
Ahmad Ashkanani
Shaun Clarida
Angel Calderon Frias
Derek Lunsford
George Peterson
Kamal Elgargni
Even more worrisome for Derek Lunsford – he was bumped further away from the middle in favor of Ahmad Ashkanani. The center of the callout lineup is always where a competitor wants to be. It places them square in the middle for all of the judges to see straight on. It showcases that these are the athletes that are most in favor.
Derek Lunsford was one of the hyped competitors going into the Olympia 2020 Men's Physique. Fans of the division had high hopes that perhaps this would be his year to improve, rise up, and take down Kamal. Being bumped off to the sidelines of the first callout was not a great start.
Then came the second, third, and fourth callouts which gave us some insight into who would be following up in the rankings after the top 6:
2nd Callout Lineup
Derik Oslan
Oleh Kryvyi
David Henry
Dectric Lewis
John Jewett
Jason Lowe
Guy Cisternino
3rd Callout Lineup
Hidetada Yamagishi
Seonghwan Kim
Errol Moore
Hidetada Yamagishi
4th Callout Lineup
Ahmad Ashkanani
Angel Calderon Frias
Oleh Kryvyi
Derek Lunsford
Dectric Lewis
Derik Oslan
While Lunsford had a relatively shaky start, things improved for Lunsford slightly. After the remaining callouts featuring competitors who will likely earn mid to lower placings were completed – it was time for the final callout. And Lunsford, not Ashkanani, made it into that final lineup.
The final callout is often the top competitors in contention for the title. Usually consisting of between two to four competitors – this is essentially a glimpse into who will place first, second, third, and fourth.
Final Callout Lineup
Shaun Clarida
George Peterson
Kamal Elgargni
Derek Lunsford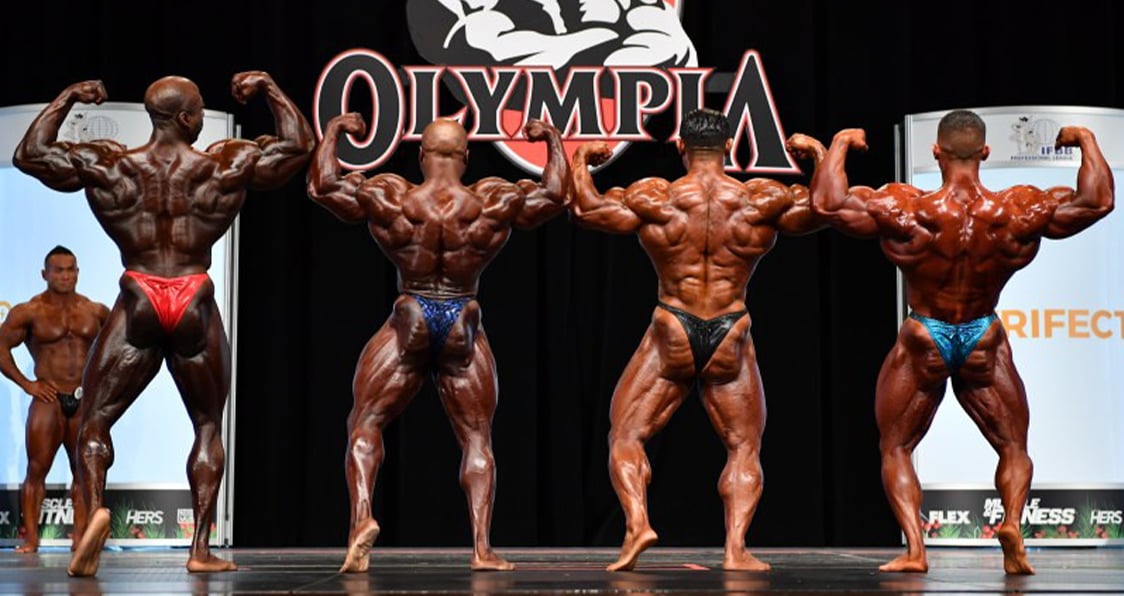 In the final callout we had: Derek Lunsford, George Peterson, Kamal Elgargni, and Shaun Clarida. Very similar to the first callout, Clarida and Kamal were kept in the center and were certainly the two standouts in the lineup. It's going to be a close call between these two competitors. If anyone has a chance to take down Kamal, it will be Clarida.
A lot can change between the morning and the evening finals for pro bodybuilding competitors. While it sounds strange, small tweaks can help a bodybuilder tighten their conditioning or perhaps fade – depending on their actions and mental state after the pre-judging. None of these four competitors should be completely ignored for a chance to win the trophy.
That being said, based on what we've seen here today – this is our initial prediction for the finals:
Kamal Elgargni
Shaun Clarida
George Peterson
Derek Lunsford
Ahmad Ashkanani
The fact that Derek Lunsford was switched out for Ahmad Ashkanani makes us think he was just inches away from not making it into the top four. Depending on what happens through to tonight – we can expect to see these two competitors perhaps switch place. Or even better – see some truly big shakeups in the entire top 5 lineup.
Until then, stick around the Generation Iron Fitness Network for our continued updates and coverage of the Olympia 2020.