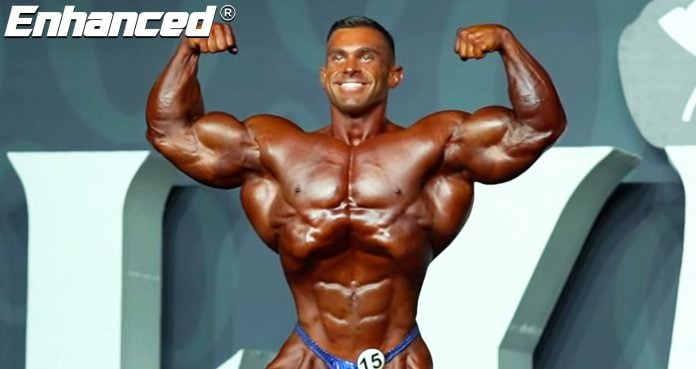 Derek Lunsford made a huge impression with his improvements. Is it enough to win Men's 212 Olympia?
The Friday prejudging has come to a close and once again the Men's 212 division has proven itself to be one of the closest battles of the entire weekend. The quality of the top athletes in this division is so impressive – that the difference between our top competitors are razor thin. While it might seem like there is a lead coming out of the prejudging. The battle is so close – anything can change between now and the finals later tonight. Most notable, Derek Lunsford showcased massive improvements that might just place him ahead at the Men's 212 Olympia. Let's break it down.
Right off the bat, we seem to have clear frontrunners in the form of Derek Lunsford, Kamal Elgargni, and returning champion Shaun Clarida. These three stood tall in the final callout – and were put through some sweat-inducing paces by the judges. Each one of these three competitors stood in the middle of the comparisons before the prejudging concluded.
What can't be understated is just how close these three bodybuilders are in physique quality. Each of these three competitors hold a different kind of genetic structure – yet somehow all three of them are so on point that it's still a hard call to make who stood above the rest.
Let's break it down in our full Olympia 2021 pre-judging and analysis report:
Olympia 2021 Men's 212 Pre-Judging Breakdown
The first callout featured our three lead bodybuilders as mentioned above – plus Ahmad Ashkanani trailing in at the edges of the callout lineup. It was immediately clear that the likes of Clarida, Lunsford, and Elgargni impressed in their individual routines. But this was our first time seeing them side by side.
It was clear at this point that these four were likely our top choices. But the second callout solidified our top three. Ashkanani was left behind to remain in the second callout – comparing him to the second round of probably lower placing competitors. It all became clear at this moment that the judges had their top three Men's 212 Olympia 2021 competitors locked in.

1st Callout Lineup
Ahmad Ashkanani
Kamal Elgargni
Derek Lunsford
Shaun Clarida
2nd Callout Lineup
Ahmad Ashkanani
Kerrith Bajjo
Naser Mohammed
Angel Calderon Frias
John Jewett
Nathan Epler
This then brought us into our further back callouts. The third through fifth callouts showcased our trailing athletes. The most notable upset here was Keone Pearson. He had come into the Olympia 2021 with a lot of hype behind him. Many fans hoped he would perhaps rise up to win the show. At the very least, he was a top 5 contender going into the weekend.
Keone ultimately found himself in the fourth callout. Far behind the top five placing that many expected. His weak point here was his conditioning. Perhaps something went off with his timing leading into the weekend – but the sharpness needed to stand against the top guys wasn't there.
Despite placing in the fourth callout – there is time for change leading into the final night. Keone Pearson could perhaps bring in some final changes to bump himself into a higher placing. But as it stands now – there's no chance he can break up the final top three.

3rd Callout Lineup
Noel Adame
Tonio Burton
Lucas Coelho
Pasquale D'Angelo
4th Callout Lineup
Steve Benthin
Piotr Borecki
Ahmed El Wardany
Junho Kim
Keone Pearson
Vladimir Iacovlev
5th Callout Lineup
Ahmed Ashkanani
Nathan Epler
Angel Calderon Frias
Naser Mohammed
Speaking of the final callout for the Olympia 2021 Men's 212, we returned to our expected top three competitors in the form of Shaun Clarida, Derek Lunsford, and Kamal Elgargni. The competitors were brought out in numerical order first. This placed Lunsford right in the center. The athletes were put through a round of poses before Lunsford was moved out of the center spot.
Clarida was then moved into the center for another round of poses. But this wasn't the end for the final comparison round. The judges then switched in Kamal Elgargni into the center for one final batch of poses.
Elgargni ending in the center might be a peek into where the judges are leaning. Perhaps Elgargni is an inch scored above the rest and the frontrunner of the show. That being said, we've seen the judges often have some fun in the final callout. It's not unusual for the judges to purposefully place all three athletes into the center (as we saw here). This could be in part to entertain the fans while also giving each athlete a chance to be compared to each other.

Final Callout Lineup
Kamal Elgargni
Derek Lunsford
Shaun Clarida
That's why we have a lot of hype and excitement behind Derek Lunsford. One could argue his center placing was just numerical – but his improvements are so vast compared to previous years that he nearly stole the show. This is the version of Lunsford that fans have been begging for over the past few years. The promise has been fulfilled – but will it be enough to win the entire Olympia 2021 Men's 212?
Shaun Clarida looked on point matching his last year's winning physique – he may have even made some slight improvements. Kamal Elgargni also looked sharper this year than in 2020. Lunsford's only knock might be his muscle maturity. He's a bit shorter in the tooth compared to Clarida and Elgargni – and it shows in some of Lunsford's structure.
That being said, the judges often reward improvement above all else. Derek Lunsford brought that in spades. His improved physique was so impressive it nearly lead to a double take – at least for this writer.
Ultimately, we might give the squeaker lead to Derek Lunsford at this time. But with each of these three competitors so close in quality – anything can change by the finals. There is no guarantee. Right now, we can't rightfully say there is a shoe in winner. That makes for an exciting show later tonight. We can't wait to see what the rest of the Olympia 2021 Men's 212 holds.
Until then, stick around the Generation Iron Fitness Network for our continued updates and coverage of the Olympia 2021.