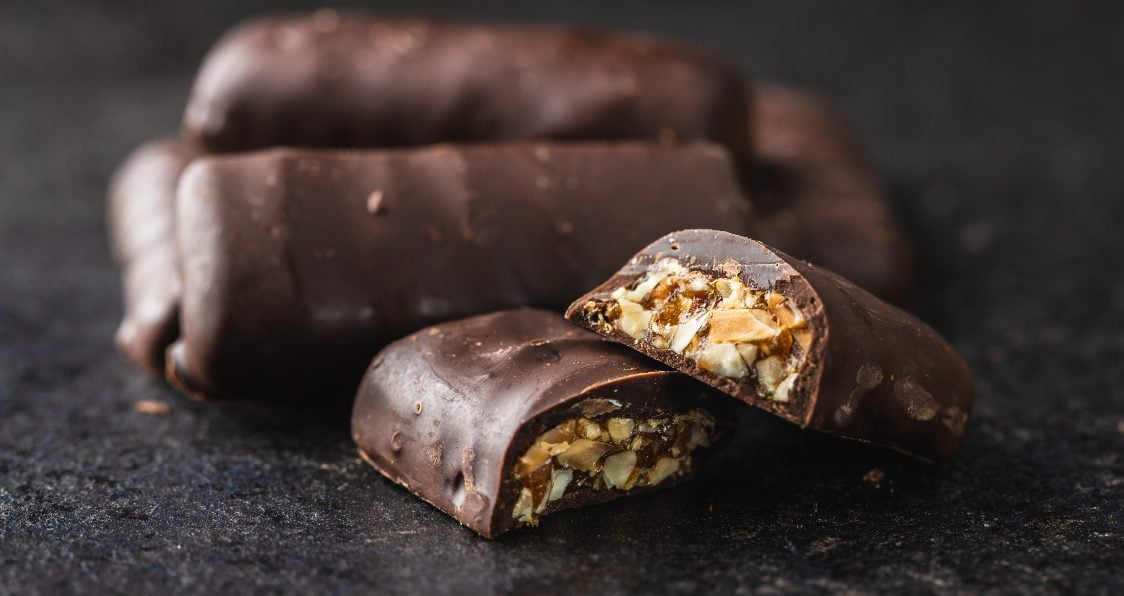 Protein bars have potential to be game changers but is the word protein simply synonymous with candy.
It's fair to say that many of us have heard the comparison of protein bars to candy bars. But we think to ourselves, why is that a fair comparison? For those who believe that, it can be easy to see how it's a possibility. With flavors like Birthday Cake and Cookie Dough, as well as so many others that make it feel like an ice cream shop, how can these bars not be synonymous with candy? But companies have begun to work tirelessly to produce great tasting and healthy protein options so those athletes on the go can enjoy a good source of fuel while not compromising all of their gains.
Let's take a look at protein bars and see how effective they can be. When compared to a candy bar, the option is very clear as to which choice is better and why and while we all know it, sometimes we have to just see it to believe it.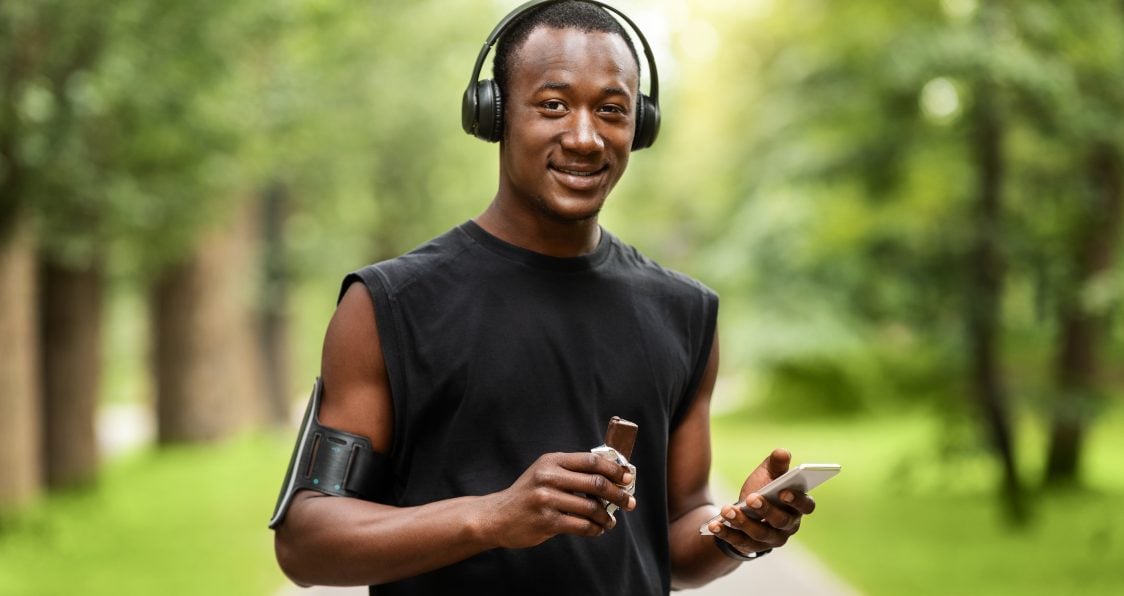 What Is A Protein Bar?
Protein bars are nutritional supplements perfect for those always on the go. Formulated to contain a great ratio of macronutrients, they can fit nicely into your diet and not totally destroy all your gains. As a popular and convenient source of all dietary needs, it is no wonder why people have gravitated towards these as their source of on-the-go fuel to enhance energy and physical activity (1).
Benefits Of Protein Bars
What a good protein can do for you is really amplify the effects of growth and recovery, especially for those of us always on the go. Benefits of protein bars include: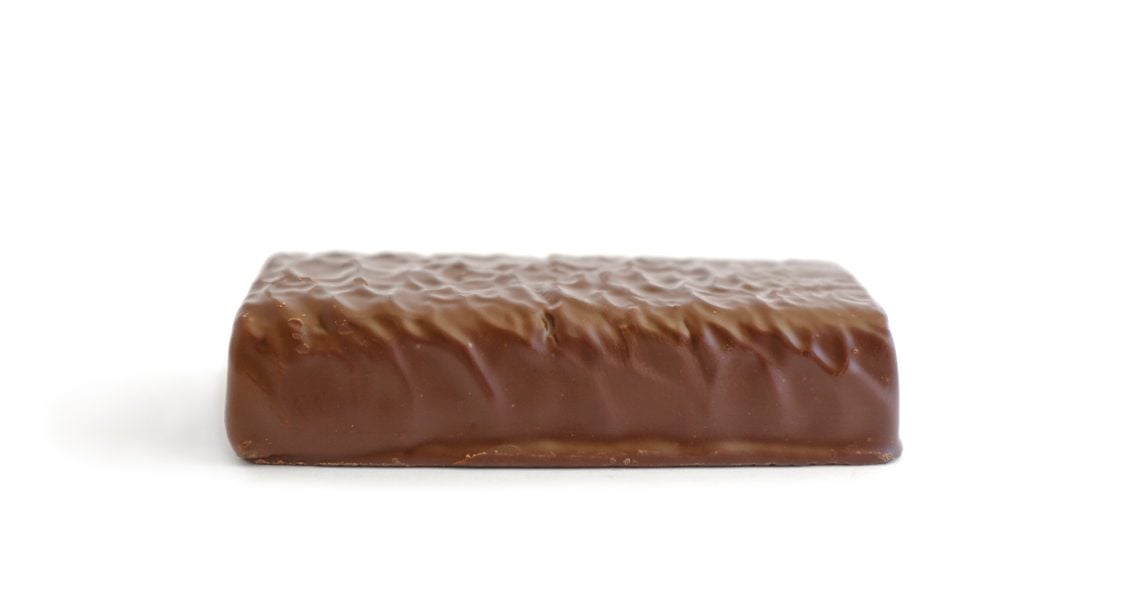 Comparison With A Candy Bar
We felt it would be interesting, and sort of fun, to take a look at a protein bar and compare it to a fan favorite candy bar in the Kit Kat Bar. We all love that crunch covered in chocolate, but to make this point about the health benefits of these bars, it may be good to see the real difference between these. While every protein and candy bar is different, it is important for us to remember that the general point being made is that protein bars have great benefits to our health and wellness, especially those of us who are active.
For this, we are going to look at Swiss Natural Foods T Bar and the famous Kit Kat Bar.
| | | |
| --- | --- | --- |
| | Swiss Natural Foods T Bar | Kit Kat Bar |
| Calories | 240 | 518 |
| Total Fat | 12g | 26g |
| Total Carbs | 19g | 65g |
| Protein | 16g | 6.5g |
| Fiber | 3g | 1g |
| Sugar | 15g | 49g |
In looking at this comparison, we can see that the candy bar (Kit Kat) is moving us in the wrong direction when it comes to our gains. It is nearly double in calories and total fat, and even more in terms of total carbs and sugar, while the protein content just doesn't compare.
Now, we know that you know a candy bar isn't the best nutritional option. This comparison was supposed to break the myth that most protein bars are just candy in disguise. While protein bars taste good and do have high amounts of carbs, fat, and sugar (in some cases), it is about ratio and the other intended ingredients included that make protein bars great. While it is totally fine to splurge a bit and enjoy a good Kit Kat once in a while, adding a protein bar to your busy schedule is not going to kill all your gains.
Featured Protein Bar
While finding the right protein bar for your own personal goals can be a challenge, we wanted to share a great option for you to help tackle any challenges that may come your way. Swiss Natural Foods T Bar is one of those options that can work to give you the best in terms of ingredients and includes natural ingredients like Ashwagandha, Tongkat Ali, and zinc to really enhance your health and wellness.
Swiss Natural Foods T Bar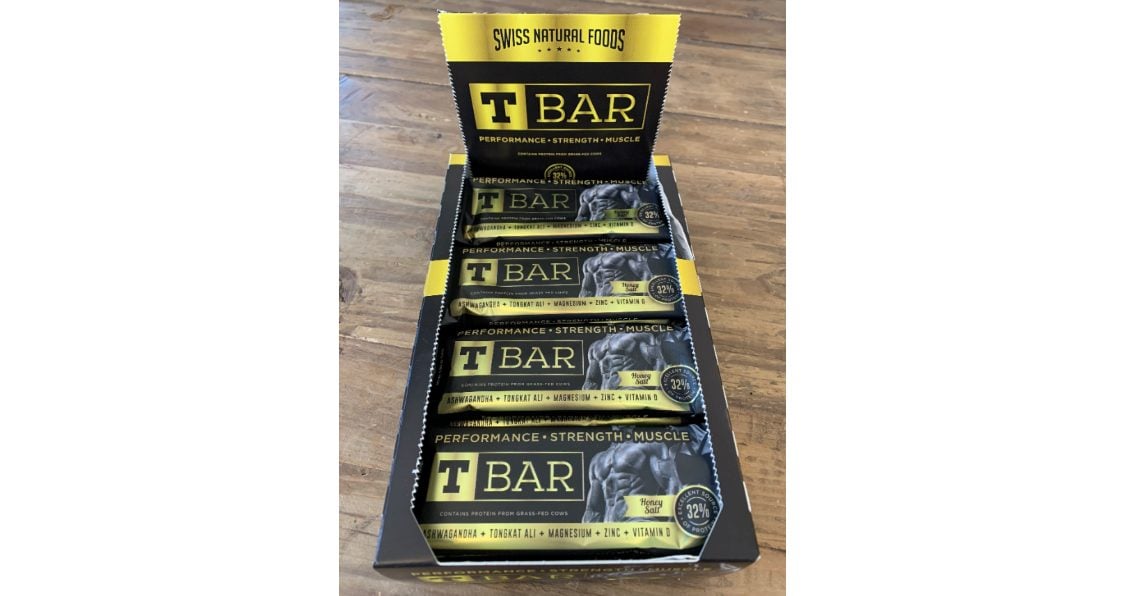 Swiss Natural Foods T Bar is a fully natural protein bar with a twist. They have added a few extra ingredients to ensure your health and muscle growth take priority. Powerful plant extracts mixed with the right vitamins and minerals for optimal hormonal balance, this bar is the best Mother Nature can offer with great potential for your power, performance, but more importantly, health. With 16g of protein, a good ratio with the other macronutrients, and only 250 calories, this protein bar does its job, and it does it well.
Price: $29.99
Check out our individual review for Swiss Natural Foods T Bar here!
---
Check out our list of the Best Protein Bars for more great protein products!
---
Wrap Up
Protein bars are great sources of fuel for those of us athletes on the go and can be game changers when it comes to our training, performance, health, and wellness. Finding the right bar is incredibly important and can work wonders for us when we finally manage to come across it. Looking into solid options is exactly what we need to do in order to achieve our goals as best we can and with the right guidance, a good protein bar is just around the corner.
Let us know what you think in the comments below. Also, be sure to follow Generation Iron on Facebook, Twitter, and Instagram. 
*Images courtesy of Swiss Natural Foods and Envato
References
Tanskanen, Minna M.; Westerterp, Klaas R.; Uusitalo, Arja L.; Atalay, Mustafa; et al. (2012). "Effects of Easy-to-Use Protein-Rich Energy Bar on Energy Balance, Physical Activity and Performance during 8 Days of Sustained Physical Exertion". (source)
Pasiakos, Stefan M.; McLellan, Tom M.; Lieberman, Harris R. (2015). "The effects of protein supplements on muscle mass, strength, and aerobic and anaerobic power in healthy adults: a systematic review". (source)
Hassan, Sami K. (2020). "Quantitative and qualitative effects of proteins and natural sugars on hardening and color of high-protein nutrition bars during storage". (source)