Samson Dauda is focused on his physique and "playing his game."
Samson Dauda has been on the rise quickly in Men's Open. The 2022 Olympia was a step forward and now he believes that he is ready for another one during the Arnold Classic. In a recent interview, Dauda showed his confidence and expressed that he is destined to win in Columbus.
Dauda burst onto the scene in 2018 and was able to make improvements to his physique over the years. In 2021, Dauda finished second during the Arnold Classic UK and Romania Muscle Fest Pro. He was victorious during the EVLS Prague Pro and was able to compete in the biggest show of the year.
Heading into the Olympia, Dauda opened some eyes with the overall size of his physique. He was considered a dark-horse competitor entering the show and was able to place sixth. Now, he is preparing for what could be the biggest win of his career during the Arnold Classic.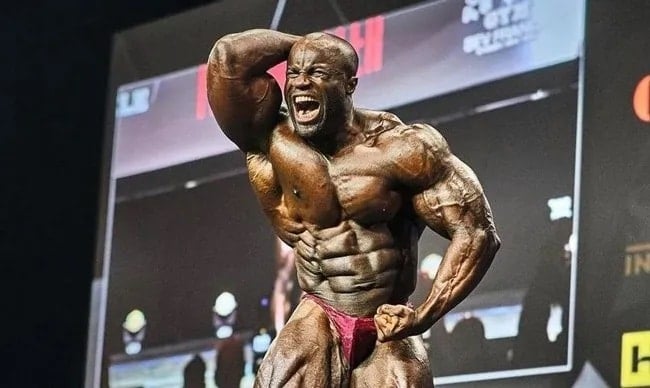 Samson Dauda: "Don't Try To Play Someone Else's Game"
During a recent interview on OlympiaTV, Samson Dauda displayed extreme confidence and spoke on his mindset heading into Columbus.
"Yes, I'm going to win the Arnold Classic. As soon as I went to the Olympia stage, I knew I was winning the Arnold. I didn't have to wait for the list to come out, or have to see who was in it."
There have been additions to the Arnold Classic roster since the prize was raised to $300,000. Nick Walker was crowned champion in 2020 and will return to try and win his second. Walker has turned into one of the top bodybuilders in the world after his third-place finish at the Olympia.
When speaking on the matchup with Walker, Dauda made it clear that he is focused on his physique and not anyone else.
View this post on Instagram
"Just come in like I do but a little bit sharper. Don't try to reinvent the wheel. Don't try to play someone else's game. Play your game. Just play your game better.

I don't have to think about who's coming in second. They can fight for second place, I'm coming for a win. The thing is you cannot say nobody's on your radar because that'll be just naive. But I know, watching from the Olympia, I know what I have to do now to pass him. After seeing him up close and having that competition already happen, I know what homework I got to do and that's exactly what I'm doing."
Samson Dauda is tailoring his prep to make improvements needed to take home the top prize in Columbus. With the new additions to the lineup, there will be plenty to watch on stage.
For more news and updates, follow Generation Iron on Facebook, Twitter, and Instagram.