This dual grip medicine ball is perfect for a variety of exercises to get you seeing huge growth in all areas.
Product Overview
As the weather grows colder and gyms still remain at reduced capacity or worse, closed, building a good home gym and finding the right equipment can be challenging. We all want to maximize our gains and see serious growth even if its from the comfort of our own home, but this equipment can just be too expensive. Building up a home gym is something important to us and with the benefit of companies like SPRI producing top quality and simple products, our goals are that much easier to achieve.
SPRI Dual Grip Xerball Medicine Ball is a great piece of equipment to enhance both muscle growth and cardio and brings a number of benefits to you and your home gym. With a medicine ball, you can develop explosive power and build full body strength (1), enhance speed and accurate movements, work to rehab sore or injured muscles, and use a versatile and convenient piece of exercise equipment for whatever use you may have. Medicine balls can be done as partner workouts or simply as solo exercises and are great for seeing a physical change in your strength, as well as your body composition.
SPRI is a leader in distributing rubberized sports exercise equipment and a top producer in the health and fitness industry. Designing top tier and innovative rubberized resistance products, SPRI has worked to make this type of equipment popular for those seeking to really enhance their gains. Making exercise as easy as possible, SPRI works to stay on the cutting edge of exercise trends to make strength training, toning, and muscle building effective and long lasting. Always seeking to change the lives of their customers, SPRI offers this high quality equipment and workout plans to keep you on top of your game.
SPRI Dual Grip Xerball Highlights
This medicine ball from SPRI is an easy to grip, two handled ball with options for a variety of exercises from one hand, two hands, solo, or partner workouts. A great choice for full body workouts, this ball can target muscle groups like your legs, core, and upper body to enhance strength, cardio, and explosive power.

Made from synthetic rubber PVC, the firm response and sturdy handles are comfortable and provide enhanced grip for safety and effectiveness. Great for supporting bodyweight workouts and challenging yourself, SPRI Dual Grip Xerball is the perfect piece of equipment for your home gym.
Product Details
Material
The medicine ball itself is made of synthetic rubber PVC construction making this better resistant to aging and weathering to promote longevity and make this a durable product. This also lends firmness to the sturdy-grip handles to provide a solid, comfortable feel while also being versatile enough for a range of exercises and activities. Overall, the material makes this versatile and durable for a long-lasting use.
Use
The best movements for this medicine ball are rotational ab exercises, lower body movements, and explosive actions which require two hands. The handles are large and provide accessibility for a range of movements from one hand, two hands, solo work, and partner workouts. These are great for supporting bodyweight exercises and non-release medicine ball moves and are optimal for moderate velocity.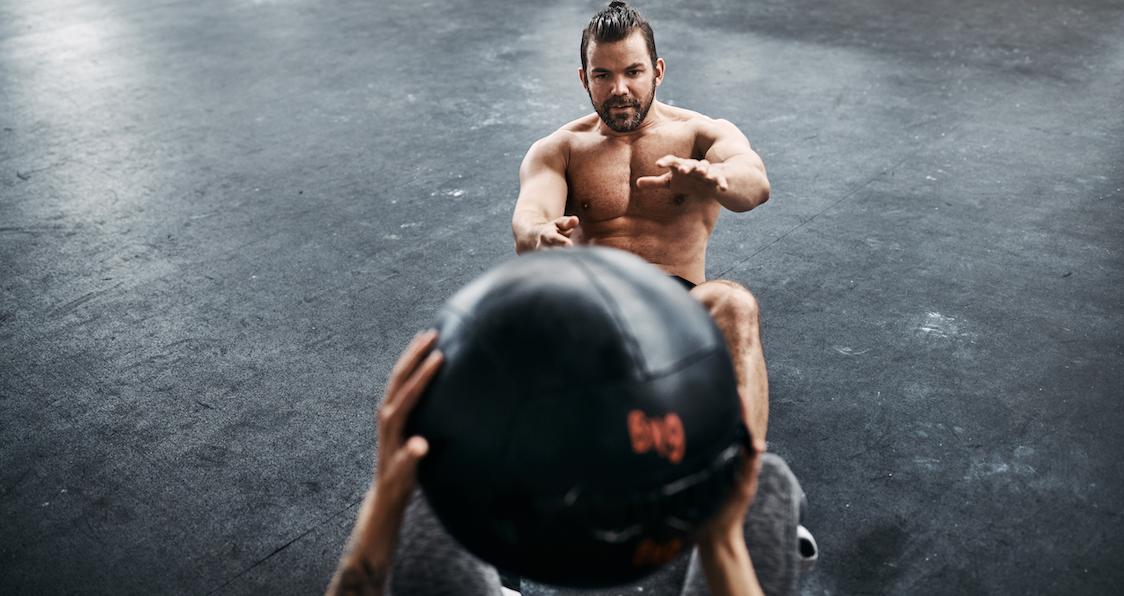 Price, Weight & Effectiveness
SPRI Dual Grip Xerball is a great piece of exercise equipment to really get you to where you want to be with the versatility to maximize your gains.
There are 7 different pricing options based on varying weights including:
6 lbs. ($49.98)
8 lbs. ($54.98)
10 lbs. ($63.98)
12 lbs. (69.98)
14 lbs. ($78.98)
16 lbs. ($82.98)
20 lbs. ($94.98)
Pros: The large handles leave room for a variety of exercises, like swings or holds. Effective and functional for gains, while also aiding in toning. From a quality company in SPRI who designs workout equipment of all kinds.
Cons: Quality concerns with flaky rubber and grips not designed as well as advertised. A strange odor on first arrival could be shipping or simply requiring some break-in use. Some of the weights might be slightly off and the price is fairly high.
Wrap Up
SPRI Dual Grip Xerball Medicine Ball is one of those fitness tools you need in your home gym and your workouts. With the ability to increase strength, cardio, and power, this medicine ball comes with the benefits of being simple to use and convenient for any workout, either solo work or combined partner exercises. Made from high quality rubber with an enhanced grip for functionality and a great variety of weight, this medicine ball can get the job done so you look and feel great. What you are really getting is a top tier medicine ball with great functionality from a company who cares about producing the best products for athletes everywhere. Check out SPRI Dual Grip Xerball Medicine Ball to enhance your home gym with a simple yet effective piece of equipment.
Try SPRI Dual Grip Xerball Medicine Ball Today
Generation Iron may receive commissions on purchases made through our links. See our disclosure page for more information.
Let us know what you think in the comments below. Also, be sure to follow Generation Iron on Facebook, Twitter, and Instagram. 
*Images courtesy of SPRI and Envato
References
Earp, Jacob E.; Kraemer, William J. (2010). "Medicine Ball Training Implications for Rotational Power Sports". (source)