This zero-stim pre-workout from Staunch is great for those sensitive, or for those who just don't want too many stimulants.
Product Overview
Pre-workout has grown to be an essential supplement for many of us as we seek to have a huge boost of energy right before our workout. A good pre-workout will also enhance focus and provide for serious muscle pumps, all great benefits when it comes to promoting gains and increasing your chances of a better workout. But many of these pre-workouts are loaded with stimulants, which explains that high amount of energy you experience with each workout. Staunch Pre Zero-Stim is a great pre-workout supplement with natural ingredients providing clean energy so you reap the benefits of a high quality pre-workout without jitters or an uncomfortable workout.
Many people will use stim-free pre-workout because they are sensitive to high amounts of stimulants, or just struggle to have a quality workout due to unwanted jitters and an uncomfortable itchy and twitchy feeling. While you know your pre-workout is working when this happens, you shouldn't have to suffer through your workout. Knowing there are other options that will provide for great stim-free alternatives can be a lifesaver for those looking to enhance their gains without suffering from itchy jitters.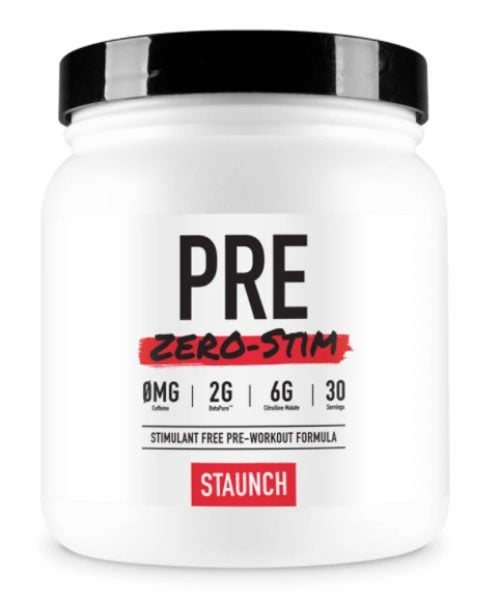 Staunch is a top tier sports supplement company started by Australian bodybuilder Calum Von Moger. Their goal is to design, create, and promote the best products to enhance gains for bodybuilders and other strength athletes. With high quality ingredients to create incredible formulas, coupled with fun and engaging marketing strategies, Staunch works to be both relatable and effective so you not only see gains but also trust the company and its products. Staunch works to deliver the best quality products around to enhance all areas of your training and performance.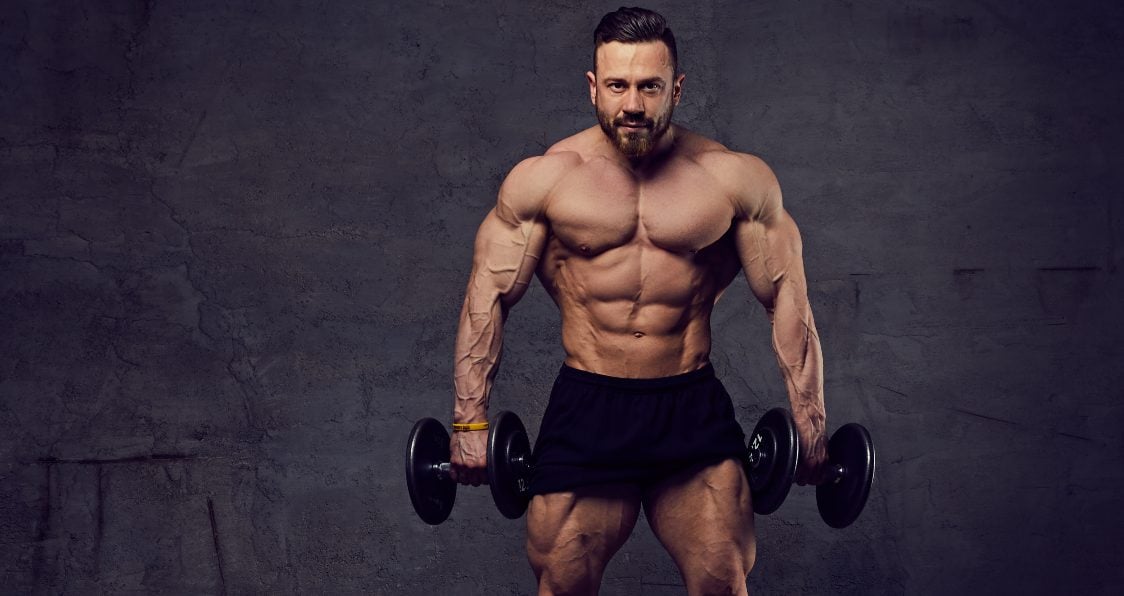 Staunch Pre Zero-Stim Highlights
Staunch Pre Zero-Stim differs from Staunch Koala Freak in that Koala Freak uses stimulants to really fire up your muscle pumps, focus, and energy. What Pre Zero-Stim will do is offer clean energy from natural ingredients so those sensitive to caffeine and other stimulants can benefit from a good workout without the jitters that come with it. This pre-workout is a perfect way to get a good pump in without the excitants and provide full benefits and effects from a top tier stim-free pre-workout.
With 10 ingredients, each is designed to provide for enhanced energy, muscle pumps, strength and performance, and focus. You will notice that caffeine is missing from the ingredients list. Caffeine is a common ingredient found in pre-workouts for it is a main source of that energy and focus boost people seek. Of course with a stim-free, you will see caffeine absent and that energy will come from other, more effective ways for those sensitive. With four great flavors at an affordable price, Staunch Pre Zero-Stim is a good pre-workout for those looking for a stim-free alternative.
Ingredients
Pump Complex
Citrulline Malate: Works to increase nitric oxide production and reduce lactic acid. Enhances anaerobic performance and relieves muscle soreness while increasing ATP for better recovery (1).
Nitrosigine (Inositol-Stabilized Arginine Silicate): Boosts nitric oxide levels and safely increases energy while also providing for better muscle pumps.
Others: Agmatine Sulfate, L-Norvaline
Strength/Performance Complex
Betapure Betaine Anhydrous: Effective for improving athletic performance and strengthening muscle power while reducing fatigue. Can help with body composition by reducing calorie intake (2).
Others: Beta-alanine, Taurine
Energy/Focus Complex
L-Carnitine Tartrate: Can reduce muscle damage and soreness and improve aerobic capacity (3).
Acetyl L-Carnitine HCL: Works to enhance memory and boost cognition.
Others: N-Acetyl L-Tyrosine, Gamma Butyrobetaine Ethyl Ester HCL, ThermoDiamine
Other Ingredients: Natural & artificial flavors, sucralose, malic acid, calcium silicate, silicon dioxide, citric acid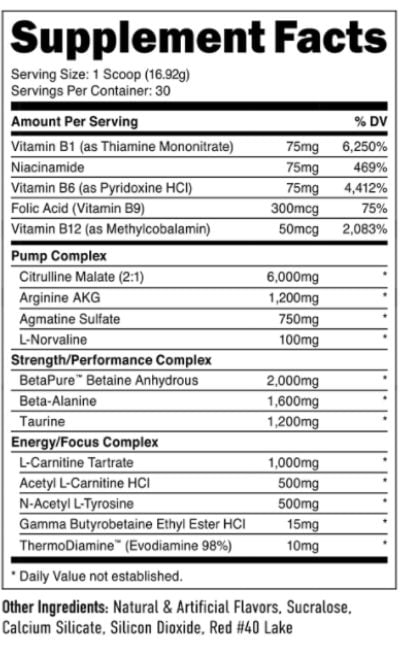 Price & Effectiveness
Staunch Pre Zero-Stim is a great pre-workout for those looking for that stim-free energy to eliminate jitters and that itchy feeling. With 30 servings per container, one scoop of this stim-free workout will pump you full of that non-jitter energy.
Four flavors include:
Peach Mango
Pina Koala
Blue Raspberry
Aussie Apple
Pros: Great stim-free energy and great for muscle pumps and other pre-workout benefits. Great tasting with amazing flavors. From a company who knows athletes' needs in Staunch.
Cons: Not for those who want stimulants. Does contain sucralose and artificial flavors.
Price: $39.00
Featured Athlete
Calum Von Moger is a professional bodybuilder who founded Staunch as a way to bring high quality supplements to bodybuilders and athletes so they too could find success in their respective sports. Through hard work and sheer will, Von Moger has overcome adversity on numerous occasions and showed his fight and tenacity to be a force in the pro bodybuilding circuit. As an actor, he starred in Generation Iron's Calum Von Moger: Unbroken which follows his recovery back to peak condition after suffering a serious injury. The biographical drama Bigger saw Von Moger as a young Arnold Schwarzenegger. Staunch and Von Moger work to bring the best supplements to the game to help others achieve their training and performance goals.
Wrap Up
Staunch Pre Zero-Stim is a great stim-free pre-workout for those who want clean energy from natural ingredients without the fear of jitters or that itchy feeling. Designed to promote clean muscle pumps, energy, and increase strength and performance, this pre-workout is great tasting with amazing benefits. Staunch is a company who understands the needs of athletes everywhere and seeks to provide the best quality ingredients for them to succeed with healthy products. What you are really getting is a high quality stim-free pre-workout from a company who understands athletes with great benefits and taste. Try Staunch Pre Zero-Stim pre-workout today and see what this pre-workout can do for you.
Try Staunch Pre Zero-Stim Here
Generation Iron may receive commissions on purchases made through our links. See our disclosure page for more information.
Let us know what you think in the comments below. Also, be sure to follow Generation Iron on Facebook, Twitter, and Instagram. 
*Images courtesy of Staunch, Calum Von Moger Instagram and Envato
References
Perez-Guisado, Joaquin; Jakeman, Philip M. (2010). "Citrulline malate enhances athletic anaerobic performance and relieves muscle soreness". (source)
Trepanowski, John F.; Farney, Tyler M.; McCarthy, Cameron G.; Schilling, Brian K.; et al. (2011). "The effects of chronic betaine supplementation on exercise performance, skeletal muscle oxygen saturation and associated biochemical parameters in resistance trained men". (source)
Spiering, Barry A.; Kraemer, William J.; Hatfield, Disa L.; Vingren, Jakob L.; et al. (2008). "Effects of l-carnitine l-tartrate supplementation on muscle oxygenation responses to resistance exercise". (source)