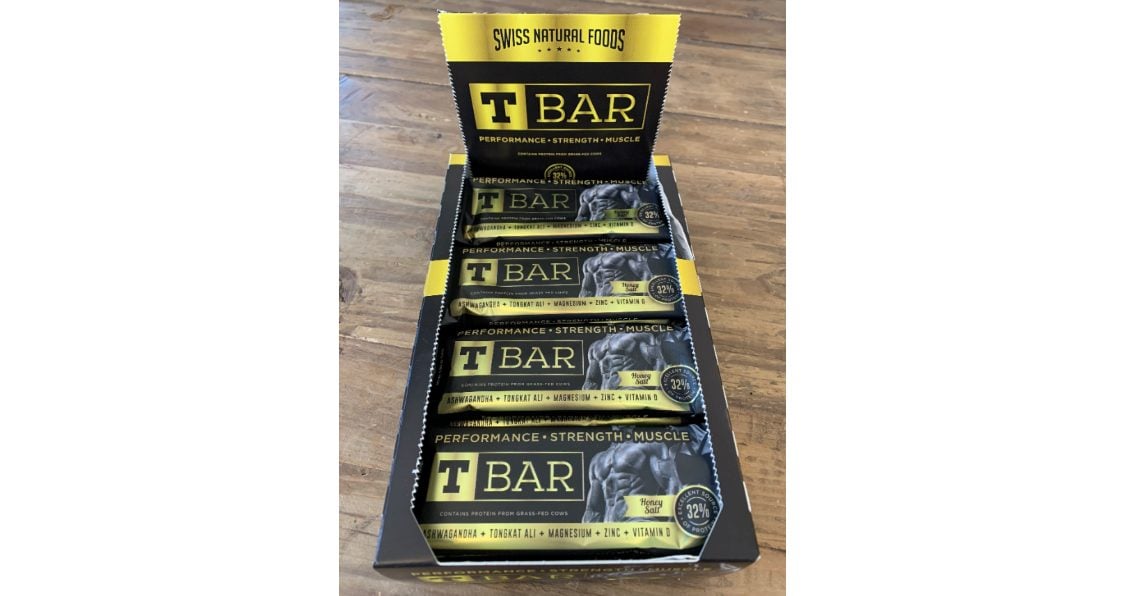 This protein bar is natural and high quality designed for power and performance.
Product Overview
For those of us bodybuilders, strength athletes, and quite frankly, any other athlete seeking gains and improved performance, having a high quality protein at the ready is something to not take for granted. Too often do our days consist of constantly running around between work and our personal life, on top of that grueling workout we know we need, and our bodies simply suffer. With the right protein bar, you work to capitalize and give your body fuel to keep going as you make nutrition priority number one. Swiss Natural Foods T Bar is a fantastic natural and high quality protein bar designed to improve power and performance and is a must try for your daily routine.
A good protein bar, and one worth its salt, will be packed with protein to help your muscles and keep you full, while also containing effective and clean ingredients to not harm your body with unnecessary additives. With this, a protein bar can provide for workout support to help repair those torn muscles and give your body fuel to recover and is a convenient way of getting those nutrients into your body. It also works as a meal replacement if need be for the ability to keep you full, or work as a snack between meals to avoid indulging in those sweet treats. Swiss Natural Foods T Bar can do all the above making this a great protein bar for athletes everywhere.
10% OFF
Try Swiss Natural Foods T Bar for the ultimate all natural protein bar. Tastes delicious, packed with protein, and no sugary additives. 
Swiss Natural Foods is an awesome company relying on science-backed ingredients to give you the best natural and effective products. Their mission is to help make you a better, healthier, and stronger version of yourself as you seek those gains and performance results. As a group who develops and markets protein bars, they saw to it to bring only the best bars to the market with honest ingredients proven to make you healthier and stronger. If you are an active person seeking to change your life, goals, or simply to just have fun working hard, Swiss Natural Foods is there for you.
Swiss Natural Foods T Bar Highlights
Swiss Natural Foods T Bar is a fully natural protein bar with a twist. They have added a few extra ingredients to ensure your health takes priority. Knowing that you deserve the best ingredients, this great tasting bar is the first of its kind and is a new product coming to the market. As the strongest and cleanest protein bar, the time was done to make sure what is included will only benefit you.
Powerful plant extracts mixed with the right vitamins and minerals for optimal hormonal balance, this bar is the best Mother Nature can offer with great potential for your power, performance, but more importantly, health. With 16g of protein, a good ratio with the other macronutrients, and only 250 calories, this protein bar does its job, and it does it well.
Ingredients
Along with the idea of being all-natural and containing science-backed ingredients,  T Bar offers the most when it comes to getting the best nutrients to fuel your body. Let's check out some of these great ingredients below:
Ashwagandha: Is an herb referred to as an adaptogen, which help normalize system functions and helps elevate the body's functioning. It can help decrease inflammation, improve energy production, increase muscle growth, and reduce cortisol levels, among other things (1).
Tongkat Ali: An herb used for a number of benefits like aiding in physical and mental performance, increasing muscle strength, reducing body fat, among others (2).
Magnesium: Essential for the human body, it can aid in fundamental physiologic functions, reduce lactate production in the muscles, and improve secretion of total growth hormone (3).
Vitamin D: As a vitamin where many suffer from a deficiency, this can keep your immune system up, improve strength, balance testosterone levels, and increase skeletal muscle function (4).
Zinc: Very common for those fighting off cold and infections, it can also work to improve cognitive function, improve resting and fatigue hormone values, and improve DNA synthesis (5).
Price, Flavors & Effectiveness
Swiss Natural Foods T Bar is that all natural protein bar packed with great added ingredients to give you the mighty benefits of something to improve power and performance in just one bar. One box of T Bars contains 12 protein bars at a price of $29.99. It comes with two great flavors in Honey & Salt and Peanut Chocolate which have a delicious taste.
Pros: Packed with whey protein and other great ingredients that are natural and effective. Great price matches the awesome benefits and its innovative approach to protein bars makes this one to try.
Cons: Taste is a bit hard to swallow at times and it can suffer from the usual chalky texture of many protein bars.
Price: $29.99
---
Check out our list of the Best Protein Bars for more great products!
---
Overall Value
Swiss Natural Foods T Bar is a fully natural protein bar designed with other effective ingredients to bring you a fantastic way to improve power and performance with a convenient option. With powerful plant extracts and the right vitamins and minerals, this process has made T Bar one of, if not, the strongest and cleanest protein bar on the market. What you are really getting is an effective, natural, and all around awesome protein bar at a great price from an honest company. Try Swiss Natural Foods T Bar and see what it can do for power and performance today.
Try Swiss Natural Foods T Bar Today
---
Use the promo code IRON for a 10% discount on T Bar to boost your gains today!
---
Generation Iron may receive commissions on purchases made through our links. See our disclosure page for more information.
Let us know what you think in the comments below. Also, be sure to follow Generation Iron on Facebook, Twitter, and Instagram. 
*Swiss Natural Foods
References