This adjustable dumbbell weight set is perfect for at home use and offers you just over 66 lbs.!
Product Overview
Searching for an inexpensive yet effective home gym can be challenging. With so many brands and options for equipment, prices wildly vary and sometimes that top tier stuff just seems to elude you. Whether it be kettlebells, barbells, medicine balls, or dumbbells, as good as a bodyweight workout may be, sometimes all we want to do is pump some iron. And for those of who can't make it to a gym right now, fear not. Topeakmart Adjustable Dumbbell Weight Set is a fantastic workout tool to provide you with 66.14 lbs. of weight in just two dumbbells.
The benefits of adjustable dumbbells are great and come in handy with various exercises at the convenience of simply switching the weights to match whatever you desire. The exercises you can perform with a dumbbell vary from anything from upper body lifts to lower body explosive work and even core (1). Saving space and instead of a full dumbbell rack, an adjustable dumbbell set can fit under your bed, in your closet, or just out in the open to be ready for whatever workout comes your way. Durable and affordable, adjustable dumbbells are the way to go for your home gym.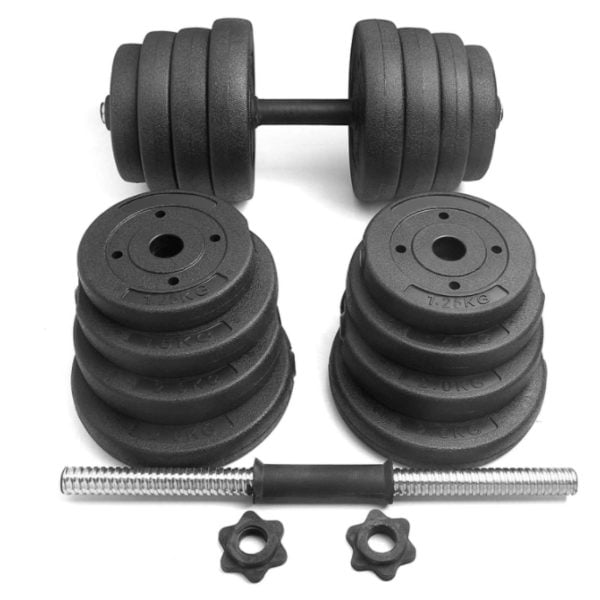 Topeakmart is a company who prides themselves on creating great quality products for all sorts of uses depending on your lifestyle. Seeking to make customers happy, Topeakmart puts them and the products first to ensure that happiness and safety come first and foremost. Designing this adjustable dumbbell set is just one of many products Topeakmart has created to encourage exercise and fitness to be a routine part of your life. Knowing the benefits of exercise, while also noticing the challenges of having a home gym, Topeakmart sought to make this product so you could enjoy a good workout from the comfort of your own home. With high quality products and great customer service, Topeakmart offers this great adjustable dumbbell set to fill all of your needs.
---
See where Topeakmart Adjustable Dumbbell Weight Set landed on our list of the Best Home Gym Equipment Under $100 here!
---
Topeakmart Adjustable Dumbbell Weight Set Highlights
Topeakmart Adjustable Dumbbell Weight Set offers you plates, bars, and collars for your one stop shop with 66.14 lbs. to improve your overall training and performance. Great for both upper and lower body building exercises, these can be used anywhere like your home, office, or wherever you need to grab a workout. High quality and durable, the cement weights and iron bars are designed for longevity to keep you lifting for life. A protective coating around the weights and anti-slip grips add comfort and safety and provide extra durability as well.

This set comes with two dumbbells totaling just over 66 lbs. Included with this set are four 5.5-pound plates, four 4.4-pound plates, four 3.3-pound plates, four 2.8-pound plates, four collars, and two 18.5×1'' dumbbell bars. All of this ensures easy adjusting and simple on and off motions to give you a well-rounded lift to tackle any and all of your needs.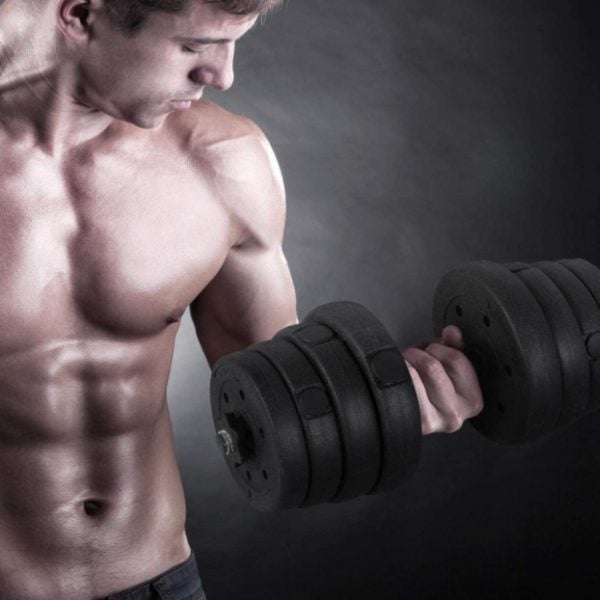 Product Details
Dumbbell Plates & Bars
Each of these plates (16 total) is made from cement and then coated in plastic to avoid any damage to the floor. This is perfect as it makes it suitable for home use without total floor destruction. With 16 total plates, the ability to have an amazing workout is possible with plenty of diversity and variation to throw into any workout.
The iron bar has an electroplating surface that is durable and sturdy for use. Its antirust and wear proof plating provides lifelong service and allows for that longevity to carry over into your own gains. This bar won't tear up your hands and is comfortable to use with the ability to easily screw on and off weights to attach with the collars provided.
Spinlock Collars & Grips
The spinlock collars ensure that no weight slides off effectively causing injury or a poor workout. The hexagonal nut is high quality and more thick and heavy than others to ensure that tight squeeze around the thread. Easy and safe for fitness, these collars are perfect for keeping that weighted plate locked and loaded for whatever comes next.
The rubber glove feel of the grip allows for comfort for your hands and offers great protection when exercising. Quality PVC grips produce good force friction and ensure safety to avoid slippage. This will help you rely only on those targeted muscles as opposed to smaller, weaker stabilizer muscles to effectively help tone and sculpt your body, as well as offer increased mass and strength.
Price & Effectiveness
Topeakmart adjustable dumbbell is your one stop shop for weight up to 66.14 lbs. This dumbbell includes: four 5.5-pound plates, four 4.4-pound plates, four 3.3-pound plates, four 2.8-pound plates, four collars, and two 18.5×1'' dumbbell bars. In total, this comes at a price of $107.99.
Pros: There is an adequate amount of weight and are relatively easy to change plates on and off. Budget friendly and great for beginners.
Cons: The quality around the spacing of the weight comes into question. It can delay your workout having to constantly put on and take off plates to match your workout.
Wrap Up
Topeakmart Adjustable Dumbbell Weight Set is the perfect all in one dumbbell for whatever workout needs you may have. With just over 66 lbs. to work with and only two dumbbells to deal with, this product from Topeakmart will surely give you everything you want and need. High quality to ensure durability and longevity while also being easy to adjust and accessible makes this product one of those you just have to have. From a company who cares about their customers, Topeakmart wants everyone to have an efficient and effective workout so they can see their own individual growth. What you are really getting is a top tier adjustable dumbbell that is built to last and accessible for all workouts from a company who cares about their consumers. Make your home gym just that much better with this adjustable dumbbell set from Topeakmart.
Try Topeakmart Adjustable Dumbbell Weight Set Here
Generation Iron may receive commissions on purchases made through our links. See our disclosure page for more information.
Let us know what you think in the comments below. Also, be sure to follow Generation Iron on Facebook, Twitter, and Instagram. 
*Images courtesy of Topeakmart
References
Jakobsen, Markus D.; Sundstrup, Emil; Andersen, Christoffer H.; Aagaard, Per; Andersen, Lars L. (2013). "Muscle activity during leg strengthening exercise using free weights and elastic resistance: Effects of ballistic vs controlled contractions". (source)