Hafthor Bjornsson and Tyson Fury has teased a potential fight in the future.
Hafthor Bjornsson has had his eyes on a future opponent for months now. He defeated Eddie Hall in the much-anticipated matchup between the two strongmen. While a rematch is possible, there is a chance that Bjornsson will find an opponent elsewhere. Martyn Ford has been mentioned but could Tyson Fury be priority?
Bjornsson and Fury met back in December prior to a speaking event that the Gypsy King was putting on. There seems to be a solid relationship between the two and this could make a potential fight possible. In an Instagram story, Fury called out Bjornsson.
"I wonder if @thorbjornsson could take a crashing right hand to that big jaw?

What happens when an unstoppable force meets an immovable option? Maybe we'll find out."
Hafthor Bjornsson did not waste time in responding to Tyson Fury. Thor also posted an Instagram story outside of his gym with his fists up ready for a fight.
"There's only one way to find out. Let's make these talk.

I'm 100% up for a war. Let's do this."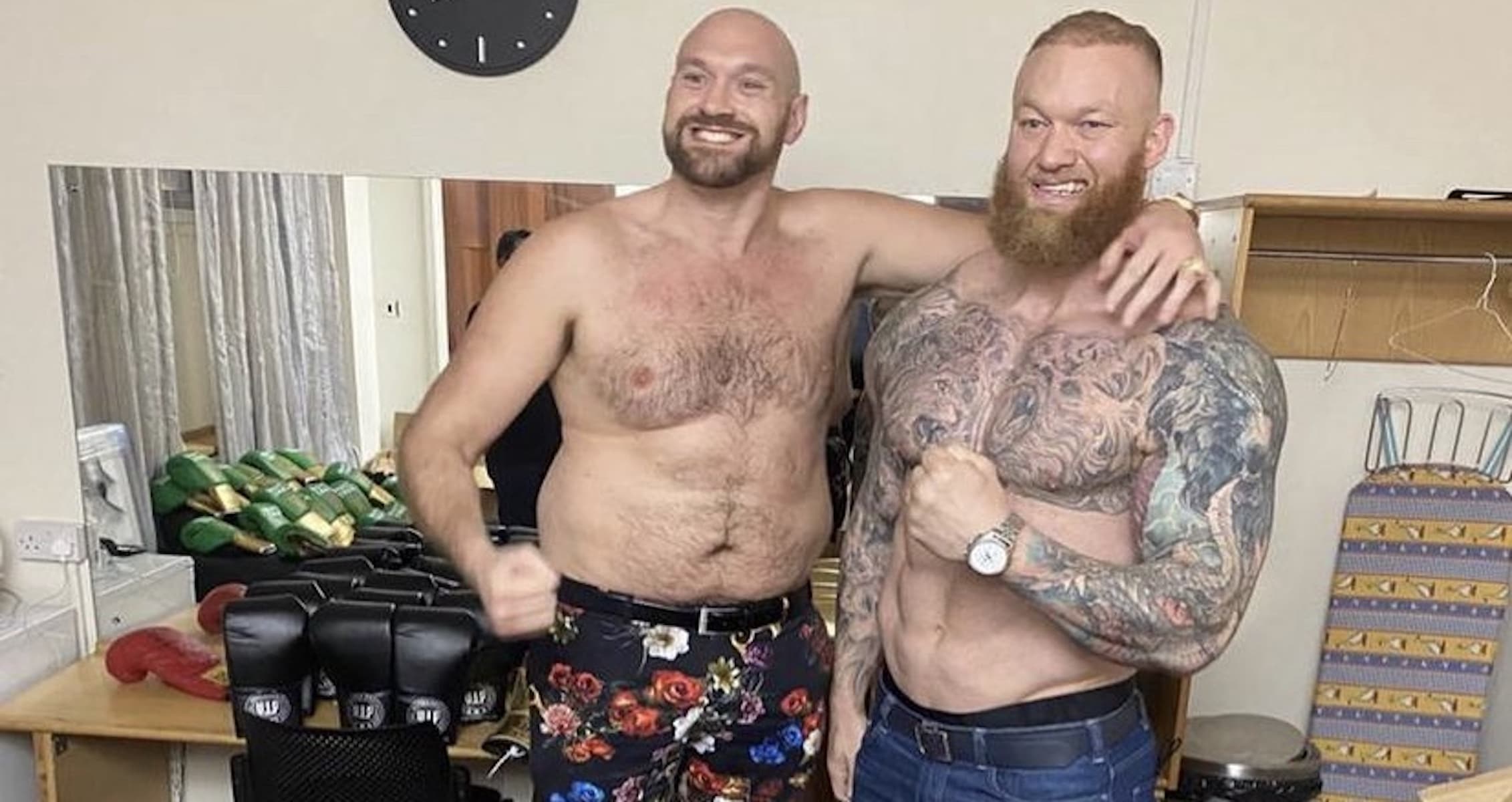 Could Hafthor Bjornsson vs. Tyson Fury Happen?
The size of the two competitors might be similar but it is clear that the fight history clearly favors one side.
Both Tyson Fury and Hafthor Bjornsson stand at 6-foot-9 while the strongman is about 35 pounds heavier. This is to be expected from a former strongman. Fury has not lost a boxing match in his career and has taken down the likes of Wladimir Klitschko, Dillian Whyte, and Deontay Wilder. Fury retired after knocking out Whyte but has not closed the door on promotional fights.
Bjornsson has made the transition from strongman to boxer and has done it in a big way. He has lost weight and created a shredded physique that can last in the ring. Bjornsson has just two matches under his belt, knocking out Devon Larratt before defeating Hall.
This seemed to be an unrealistic bout just a few weeks ago but the fact that both men have acknowledged the idea is telling. While Tyson Fury is retired, he has kept the door open about fights like this. Hafthor Bjornsson is not going to back down from an opponent and this could be an extremely hyped boxing match if an agreement comes in the future.
For more news and updates, follow Generation Iron on Facebook, Twitter, and Instagram.