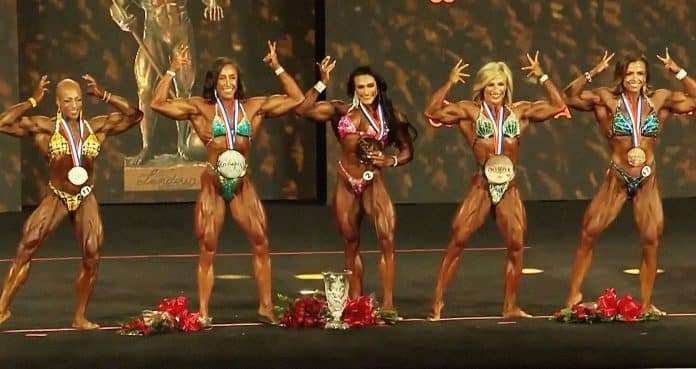 Natalia Abraham Coelho is crowned champion in the Women's Physique division at the 2022 Olympia.
The Women's Physique division crowned a champion on Friday night. After finishing as the runner-up in each of the previous two years, Natalia Abraham Coelho was crowned Olympia champion.
Villegas won the previous two Olympia titles and kept it rolling as the competition moved back to Las Vegas. There was plenty of competition coming into this year and Villegas made sure to enter in her best shape. As good as Villegas was, Coelho showed that this was her year.
During prejudging, it was clear that the top two was going to remain the same for the third consecutive year. Coelho was able to do enough to win her first Olympia title. Brooke Walker rounded out the top three and proved to be a force all day long. Walker continues to improve her standing in Women's Physique.
The full results have been announced. Check out how the Women's Physique division played out on Friday night!
2022 Olympia Women's Physique Results
First Place – Natalia Abraham Coelho ($50,000)
Second Place – Sarah Villegas ($20,000)
Third Place – Brooke Walker ($12,000)
Fourth Place – Barbara Menage ($7,000)
Fifth Place – Ivie Rhein ($6,000)
Sixth Place – Jeannie Feldman
Seventh Place – Anne-Lorraine Mohn
Eighth Place – Melissa Teich
Ninth Place – Winsome White
Tenth Place – Marie-Solange Essoh
2022 Official Olympia Women's Physique Scorecard
Previous Olympia Women's Physique Winners
2021: Sarah Villegas
2020: Sarah Villegas
2019: Shanique Grant
2018: Shanique Grant
2017: Juliana Malacarne
2016: Juliana Malacarne
2015: Juliana Malacarne
2014: Juliana Malacarne
2013: Dana Linn Bailey
2022 Mr. Olympia Friday Night Results
More 2022 Mr. Olympia Coverage:
For more news and updates, follow Generation Iron on Facebook, Twitter, and Instagram.