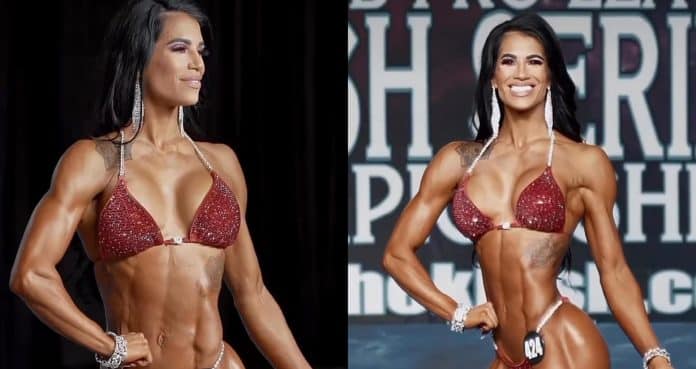 Aimee Leann Delgado wins the 2023 Klash Series Bodybuilding Championship!
The 2023 Klash Series Championships took place on Saturday, March 25th in Orlando, FL with the Bikini division being on display during the event. Competitors flocked to Orlando in hopes of qualifying for the 2023 Olympia. In the end, it was Aimee Leann Delgado who punched her ticket to the biggest show of the year.
Delgado will be making her second consecutive trip to the Olympia. In 2022, she finished sixth in what is a growing and talented division. With plenty of time to prepare, she now has a chance to improve and potentially sneak into the top five toward the end of the year. The Olympia committee has done away with the points qualification system so athletes must win a competition to qualify and Delgado has done just that.
The Bikini division continues to be a growing product with a lot of talent at the top. In March, Lauralie Chapados won her second consecutive Arnold Classic title. She defeated the two most recent Olympia champions in Maureen Blanquisco (2022) and Jennifer Dorie (2021). Also, Chapados topped Ashley Kaltwasser, who has many titles on her resume. The Olympia will be another thriller with many competitors who can come out on top.
Delgado was able to come out on top over an impressive roster. Brittany Gillespie finished as the runner-up while Kathy Seitz came in third. The full results from the show have been announced. Below, check out a full breakdown along with an official scorecard.
View this post on Instagram
2023 Klash Series Championships Breakdown
First Place – Aimee Leann Delgado
Second Place – Brittany Gillespie
Third Place – Kathy Seitz
Fourth Place – Carlee Stevenson
Fifth Place – Emily Plajer
Sixth Place – Priscilla Leimbacher
Seventh Place – Ashley Hampton
Eighth Place – Urchal Byambatseren
Ninth Place – Rebecca Flachner
Tenth Place – Janine Herrera
2023 Klash Series Championships Scorecard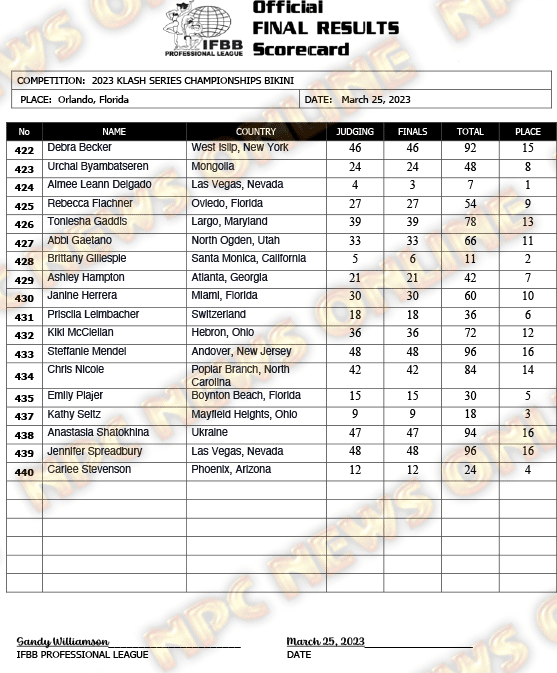 For more news and updates, follow Generation Iron on Facebook, Twitter, and Instagram.