The biography, life, and accomplishments of Aspen Rae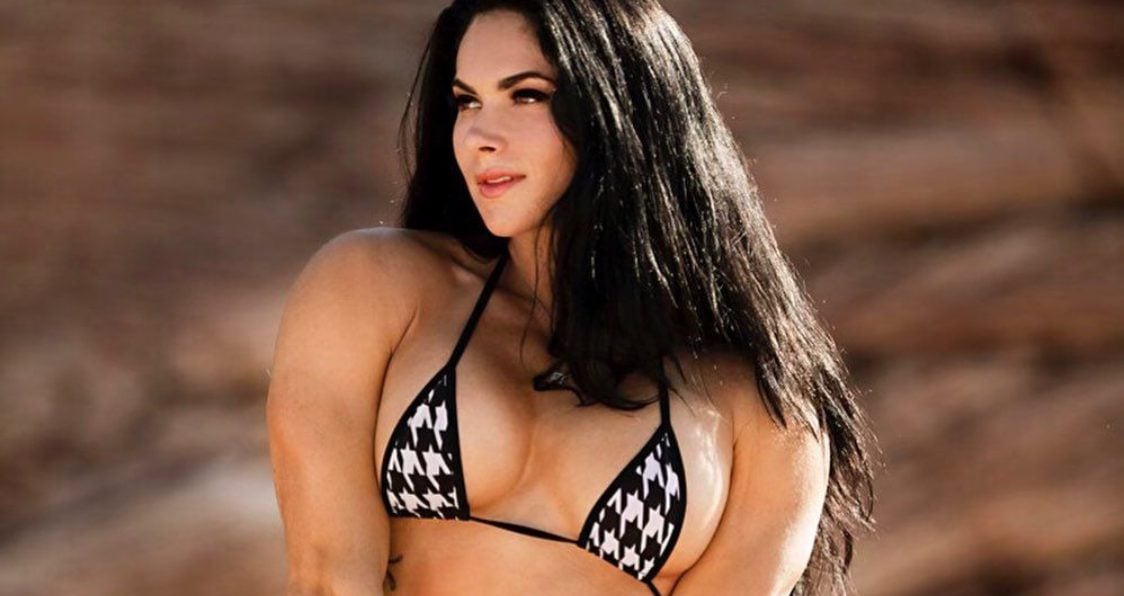 Aspen Rae is an adult model, fitness model, and social media personality with an absolutely shredded and toned physique. With success in front of the camera through her modeling opportunities, she has competed in NPC shows as a Figure Competitor.
Below is a complete breakdown of her profile, stats, biography, training and diet regimens.
Full Name: Aspen Rae

Weight
Height
Date Of Birth

Under 115 lbs.

5'4"

12/10/1990

Profession
Era
Nationality
Adult Model, Fitness Model, Figure Competitor

2010

American
---
Biography
Aspen Rae was born in northern California and always felt very athletic as a child. When it came to running, and running long distances, she thrived and found a real passion in that along with swimming. But as many young people do, after high school she sought a change. Being a long distance runner and swimmer, she sought to put on strength and size with an increased effort on toning her physique. Soon after, she began her weightlifting journey and found a variety of exercises to challenge her so she saw the results she wanted most.
With this new found love of lifting, Aspen began competing in NPC shows and started seeing good results. Starting in the Bikini division, she soon transitioned to the Figure division and felt it was a better fit.
At the same time, she began modeling via webcams and participated in adult acting, something she was incredibly nervous to tell her religious parents. But with their support, she began her modeling career, working on her physique and earning money through that.
Having found success in many areas of her life, she continues to work hard and thrive as a model, competitor, and influencer, constantly working on her physique and receiving support from those around her.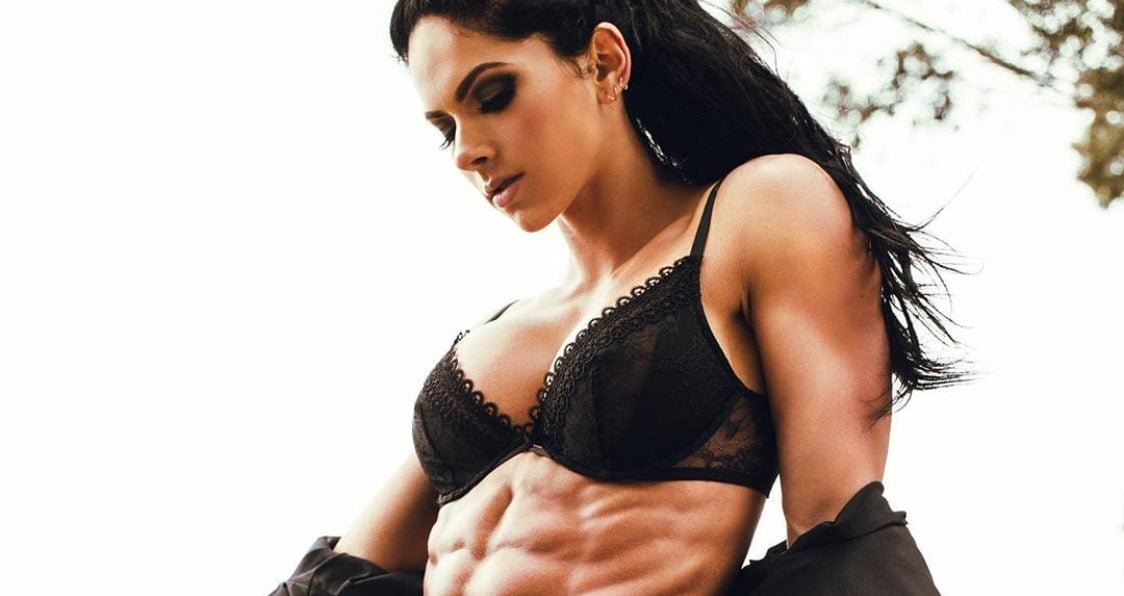 Training
Knowing that she needs to focus on proportion and her aesthetic, Aspen works with exercises that will help balance out her muscle groups so everything achieves good symmetry. Any weaker spots she tends to focus on a bit more for that week. Cardio is not a big part of her routine unless it is absolutely necessary.
Back Workout
Lat Pulldown: 3 sets, 10 reps
Pull-Ups: 3 sets, 12 reps
Wide Grip Pulldowns: 3 sets, 10 reps
Close-Grip Cable Rows: 3 sets, 10 reps
Straight Bar Raises: 3 sets, 8 reps
Biceps, Triceps & Delts Workout
Preacher Curls: 3 sets, 10 reps
EZ Bar Curls: 3 sets, 10 reps
Alternating Hammer Curls: 3 sets, 12 reps
Dumbbell Curls: 3 sets, 8 reps
Overhead Rope Extensions: 3 sets, 10 reps
Triceps Pushdowns: 3 sets, 10 reps
Dips: 3 sets, 15 reps
Kneeling Shoulder Press: 4 sets, 8 reps
Alternating One Arm Dumbbell Press: 4 sets, 10 reps
Lateral Raises with Hold: 4 sets, 8 reps
Straight Bar Pushdowns: 4 sets, 10 reps
Abs
These can be done for time, so 45 seconds on and 15 seconds off, or a series of 3-4 sets by 15-20 reps.
Russian Twists
Full Body Extensions
Hip Dips
Plank Raises
Plank Step Outs
Hanging Leg Raises
Hanging Windshield Wipers
V-Ups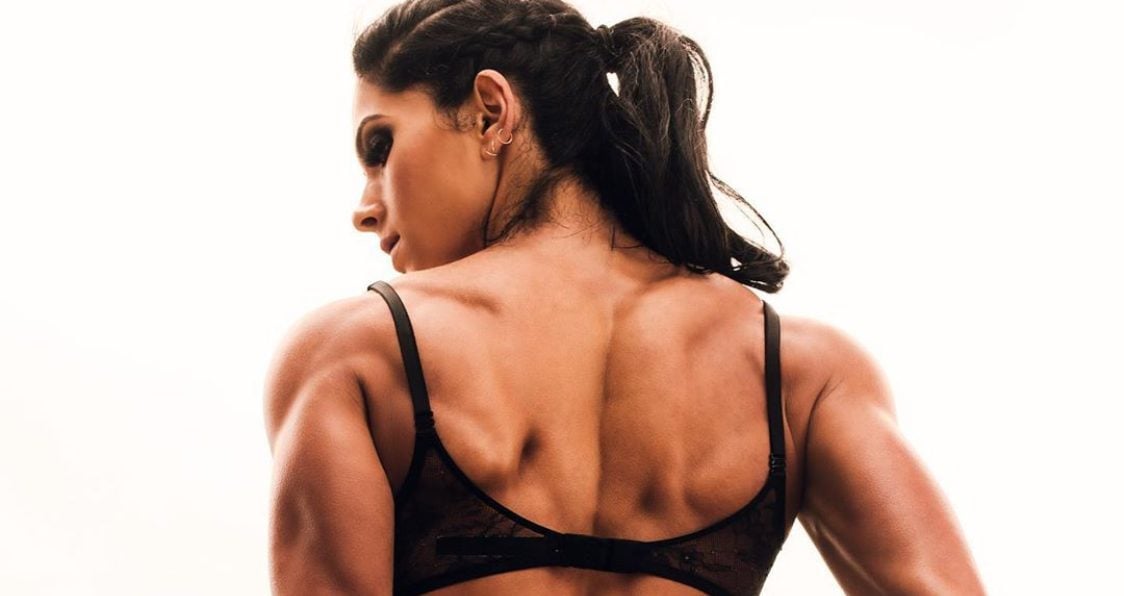 Nutrition
With her careers as a model and bodybuilder, Aspen needs to stick to a strict diet to keep that toned and sculpted aesthetic. She focus on eating enough protein in the day for that will maintain muscle mass and give her the best chance to stay full. Carbs and fats are of course important and she makes sure to keep those in her plan for better energy. Certain foods Aspen will focus on are lean meats and eggs for protein, sweet potatoes and brown rice for carbs, and avocados and almond butter for fat sources.
Supplementation
Along with a solid training and diet routine, having the right supplements on your shelf will prove to be vital when it comes to enhancing all areas of your growth. A pre-workout can offer energy and provide for those valuable muscle pumps while a protein powder can boost growth and recovery for all your workout goals. Something like a fat burner can assist you with losing that stubborn belly fat so you look toned and sculpted like Aspen herself. With such a busy schedule and hard working lifestyle, a multivitamin will ensure you get those vital nutrients into your body so you can thrive inside and out of the gym.
Competition History
2017, NPC USA Championships (Figure, Class C, 1st)
2017, NPC San Jose Championships (Figure, Class B, 1st)
2016, NPC San Francisco (Figure, Class B, 1st)
2016, NCP Muscle Evolution (Figure, Class B, 2nd)
2016, NCP Muscle Evolution (Bikini, Class C, 4th)
2015, NPC Sacramento Championships (Bikini, Class B, 2nd)
2015, NPC San Jose (Bikini, Class C, 3rd)