Here's a complete list of all the Figure Olympia winners. 
Since 1980, the International Federation of BodyBuilding and Fitness (IFBB) Pro League has added several divisions for women competitors, including Ms. Olympia, Fitness, and Bikini. In addition, in 2003, the IFBB Pro made room for the Figure division–there have been 7 Figure Olympia winners thus far. 
In the Figure category, your back, shoulders, and glute-hamstring musculature and separation are critical. So is a small waist. Figure athletes will be judged on their symmetry, balance, and proportion. They're in the middle of Ms. Olympia and Fitness competitor's physiques. They're not as big as the Ms. Olympia athletes, but they hold more muscle mass than Fitness competitors. Figure athletes also have a lower body fat percentage, typically between 8-12%. 
Davana Medina took hold of the first Figure Olympia title in 2003. And she won the first several years after the Figure division's birth. But as the division drew more interest and got a better understanding of what the judges were looking for, competition grew more fierce. And more Olympia champions surfaced. Since 2017, it's been all Cydney Gillon. She's dominated the division, winning 6 years from 2017-2022. 
The 2022 Olympia marked the twentieth edition of Figure Olympia. Below we'll cover all the outstanding Figure champs from 2003 onward. 
All Figure Olympia Winners 
| | |
| --- | --- |
| Winner  | Year(s) |
| Davana Medina  | 2003-2005 |
| Jenny Lynn  | 2006-2007 |
| Jennifer Gates | 2008 |
| Nicole Wilkins | 2009, 2011, 2013-2014 |
| Erin Stern | 2010, 2012 |
| Latorya Watts | 2015-2016 |
| Cydney Gillon  | 2017-2022 |
History of Figure Olympia Winners
Davana Medina (2003-2005)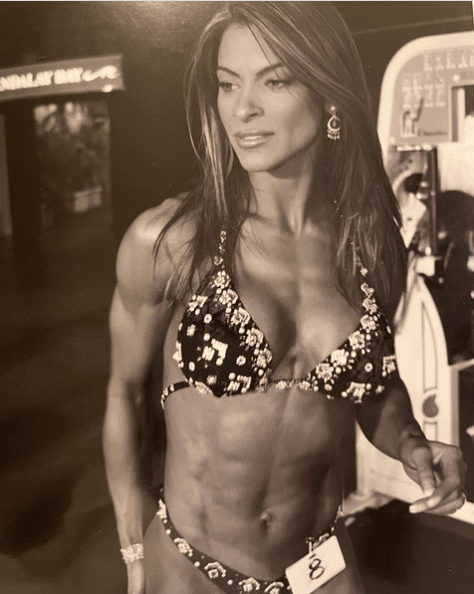 Davana Medina became the first Figure Olympia champ in 2003 at the Mandalay Bay Arena in Las Vegas, NV, and held that title through 2005. 2003 was also the same year legend Ronnie Coleman won his 6th Mr. Olympia title. And Lenda Murray won the overall and heavyweight Ms. Olympia title, where she led the women in having the most Olympia titles (8) until Iris Kyle tied her in 2012. 
Jenny Lynn (2006-2007)
View this post on Instagram
After receiving runner-up in 2004 and 2005 behind her rival Davana Medina, Lynn brought an aesthetically-pleasing physique to the Figure Olympia stage in 2006 to win the crown, exploiting Davana Medina's retirement. She became the second back-to-back winner after defending her title in 2007. 
Jennifer Gates (2008)
In 2008, Jennifer Gates short-circuited Jenny Lynn's win streak and became the third champion to clinch the Figure Olympia title. Unfortunately, it seems winning this title was the holy grail for Gates because she didn't return to the Olympia stage in the following years. Therefore, she remains the only one-time champion in the division's history. 
Nicole Wilkins (2009, 2011, 2013-2014)
View this post on Instagram
Succeeding Jennifer Gates's brief time at the Figure Olympia throne came Nicole Wilkins. Wilkins won her maiden Olympia title in 2009, then again in 2011 and 2013, and 2014, overtaking Davana Medina for the most Figure Olympia wins. 
Erin Stern (2010, 2012)
View this post on Instagram
Erin Stern was the one who interrupted Nicole Wilkins's contingent six-year win streak. She beat out Wilkins in 2010 and 2012 for the Figure Olympia crown. Stern and Wilkins were the biggest rivalries in Figure Olympia's history. After that, Stern took a hiatus from the Olympia stage with two titles to her name, but she returned to compete in the Bikini division in 2021, where she placed 15th. 
Latorya Watts (2015-2016)
View this post on Instagram
Latorya Watts rose from the ashes to prevent Nicole Wilkins from collecting her fifth Figure Olympia title in 2015. It was unexpected because, previously, in 2014, Watts received fifth place in her Olympia debut. However, Watts successfully defended her title and won again in 2016. And she's technically the only one in history to beat Nicole Wilkins and Cydney Gillon, who holds the most and second-most Figure Olympia titles. 
Cydney Gillon (2017-2022)
View this post on Instagram
After receiving a third-place finish in 2016, Cydney Gillon went to work and emerged as the most dominant Figure Olympia competitor since the onset of the Figure division. Since 2017, no one's been able to beat Gillon. Gillon's on a six-title win streak after winning the 2022 Figure Olympia title. And she's remained undefeated in competing since finishing runner-up behind Candice Lewis-Carter at the 2018 Arnold Classic Australia. 
Recap 
The Figure division came to the surface in 2003 after the onset of Ms. Olympia in 1980 and the Fitness division in 1995. It brings to stage women that blend Ms. Olympia and Fitness physiques. Figure division women bring more muscle mass to the table than Fitness competitors, but they're not as muscular as the Ms. Olympia competitors. 
Since 2003, there's been a total of 7 champions up to 2022, Davana Medina being crowned the first Figure Olympia champ and Cydney Gillon dominating the division since 2017. Of course, there have been many outstanding victories for other Figure Olympia athletes. But right now, Cydney Gillon is the face of the division and has gone down as the most dominant force the division has ever seen. 
Cydney Gillon bagged her 6th trophy this past weekend (December 15-18, 2022) at the Planet Hollywood Las Vegas Resort & Casino in Las Vegas, Nevada, at the 2022 Olympia. 
Will 2023 be the year a new Figure Olympia competitor emerges to seize Gillon's brutal reign? 
Share this article on Facebook, Twitter, and Instagram, and let us know.