Get to know Melissa Edwards, a force in the Heavyweight Women's Event.
Born and raised on the Jersey Shore, the Edwards family had their hands full. With two older siblings, Melissa Edwards found herself the youngest alongside her twin sister where she attended a local private school and spent a lot of time in Ontario, Canada enjoying the lake and well earned family time. Although she struggled with weight at times, Melissa never let that get the better of her. With her mom being very active, that idea of health and fitness was instilled in her, whether she consciously knew it or not.
Always outdoors, she played basketball, softball, track & field, cross country, rugby, and was in the cheerleading squad and captain of her dance team. She had her son when she was just 18 years old and was then married at 23, so that active lifestyle was exchanged for one of motherhood as she sought the best life for her new family. Her strongwoman journey would be shaped by a decision later in her life.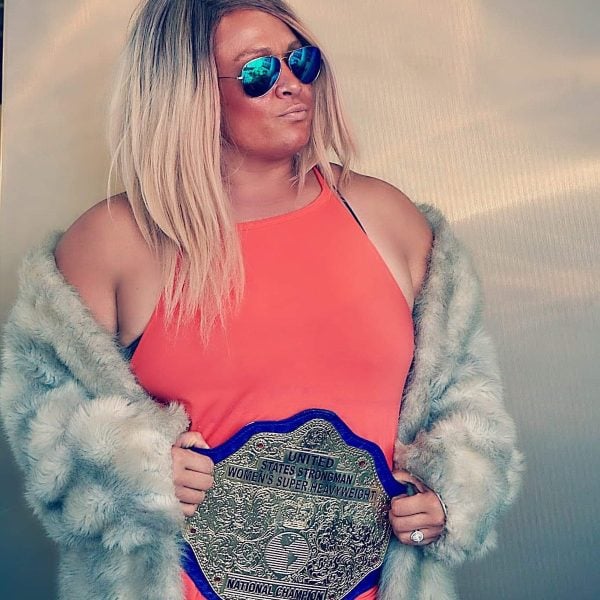 Having focused on being a parent, wife, and supporting her family for 13 years, her decision to chase this sport happened when her son, then 13, and husband took a guy's weekend, leaving Melissa alone. With no one around and lost for what to do, she realized she had no hobbies. Having always been interested in WWF and World's Strongest Man even at a young age, she took to the Internet and looked to see if Strongman was still a sport. It was. She emailed her husband, contacted a gym, and just like that, the rest is history.
The community of this sport is so close and makes for a competitive yet equally if not more than supportive community. Challenging themselves every day, the amount of mental and physical fortitude required makes for a solid support group. For Melissa, her husband, her first coach Linden Reed, and her coach and mentor pro Strongman Johnny Wasiczko, have given her the tools she needs to succeed and offer love, support, and guidance to really see her grow.
Melissa's Routine
Training
When it comes to training, Melissa loves to deadlift and train with anything that involves stones. As a perfectionist, her drive to not make mistakes gives her the ability to focus on anything and everything she needs to work on. Strongman has been integral for her physical health and wellness, but also emotional and spiritual health to keep her grounded and passionate about something.
Melissa works with experts to structure her workouts and nutrition and surrounding herself with people of like-minds when it comes to physical and mental motivation really keeps her on track and training hard. Depending on the competition, she typically trains 4 to 5 days a week. Two of those days she spends with her team training for specific events. This allows for feedback and helpful tips from other athletes and coaches to make the session as productive and effective as possible. The other two or three training sessions she spends doing are for strength and accessory work to provide solid foundations for those big lifts.
Recovery for Melissa is huge and with her medical background and responsibility to herself and her family, she knows just how important this is. Working with a physical therapist twice a week has given her the upper hand to stay physically healthy especially with her grueling schedule.
Nutrition
Melissa pays extra special attention to her diet because she has been a vegetarian for almost 20 years. Working with a professional, her meal plans are designed to support her big lifts and cardio sessions while also keeping her food allergies and vegetarian lifestyle in mind. For this, she relies heavily on cheese, eggs, fruits, and vegetables.
Melissa has suffered two strokes so her supplement use must be taken seriously and with caution. It is a testament to her will and passion for this sport enough to continue to push her mind and body like she does, but taking proper care of herself has proved to be the key in her success. There are no fancy supplements in her routine like a pre-workout and if she really craves a boost, a Starbucks short dark roast is enough fuel for this strongwoman. She does take a zinc supplement, digestive enzymes, and a specialized nighttime vitamin to ensure she doesn't miss out on those vital nutrients. Supplements work differently for everyone and Melissa has found her routine the most beneficial for her. It shows you that while supplements can be useful aids, knowing what to eat and how to train also goes a very long way.
Melissa's Strongwoman Journey
When it comes to competition, Melissa looks forward to the sandbag throws and the carry and load medley. The deadlift is a strong event for her as well. When training for these, it is all about time under tension. Typically she will start tuning these events 16 weeks out to start gauging training and development. Any pressing event proves to be a challenge for her but those are challenging events. Her mindset of not leaving until she gets it right are important for success as she seeks to continue to tackle these types of events.
Preparing for events, rest is key and her demanding lifestyle out of the sport requires her utmost attention and dedication so anything she can do to promote a better lifestyle overall is a must. Her success is not judged by medals or trophies and her value comes from knowing she is a competitor who put in the work and is willing to perform at whatever cost. Dealing with stress is huge for her mental process when competing and reminding herself to stay calm and to conserve energy goes a long way for her overall success.
For Melissa, this sport has completely changed her life. Not only has this been a journey of physical development but also one of self-discovery. For a long time, she felt like she was lacking a passion but this sport has given her a place where she can feel comfortable and feel like she belongs. All she has ever wanted to do is to help people and empower others. She knows how it feels to be broken and powerless, to face death and feel hopeless. But she prevailed. She rose from the ashes. She fought and failed and kept fighting until success was in her grasp. And once it was, she grabbed it. The day she emailed Linden Reed, her life changed. She took her life back, took her power back, found a passion, and found a home.
Hoping this would speak to someone, Melissa had this say of her journey: "I think of myself as a walking, talking anomaly. I am biracial. My dad is black and my mom is white. I was an unwed teen mother, who had two strokes, and I guess what I am saying is don't let society hold you back. I always felt like I was never enough, never white enough, never black enough, not thin enough, too tall, etc. I was told I wouldn't become anything because of life's circumstances. I would get in a vicious cycle because when I would achieve something or things were going well I would wait for the other shoe to fall or feel like an imposter like people would figure me out…well I guess we showed them right."
Check out the results of America's Strongest Man and Woman here.
Let us know what you think in the comments below. Also, be sure to follow Generation Iron on Facebook, Twitter, and Instagram. 
*Images courtesy of Melissa Edwards Instagram