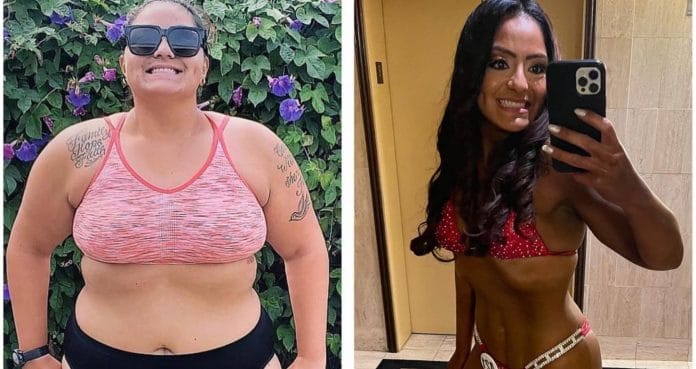 INBA Natural Olympia Body Quest champion Laura Guzman says she used carb cycling to lose 130 pounds.
Anyone who loses weight, especially 100 pounds plus, is an inspiration. And when you combine that with becoming a natural bodybuilding champion, it's sensational. Laura Guzman won the gold medal in the Body Quest category at the International Natural Bodybuilding Association (INBA)/Professional Natural Bodybuilding Association (PNBA) 2021 Natural Olympia after undergoing an over 100-pound weight loss journey via carb cycling.
However, Guzman admits it wasn't an easy path and that it took perseverance and patience. Guzman shared an inspiring transformation photo on social media and stated:
"When I started out at 285 lbs never would have guessed I would make it this far in my weight loss or compete in bodybuilding competitions. My amazing coach @mari.daniella would set out realistic goals and we would crush those and keep going and look where we ended up.

It wasn't easy at all and ya can ask her lol I complained at times but got it done."
Guzman shared how carb cycling helped her lose 130 pounds in a separate Instagram post. She also noted that carb cycling helped her control endometriosis. You can see her full post below:
View this post on Instagram
What Is Carb Cycling? 
Carb cycling is a popular diet that has helped many people lose weight. In general, it's having a mix of high-carb and low-carb days. If you have a higher carbohydrate day, you'll eat more fats. However, your protein intake will typically be similar each day. Carb cycling is supposed to force your body to burn fat as fuel. Therefore, causing you to drop weight and body fat.
Although carb cycling can be an effective strategy to lose weight, many experts will agree that you should still be in a caloric deficit if your goal is weight loss.
How to Apply Carb Cycling 
The day people decide to eat high or low carbs will vary. But typically, you'll want to eat higher carbs on the day you exercise and save your lower carb days for non-exercise days.
That's because carbs give your body energy and your muscles glycogen to fuel your workouts. Of course, if you exercise multiple times throughout the week, you'll likely have some low-carb days on workout days.
There are several different approaches to take and include a variety of factors. To name a few examples, you can:
Have higher carb days on training days and lower carb days on non-training days

Include one or multiple refeed days where you load up on carbs after a period of lower carb days

Eat low carbs during a cutting phase, followed by a high carb diet during a bulking phase
You can also split up your days and weeks into high-carb, moderate-carb, and low-carb days depending your activity level.
There isn't a necessarily cookie-cutter approach to carb cycling. It's what works best for you and your goals. It's best to advise with a coach.
Recap
Laura Guzman was able to lose 130 pounds and become a natural bodybuilding champion by implementing carb cycling. Carb cycling has a mixture of higher and lower carbohydrate days to help your body burn fat. There are various ways to implement carb cycling, and it's best to discuss the right strategy for you with a coach.
Follow us on Instagram, Facebook, and Twitter for more inspiration from the best natural bodybuilders!