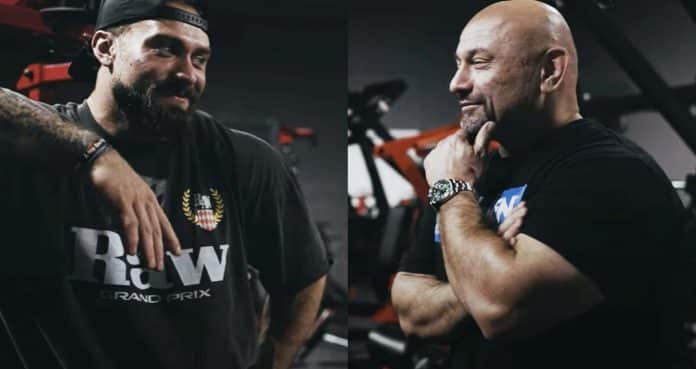 Chris Bumstead introduces the world to his new coach, Hany Rambod, in new YouTube video.
3x Classic Physique Olympia champion Chris Bumstead has introduced Hany Rambod as his new coach – revealed in his latest YouTube video. This confirmation comes shortly after Bumstead and Iain Valliere announced that that Valliere would no longer be training Bumstead moving forward. Hany Rambod is one of bodybuildings most legendary coaches – most notable for training 7x Mr. Olympia champion Phil Heath during his winning streak.
Men's Open pro bodybuilder, longtime friend, and brother in-law Iain Valliere has long served Chris Bumstead as his coach and trainer since the start of his Classic Physique career. Bumstead won his first three Olympia titles under the coaching supervision of Valliere. But Valliere wants to focus more on his bodybuilding career – so both Bumstead and Valliere announced that they had mutually decided to part ways in their coaching relationship.
Chris Bumstead is not only the longest raining Classic Physique Olympia champion in the divisions short history – he has risen into one of the most popular bodybuilders currently competing. With that sort of trajectory – it was clear to both Bumstead and Valliere that it would be better for their individual careers to split ways in terms of coaching.
Rumors that Chris Bumstead had been training or planned to train with Hany Rambod have swirled in the bodybuilding community for months now. Bumstead officially confirmed that the rumors were true on Saturday, October 22nd – when he introduced Rambod as his trainer in his latest training video posted to YouTube.
You can watch the full video here:
Beyond training Phil Heath, Hany Rambod has an impressive list of clients under his belt. He also trained 4x Mr. Olympia champion Jay Cutler. He also currently trains Men's 212 Olympia Champion (and seemingly now Men's Open competitor) Derek Lunsford and the impressive Hadi Choopan.
In the video, Bumstead not only announced the news but shared a killer chest workout under the training and guidance of Hany Rambod. With just eight weeks left until the Olympia competition – the pressure is on and Bumstead is pushing hard for his final weeks of prep. If his latest physique updates are any indication – it seems we will have the same on-point Olympia champion to look forward to on stage. He will surely be the most challenging to defeat for anyone looking to dethrone him.
You can check out the full breakdown of their workout below:
Plate-Loaded Incline Bench Press
Incline Dumbbell Press
Hammer Grip Dumbbell Bench Press
Hammer Strength Chest Press Machine
Incline Pec Dec Machine
Cable Crossover
Hammer Strength Pushdown Machine
Single Arm Reverse Grip Triceps Pushdown
Chris Bumstead's physique, popularity, and brand continue to grow year after year. With Hany Rambod now in his stable – he further evolves his reign as one of the best bodybuilders currently competing regardless of division. We can't wait to see what training videos and updates we continue to get with Rambod now in the picture.
The Classic Physique division continues to remain a category with impressive competitors – so the lineup will be full of threats to Bumstead's current reign. He will need to bring the best package he has ever had come December. Hany Rambod is certainly a trainer with the credentials to help him achieve that.
Stay tuned to the Generation Iron Fitness Network or more updates on Chris Bumstead and all things bodybuilding, strength sports, and fitness.