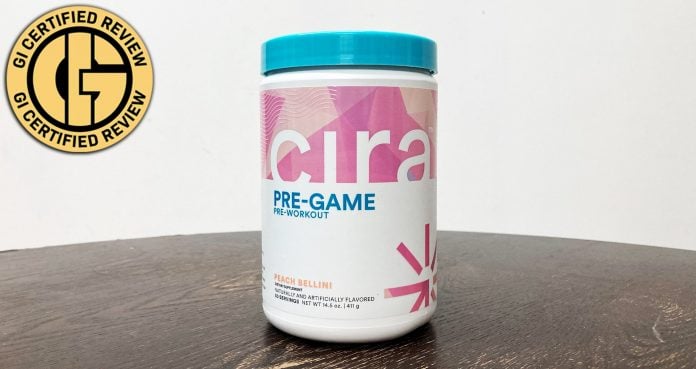 This pre-workout supplement is perfect for enhancing your energy, focus, strength, and endurance for optimal performance.
Product Overview
We all know a great pre-workout supplement can enhance our workouts and for those female athletes and active women looking for a great boost, this supplement can work wonders. Our busy schedules tend to keep us running around and always on the move. Honestly, it can be draining. Then it comes to your workout time and the energy you thought you had is simply out the window. However, one supplement has come to your defense and it's pre-workout. Cira Nutrition Pre-Game Pre-Workout is one such supplement to help boost all your gains so you never suffer again.
A pre-workout has the ability to boost your energy levels so you feel energized and ready to tackle any workout. For your strength training wants and needs, it can offer muscle pumps and really get the blood flowing so you never worry about limited gains. Able to increase focus and alertness, you will be well on your way to better reaction time so you get the most out of each and every exercise. Cira Nutrition Pre-Game can do this and much more and is an awesome pre-workout supplement to try.
Cira Nutrition Pre-Game is a great pre-workout so you perform harder, better, and faster to get the most out of your workouts. Packed with great ingredients, this supplement stands out as one of the best for women.
Cira Nutrition is a supplements company that creates only the best products to help you reach your goals faster both inside and out of the gym. They are on your side, only producing the highest quality supplements around so you can lift more, feel better, and have the energy to still do other things you love. On a mission to help you grow in the gym and as a better person, Cira Nutrition is exactly what you need to succeed with all of your fitness and lifestyle goals.
Pre-Game Pre-Workout Highlights
Cira Nutrition Pre-Game is that pre-workout you need to give you more energy to perform harder, better, and faster while promoting feminine vitality for the best pumps. With great ingredients to increase energy, endurance, focus, weight loss, and muscle growth and strength, this pre-workout has you covered with whatever your needs may be, even if its avoiding water weight. Packed with all the essential ingredients to stand out as a top pre-workout for women, this supplement is what you want most for your pre-workout routine to boost feminine energy. With great flavors at an affordable price, you can't go wrong with Pre-Game for any and all of those pre-workout needs.
Ingredients
L-Citrulline: Will change to L-arginine in the blood which boosts nitric oxide for better blood flow and increased muscle pumps.
Beta Alanine: Works to aid in carnosine production which acts a buffer for pH levels in your muscles. This helps push past fatigue so you can workout for longer.
Betaine Anhydrous: Helps produce carnitine which aids in muscle growth and power to increase strength and overall performance (1).
L-Tyrosine: Works to boost energy and awareness to ensure a good quality workout while reducing stress (2).
Caffeine Anhydrous: Works to elevate energy and tackle those sluggish feelings so you get more done. It can also increase focus, reaction time, and your level of alertness (3).
L-Theanine: Can improve focus, especially when paired with caffeine, and will offer anxiety and stress relief (4).
Theobromine: Increases endurance and promotes weight loss for those desired body composition changes. It can also stimulate your heart rate to get your blood pumping (5).
AstraGin: Can increase nitric oxide levels as well as protein synthesis for that desired growth.
Other Ingredients
Natural and Artificial flavors, Malic Acid, Silica, Citric Acid, Sodium Bicarbonate, Sucralose, Beta Carotene 1% (natural color), Acesulfame Potassium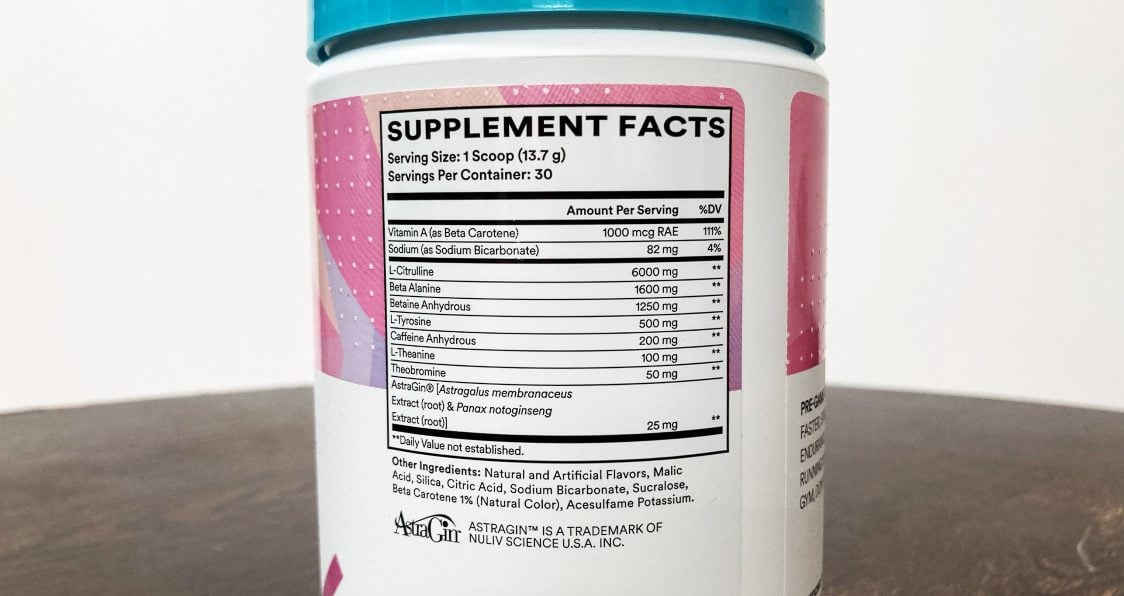 | | |
| --- | --- |
| Stim Or No Stim | Stim |
| Calories | 0 |
| Carbs | 0g |
| Sugar | 0g |
| Number Of Servings | 30 |
| Flavors | Peach Bellini, Pink Candy |
| Best Way To Take | Mix 1 scoop with 6-8 fl. oz. of water 30-40 minutes before your workout. |
Price & Effectiveness
Cira Nutrition Pre-Game is an awesome pre-workout able to provide for the best when it comes to performing harder, better, faster, and stronger, with better energy, endurance, strength, and focus. With 30 servings per container, one scoop will pump you with everything you need to succeed.
Pros
Packed with essential pre-workout ingredients to offer the best benefits
Fully disclosed label ensures honesty and transparency
Great flavors and price add to the quality of this supplement
Cons
Does contain caffeine for those sensitive or avoiding it
Only available directly from their website
Price: $39.99
---
Check out our list of the Best Women's Pre-Workout Supplements for more great products!
---
Overall Value
Cira Nutrition Pre-Game Pre-Workout is that women's pre-workout supplement designed to help you perform harder, better, faster, and stronger. With the ability to increase energy, endurance, focus, and strength, you never have to worry about getting a great workout in again. Cira Nutrition knows the needs of female athletes and active women and seeks only the best supplements around. What you are really getting is a top tier women's pre-workout with great ingredients and an advanced formula to capitalize on all your gains. Try Cira Nutrition Pre-Game today and enhance your workouts and gains.
Try Cira Nutrition Pre-Game Pre-Workout Today
Generation Iron may receive commissions on purchases made through our links. See our disclosure page for more information.
Let us know what you think in the comments below. Also, be sure to follow Generation Iron on Facebook, Twitter, and Instagram. 
*Images courtesy of Cira Nutrition and Envato
References