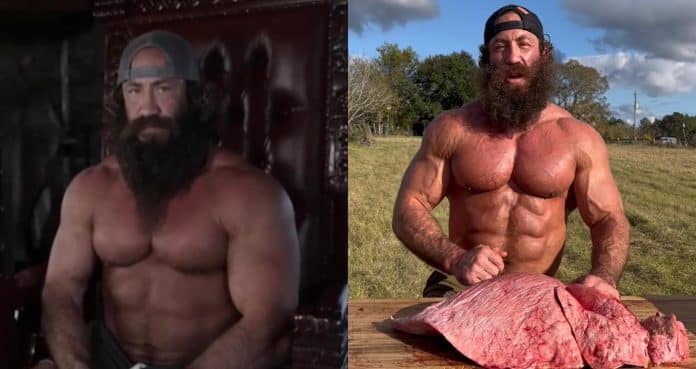 The lawsuit comes to be following Liver King's admission of using steroids.
It has been one month now since Liver King, real name Brian Johnson, admitted to using steroids in the past and currently. Now, there could be some legal issues surrounding Johnson and his supplement company.
New York man Christopher Altomare has filed a lawsuit against Liver King and his brands Ancestral Supplements LLC and The Fittest Ever LLC. The suit claims that Johnson conned his consumers into buying his products. This was based on building a shredded physique using a diet of raw meats and using the nine ancestral ways of living.
Liver King became a social media sensation over the last year preaching a unique diet that includes liver, brains, testicles, and other organs. He publicly claimed that he was not on steroids and never used them in the past. This turned out to be a lie and the suit is claiming that this persuaded his customers.
"Liver King persuaded millions of consumers to adhere to, or abide by, the Eat Tenet by repeatedly making representations to consumers that his near-perfect physique, and optimal health, were solely attributable to his adoption of the Ancestral Tenets, predominantly the Eat Tenet," the suit charges according to the New York Post.
View this post on Instagram
In November, Derek from More Plates More Dates leaked emails from Liver King sharing his steroid cycle. Shortly after the emails were released, Johnson shared a video of his own admitting to using PEDs and apologizing to his fans.
In the suit, Altomare claims that Johnson built a "cult-like" brand and that consumers were drawn by his "deceptive consumer-oriented conduct, including misrepresentations and omissions."
The New York Post shared a comment that they were told by Liver King's reps: "We have not been served with any lawsuit at this point and it would not be appropriate for us to comment on pending litigation."
For more news and updates, follow Generation Iron on Facebook, Twitter, and Instagram.