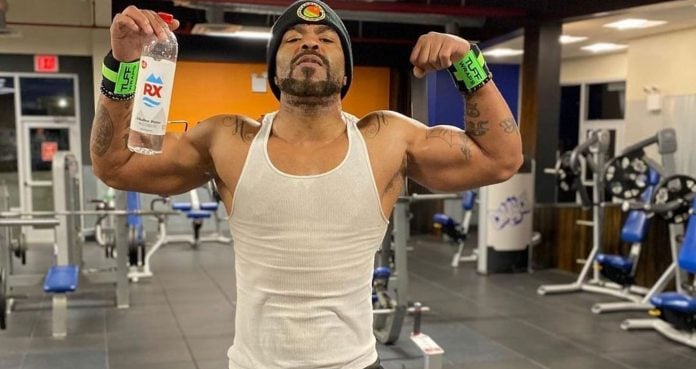 Method Man shares his chest workout to get absolutely ripped as he sees fast moving results.
Method Man is a rapper, songwriter, and producer best known for his involvement with Wu-Tang Clan. A Grammy-award winning artist, Method Man posted a video of his incredible triple bench press and fans his improved physique. His chest workouts reflect the work he's put in at the gym giving fans something to rave about.
When it comes to working out and finding the right plans for us, it is important for us to realize that looking to bodybuilders and other strength athletes is a great way for us to see huge gains. They have done the exercises before and are living proof of what can happen when you grind in the gym. But other celebrities work hard as well and it would be a disservice to neglect taking advice from them for they too know the right workouts to tackle. Using others as a source of knowledge can better prepare us for what really matters as we seek results.
As an accomplished musical artist, Method Man sought to get as jacked as possible and this workout played a massive role in that.
Full Name: Clifford Smith, Jr. (a.k.a. Method Man)

Weight
Height
Date Of Birth
200-205 lbs.
6'3''
03/02/1971
Profession
Era
Nationality
Rapper, Songwriter, Producer, Actor
1990, 2000, 2010
American
This workout from Method Man earned him massive gains and proved why he was able to tackle the triple bench no problem. Using this workout will allow you to see a serious shred as you seek growth with Method Man as the model.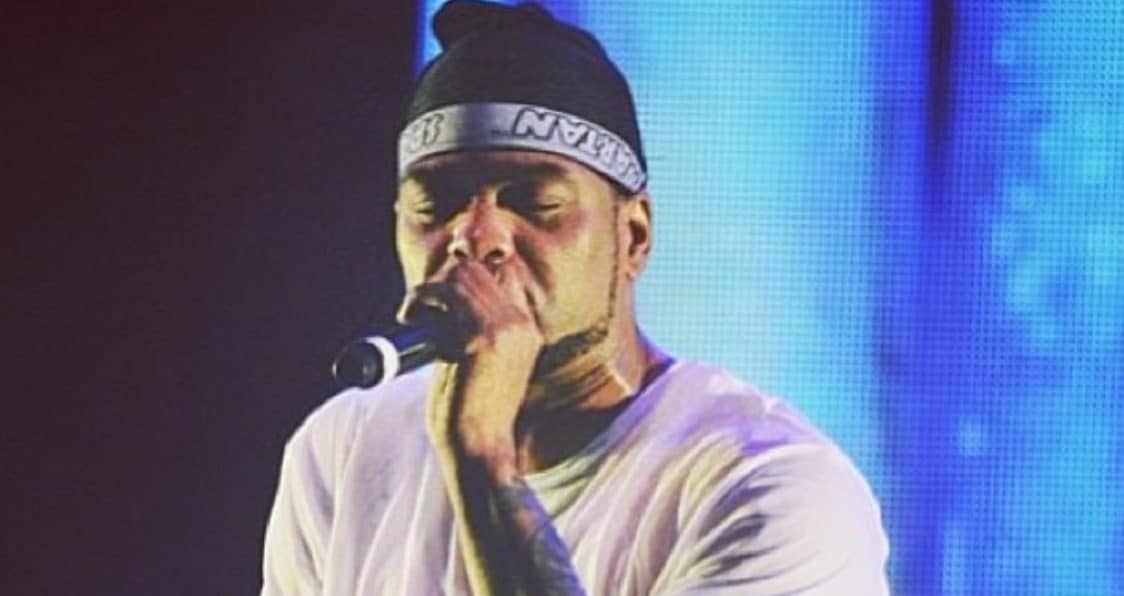 About Method Man
Clifford Smith, Jr., also known as Method Man, is a rapper, songwriter, music producer, and actor known for his role in the popular hip hop group, Wu-Tang Clan. Performing with Wu-Tang Clan throughout the 1990s and early 2000s, he was constantly putting out records and growing his fan base with the increased popularity. He soon transitioned to acting and has had recurring roles on shows like The Wire and CSI.
Now, Method Man loves lifting and his post about his triple bench has fans going crazy for the amount of weight this famous rapper could lift. Focusing his attention to health and fitness, Method Man handles his professional side and personal side as best he can, continuing to put out great records and act in popular TV shows, while also taking his health and fitness seriously.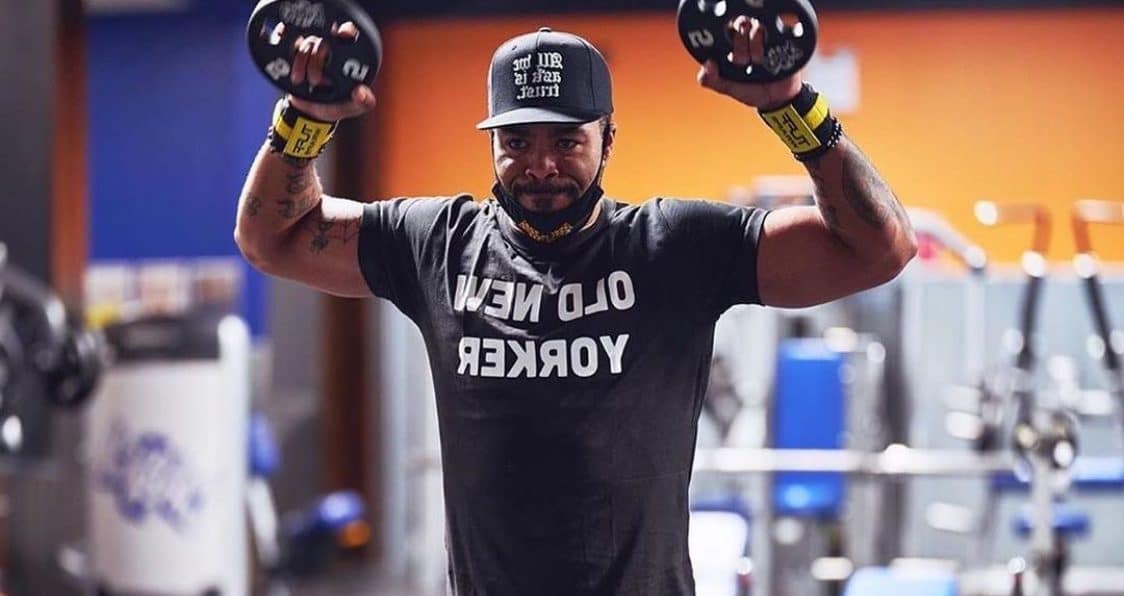 Method Man Training Routine
Method Man used working out as an escape from gaming and other activities that were not progressing him forward. As a coping tool to deal with his insomnia, he took this as an opportunity to change his life, be productive, and get fit in the process.
Method Man just goes to show us that it's never too late to get serious about the gym. After rapping and producing for Wu Tang for over a decade, he got serious about acting and had regular roles on HBO's The Wire and The Deuce. If a man that busy can find time for the gym, so can you. There's no such time as no time for the gym — there are only people who can't make time.
Leg Day
For leg day, Method Man will start with stretching on the hip abductor machine. It is about 3 sets of a light warm-up to get his muscles primed and blood flowing. Later in the workout, there are two supersets, with increasing weight each set for the last superset (leg extensions and leg curls)
| | | |
| --- | --- | --- |
| Exercises | Sets | Reps |
| Barbell Squats | 5 | 5 |
| Superset #1 | | |
| Leg Press | 5 | 10 |
| Walking Lunges | 5 | 20 |
| Calf Raises | 5 | 20 |
| Superset #2 | | |
| Leg Extensions | 5 | 12-15 |
| Leg Curls | 5 | 12-15 |
Chest Day
Method Man's chest day also includes an alternating superset later in the workout where he will perform incline chest flys and chest busters. So, the first set is flys then busters, followed by the next set of busters then flys, and the final set of flies then busters. To end the exercise, he will hit the cables and do a light exercise just to get some blood flowing into the muscles.
| | | |
| --- | --- | --- |
| Exercise | Sets | Reps |
| Bench Press | 5 | 5 |
| Incline DB Press | 5 | 10 with 30 secs in between |
| Superset | | |
| Incline Weighted Flies | 3 | 12, 10, 8 |
| Chest Busters | 3 | 12, 10, 8 |
| End Superset | | |
| Decline Hammer Strength Machine | 4 | 10-12 |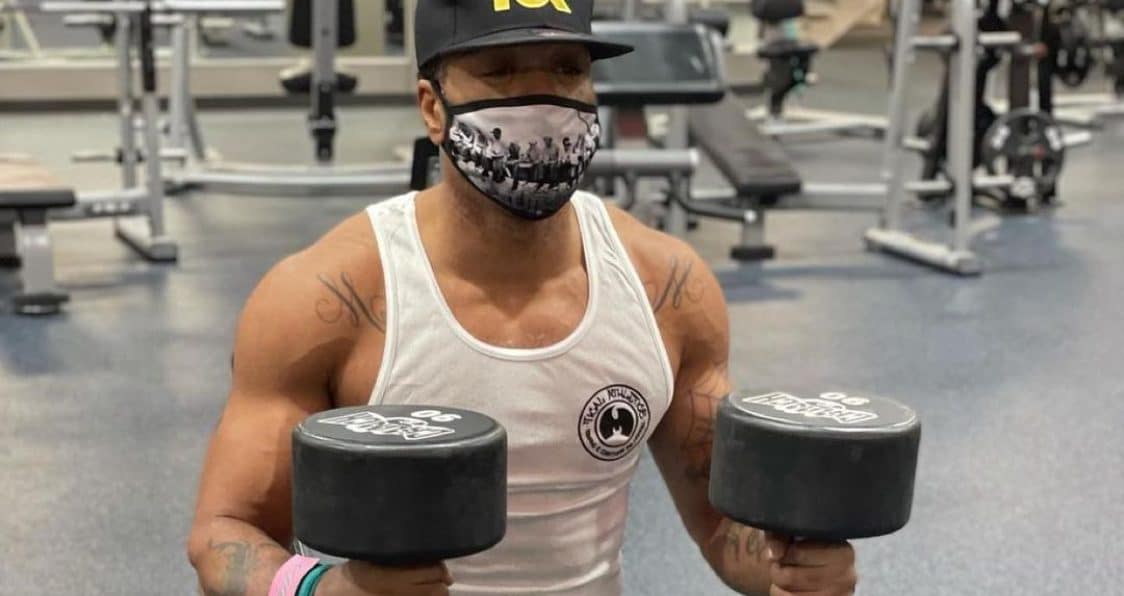 Method Man's Triple Bench Press
Method Man posted his incredible triple bench press where he looked absolutely shredded. Showing off his incredible conditioning, this non-pro lit up the Internet with his fans and fitness fans alike. An impressive feat for Method Man, this is something we can all appreciate for the work put in is immense.
View this post on Instagram
Nutrition
Method Man follows a certain number of macros consisting of his daily intake of protein, carbs, and fat with plenty of fiber as well. There are no food restrictions and no set time restrictions on when he can eat as well. A nice part of this plan for Method Man is that he can eat anything he likes as long as it fits into his macro count, including things like salt and sugar. He counts and weighs every gram to stay on track and loves to indulge in his favorite meal of Chik-Fil-A nuggets.
Supplementation
Method Man has been taking spirulina for about 5 years now and cell food for about 3 years. He has also taken creatine glycerol phosphate on and off which is the best creatine for him since it doesn't cause bloating and keeps the least amount of water weight on, giving off a shredded appearance.
Spirulina is extremely high in nutrients and has antioxidant and anti-inflammatory properties as well. It may improve strength and endurance since this fights oxidative stress and can push through fatigue (1,2).
Wrap Up
Method Man has entertained audiences since the 1990's and is part of an iconic rap collective in Wu-Tang Clan. Taking his health and fitness seriously, Method Man has since taken fans by storm with his shredded aesthetic and proved why this workout was so great. With a post of him performing a triple bench, you too can see massive gains with a workout like this. From the booth to the gym, Method Man knows how to make hit records while also smashing expectations of his physical ability. Give this workout from Method Man a try and see what it can do for all your gains today.
---
Let us know what you think in the comments below. Also, be sure to follow Generation Iron on Facebook, Twitter, and Instagram. 
*Images courtesy of Method Man Instagram
References
Brito, A.; et al. (2020). "Spirulina platensis prevents oxidative stress and inflammation promoted by strength training in rats: dose-response relation study". (source)
Lu, H.; et al. (2006). "Preventive effects of Spirulina platensis on skeletal muscle damage under exercise-induced oxidative stress". (source)