This perfectly dosed essential amino acid formula is perfect for promoting those big gains and taking your training and performance to the next level.
Product Overview
When looking for a great EAA product, it can be challenging to find the right one for you. With so many on the market, and each claiming to provide the best benefits to your training, the choices can be overwhelming. While there is debate around using EAA supplements by those in the fitness world, the benefits of a high-quality supplement can seriously enhance your gains. NutraBio Alpha EAA is a superior EAA supplement designed to promote all day focus, recovery, and hydration and is a great choice to add to your supplementation routine.
Essential amino acids (EAAs) are the driving force for stimulating protein synthesis so you see that desired muscle growth and enhanced performance. The benefit of a supplement like this is you can take pre-workout, during your workout, or post-workout and NutraBio added a focus and hydration complex as well to make this a perfect substitute for an energy drink.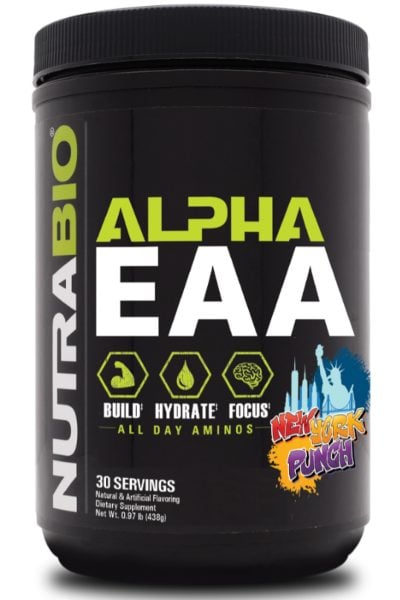 NutraBio is a high-quality sports supplement company designing and producing top tier products for athletes everywhere. Their mission is to maximize the quality of life for all consumers by providing advanced nutrition products with science-backed research to enhance training and performance. NutraBio is a standout when it comes to clean and effective products and sought to revolutionize the industry by using zero fillers, additives, or excipients of any kind and working to ensure accurate dosages for all active ingredients. With the utmost quality in mind, NutraBio is a transparent and honest company working for your benefit only.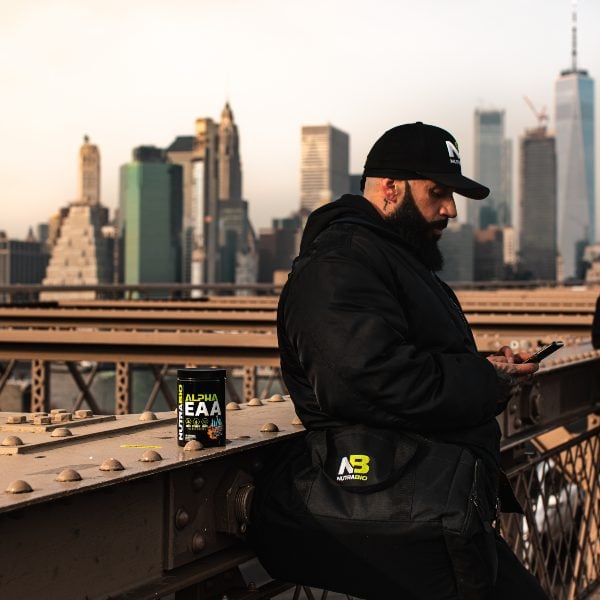 Alpha EAA Highlights
NutraBio Alpha EAA is unlike any other amino acid product out there, for it not only delivers a healthy dose of EAAs and BCAAs, but also includes ingredients to round out a novel formula to promote focus, recovery, and hydration. This supplement can improve brain function, enhance mental acuity and memory, balance cortisol levels, and increase power output and muscle contractions so you maximize your supplement routine as best you can.
A non-stimulant source of energy, this product ensures superior hydration and recovery with increased amino uptake and absorption. At a great price with five amazing flavors, Alpha EAA is a sure bet to bring your training, performance, and recovery to the next level.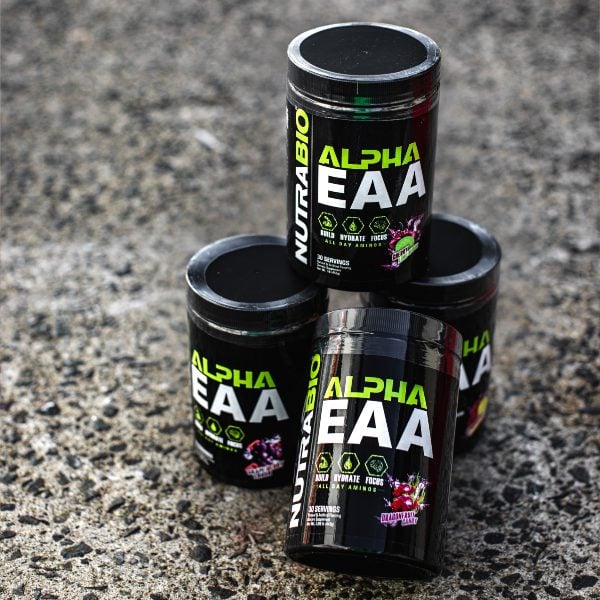 Ingredients
BUILD: Full Spectrum EAA-BCAA Matrix
BCAAs (2:1:1 ratio): This perfect ratio of leucine, isoleucine, and valine can stimulate muscle protein synthesis while aiding in recovery and decreasing muscle soreness (1). It will also prevent muscle breakdown, so you don't sacrifice any gains.
L-Lysine: An essential amino acid, lysine works to better calcium absorption, improve athletic performance, and reduce stress while enhancing stronger bones (2).
L-Threonine: Another essential amino acid, threonine plays an important role in regulating protein balance in the body. It can improve muscle contractions and support muscle and bone strength.
Others: DL-Phenylalanine, L-Histidine, L-Tryptophan, DL-Methionine
HYDRATE: Electrolyte Hydration Matrix
Taurine: Plays an important role in maintaining proper hydration and electrolyte balance in your cells and supports general function of your central nervous system (3).
CocoPure Coconut Water Powder: Loaded with vitamins and minerals, this is ideal for maintaining hydration during exercise and giving you a high electrolyte content (4).
FOCUS: Nootropic Adaptogen Matrix
VitaCholine: Choline is an essential nutrient that supports the structural integrity of your cells and helps with the important process of DNA synthesis.
KSM-66 Ashwagandha: A natural herb, this can reduce cortisol levels and even help decrease stress and anxiety while aiding in brain health (5).
Others: Alpha GPC Powder (L-alpha glycerylphosphorylcholine, calcium phosphate), Huperzine (huperzia serrata leaf standardized extract)
Absorption Enhancer: Astragalus membranaceous, panax notoginseng
Price, Flavors & Effectiveness
NutraBio Alpha EAA is a great supplement to promote all day focus, recovery, and hydration to keep your training goals and performance results consistently improving. With 30 servings per container, one scoop of this advanced formula will give you all the benefits of a great EAA product to enhance your overall health and fitness. With five great flavors, this supplement tastes great too!
Alpha EAA flavors include:
Cherry Lime Slush
Dragon Fruit Candy
Grape Berry Crush
Strawberry Lemon Bomb
New York Punch
Price: $34.99
Pros: Full of clean and effective ingredients at great dosages to promote focus, recovery, and hydration. A reasonably priced product with five great flavors to choose from. From a reputable, transparent, and honest company in NutraBio.
Cons: It does contain artificial sweeteners like sucralose and acesulfame potassium.
NutraBio Athlete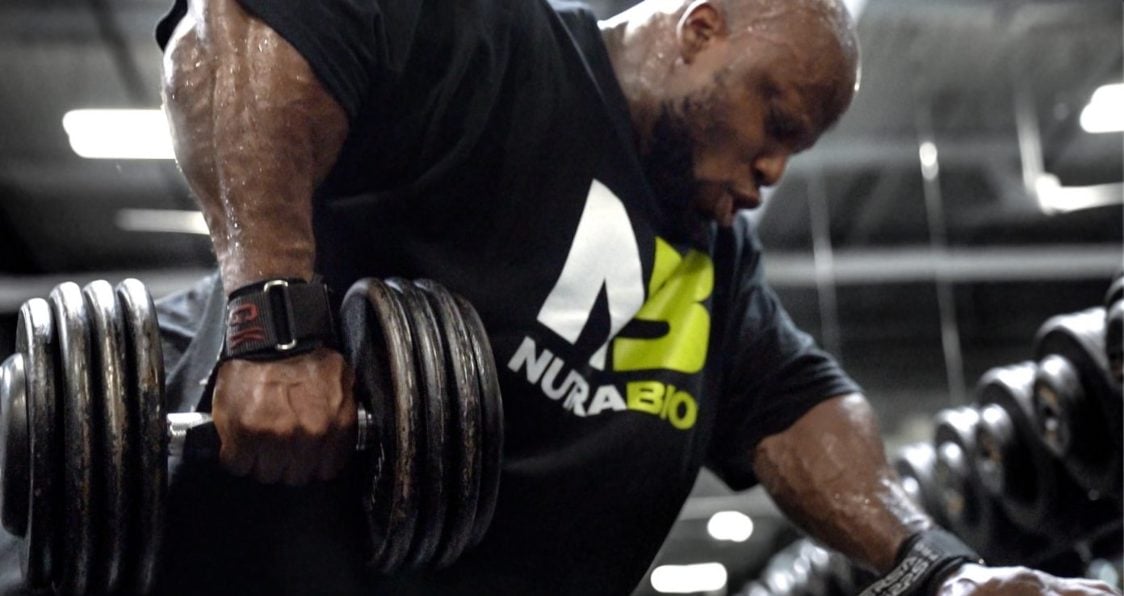 Shaun Clarida is a professional bodybuilder and the winner of Mr. Olympia Men's 212 Division for 2020. Since earning his pro card in 2012, Clarida has been a force in the pro bodybuilding circuit with four other IFBB pro contest wins. This latest Olympia win marks a huge milestone for Clarida, especially after a frustrating, yet equally impressive, third place finish in 2019. Working with NutraBio, Clarida only using high quality supplements to fuel his workouts and recovery and is comfortable promoting these supplements given their innovative formulas, clean ingredients, and advanced results for maximum gains.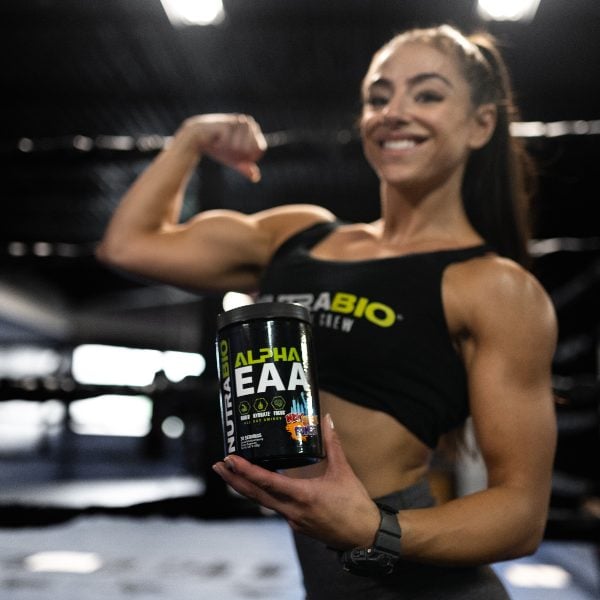 Overall Value
NutraBio Alpha EAA is a high-quality supplement to enhance focus, recovery, and hydration to keep you working harder during your training and optimizing recovery outside the gym. With so many EAA supplements on the market, this product is a top choice for those looking for clean and effective ingredients from an advanced and novel formula that is different than the rest. With great flavors at a solid price point, Alpha EAA can provide all the benefits you want out of your EAA supplement. What you are really getting is a top tier supplement from an honest and transparent company with results you'll love. Try NutraBio Alpha EAA today and see your progress grow to new heights.
Try Alpha EAA at NutraBio Today
Generation Iron may receive commissions on purchases made through our links. See our disclosure page for more information.
Let us know what you think in the comments below. Also, be sure to follow Generation Iron on Facebook, Twitter, and Instagram. 
*Images courtesy of NutraBio and Shaun Clarida Instagram
References