An old school themed brand for the hardcore bodybuilder.
What is bodybuilding all about? Is it about the muscle and image? Is it about the prestige of building a physical form that few can match? Or is it about proving to yourself that you can create a work of art out of your own body?
Really, it's about all those things and so much more.
As much as bodybuilding is about building massive, aesthetic, and powerful muscle to make onlookers grow green with envy and appreciation, it's also about style and attitude, always has been, always will be.
Fashion in particular in the bodybuilding space is an avenue that many are concerned with. Besides the fact that finding clothes that fit a bodybuilder's frame can be difficult, strength training athlete wants to look the part.
Like many other industries, modern bodybuilding has looked to innovate as well as call back to days of yore. Nostalgia is a dominating factor in almost every industry and bodybuilding fashion is no exception.
The Golden Era of Bodybuilding featured some of the most innovative and dynamic styles ever seen in fashion culture. At once iconic and dynamic in its sense of making a statement, old school bodybuilding fashion is making a comeback in a very big way.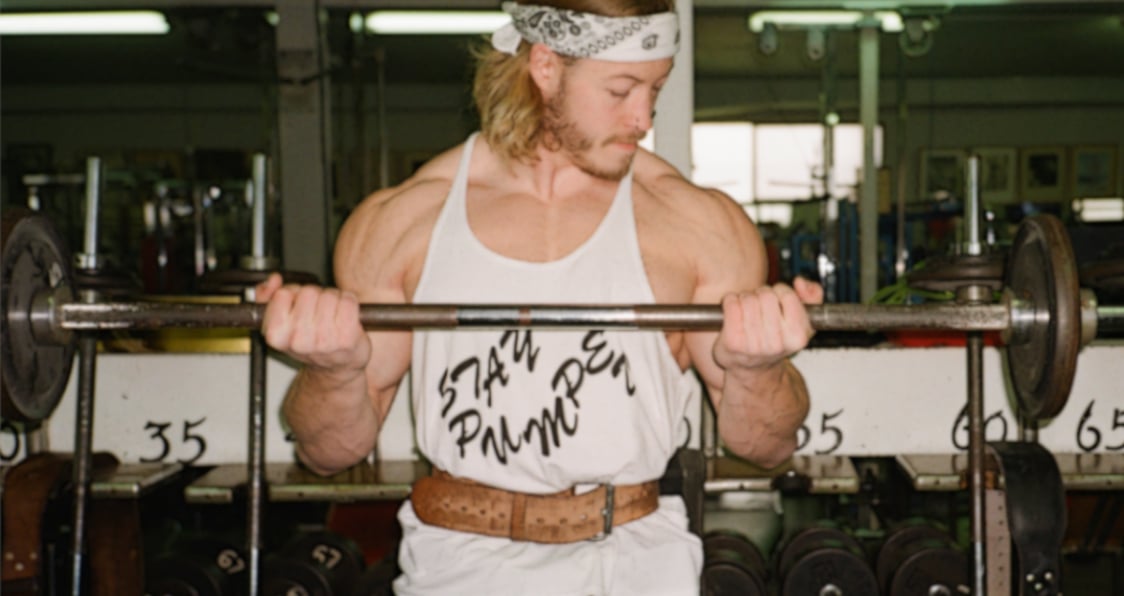 AKA: Yeah, I Work Out, the Y,IWO brand has been gaining steam in the fitness and bodybuilding industry as one of the most dynamic clothing brands for real, raw, and dedicated bodybuilders who have a love of the Golden Era.
Y,IWO creator and brand ambassador Jason Thome has looked to bring the classic and iconic style of the Golden Era back into the modern day with a passion that only a true hardcore bodybuilding aficionado can muster.
Jason Thome sat down with Generation Iron Lead Writer Jonathan Salmon for an exclusive interview to discuss the Y,IWO brand and how the bodybuilding influenced the entrepreneur to venture into the fashion arena.
Jonathan Salmon: How did you first get interested in bodybuilding?
JT: When I was in my teens, like millions of kids, I started lifting, it made me feel great, confident and it has stayed with me for life.
JS: What was the genesis behind the idea of the Y,IWO brand?
JT: It's a vibe.  "Lift Hard, Feel Great, Have Fun, Get Laid". I would say that statement sums up the reason most everybody lifts and the reason for Y,IWO. It's the spirit of the Golden Age. An era that was competitive, but not angry. Serious, but fun. You look back and everyone was having a blast. Working out, beaches, babes, dancing, smoking pot, eating big, getting big.  By contrast today so often the mood portrayed is a lonely, dark and miserable path to success. Brooding, dark imagery. Bad fashion. It's not fun.
JS: What makes the Y,IWO brand so unique?
JT: We have dope graphics and a fresh approach. It is a brand for the lifting community, but directors, street style kids, males, females, skaters, models, and tons of others are fans. We even have Diplo, Sophie Turner, Pete Davidson and some rappers wearing our stuff. And because of that, we have been picked up globally by what are arguably the coolest stores in the world Dover Street Market, Mr Porter etc. You can find Y,IWO alongside brands like Supreme, Louis Vuitton, Stussy, Brain Dead etc.
JS: What are your thoughts on the modern era of bodybuilding?
JT: There is a never ending procession of millions of youth striving to get big, who want to improve their bodies and who want to lift. Yet, it seems there are many who are shy to pursue bodybuilding because the emphasis on freak status vs aesthetics has been so pervasive. Plus, there is an angry, fuck you attitude in the sport that can feel hostile exclusive to newcomers. So, while fitness is exploding, bodybuilding is losing ground to people who feel more comfortable with an approach of just looking good for Instagram or participation in sports like CrossFit that feel more inclusive.
JS: What do you think caused the current fitness and bodybuilding boom?
JT: Instagram. No question. Being able to compare yourself and use your body to promote yourself has propelled so many people to get into fitness who hadn't before.
JS: What was it like working with former Olympia Classic Physique champion Breon Aynsley?
JT: Breon is a pro.  He arrived the shoot, meals packed and ready, so he wouldn't miss a beat. And he has that star quality –when we took him to Muscle Beach, tourists started flocking, snapping his pic, even just walking down the boardwalk.
JS: Which bodybuilders of the classic age exemplify the Y,IWO brand?
JT: Pretty much all of them because the brand is all about that era – Serge Nubret, Arnold Schwarzenegger, Franco Columbu, Frank Zane. On up to Mike Mentzer, Tom Platz, and even into the 90s, the list goes on.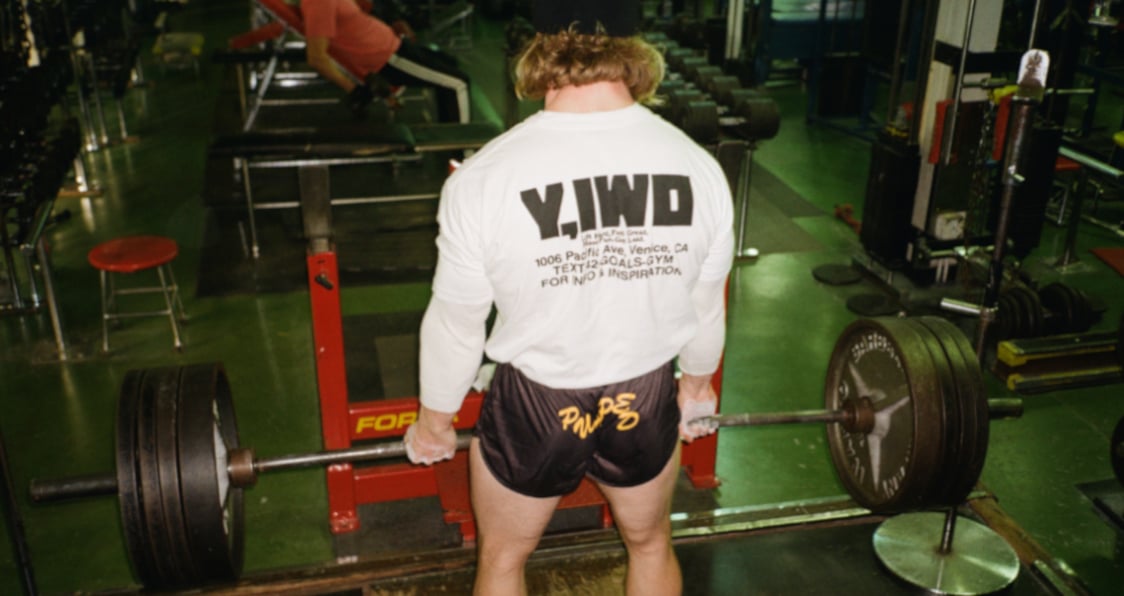 JS: Which bodybuilders of the modern age exemplify the Y,IWO brand?
JT: Guys who rep a fresh, modern vibe. All the guys we have shot with from Breon to Diesel Josh. But I would say it's exemplified by the younger guys out there who are coming up across the world who look and feel like they are part of a new generation. Uzoma Obilor, Onome Egger, Michael Merkel  as well as lessor known with great potential like Shawndelle Seaberry, Jesse Marvin and others.
JS: I heard you have a new line you worked on with Ric Drasin. Could you tell us about the new line and what it was like working with Ric?
JT: Ric is the man who drew the Gold's Gym logo. He was the quintessential gym and beach bum back in the 70s –he lived a block from the ocean, trained with Arnold at the original Gold's. One of Ric Drasin's legendary graphics has a bodybuilder chilling on a beach and it says "Lifestyles of the Ripped and Aimless". Basically an autobiographical illustration of his life, that perfectly represents the spirit of Y,IWO.
And he is a blast to work with. His archives are amazing. We found pieces that hadn't been seen in 20-30 years and created a collection inspired by his youth. "Gym Bums of California", "Lifestyle's of the Ripped and Aimless" and "Club Sweat" are some of the graphics we are highlighting and there is more to come.
And if you haven't seen his show on YouTube, you have to watch it. He is THE historian of the Golden Era with countless stories and memories from the era.
JS: What is it about the aesthetic of 80s and 90s era of bodybuilding clothing that is so intriguing?
JT: It's simple and classic American sportswear. Doesn't try as hard as so many brands do today.
JS: If you had a chance to train with any legendary bodybuilder who would it be?
JT: Arnold for sure. He has had the single greatest impact on bodybuilding. It would be a guaranteed serious lift and he seems to know how to always have a blast.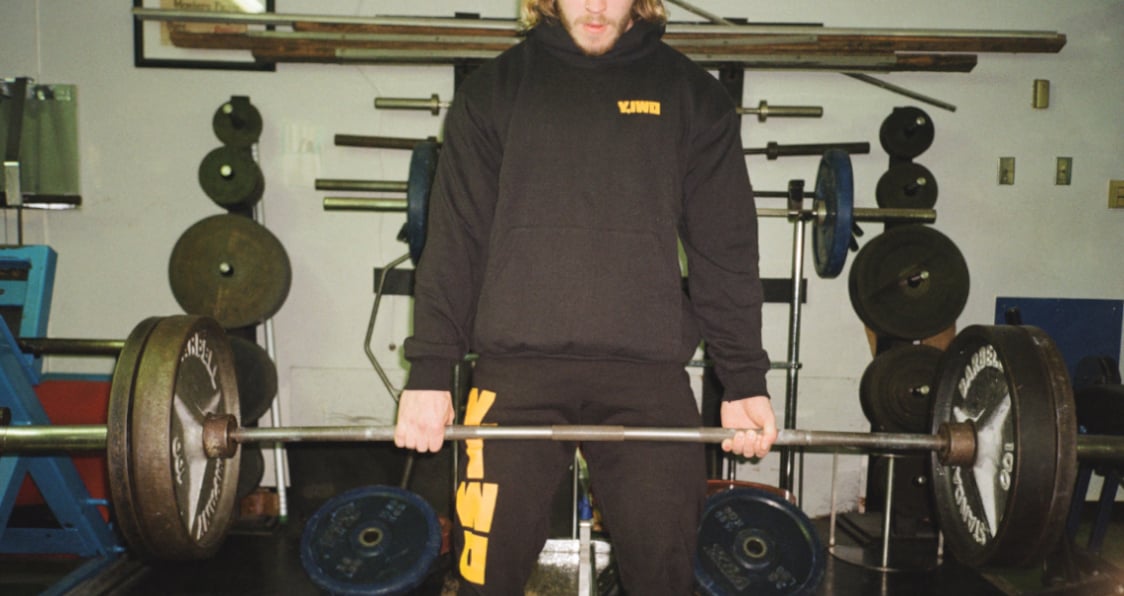 JS: How do you think Y,IWO can shape fashion in the fitness and bodybuilding industry?
JT: By just providing a fresh approach, and offering something relevant and new, we can help open the door to bodybuilding and lifting sports for kids who are interested— and they are the ones who will truly shape the future.
Head over to the official website for Y,IWO and check out some of their old school inspired clothing! Be sure to follow Yeah, I Work Out (@yeahiworkout) and Jesse James on Instagram!
For more news and updates, follow Generation Iron on Facebook, Twitter, and Instagram.
---
Managing Editor at Generation Iron, Jonathan Salmon is a writer, martial arts instructor, and geek culture enthusiast. Check out his Instagram, Twitter, Facebook, and Sound Cloud for in-depth MMA analysis.