Rebekah Rasmussen returned to Natural Olympia with a goal in mind and left with a gold medal.
Rebekah Rasmussen's first time competing professionally as a natural bodybuilder was at the 2020 Natural Olympia. She ended that competition as the runner-up in the Bikini Divas Masters division. Afterward, she dialed in on specific goals and went to work. Fast forward one year later, she proudly held the American flag on the podium with a gold necklace draped around her neck (in Bikini Divas Masters) at 2021 Natural Olympia. In an Instagram (IG) post the day after her victory on November 14th, 2021, this is what Rasmussen had to say:
"This time last year, Olympia 2020 was my first Pro Show. It was such an incredible experience, took 2nd place and of course wanted to return for a win one day. @fit_with_tiff_stosich and I had buckled down for a solid year with specific goals. I'm beyond stoked to fulfill my dream, holding that flag, on the podium with a GOLD medal to our National Anthem. Couldn't keep my composure, and was a very emotional and powerful moment for me."
You can see the complete caption below. 
View this post on Instagram
Before 2021 Natural Olympia, Rebekah Rasmussen took home first place in Pro Bikini at 2021 Mr. America in the Open and Masters division. It's an impressive win in bodybuilding shows when you don't let age decide your fate in the open division. So it's no surprise Called Out ranked her amongst the top 10 in America in the Pro Bikini class. 
Her on-stage presence was one of Rebekah Rasmussen's significant improvements in this previous Natural Olympia compared to the competition in 2020. She's learned that it's equally important to work on posing as you do your strength and toning goals. 
Natural Bodybuilding
Natural bodybuilding leagues such as International Bodybuilding Association/ Professional Natural Bodybuilding Association (INBA/PNBA) put their athletes through modern drug testing via World Anti-Doping Agency (WADA). 
Other bodybuilding leagues don't condone drug use. Still, INBA/PNBA requires their athletes to get a complete evaluation from the best drug-testing company in the industry before competing – not only does this make the competition fair, but it's protecting all competitors. 
Here's a take on what eminent natural bodybuilder, Colin Congo, had to say on the matter in this exclusive GI interview:
Athlete From a Young Age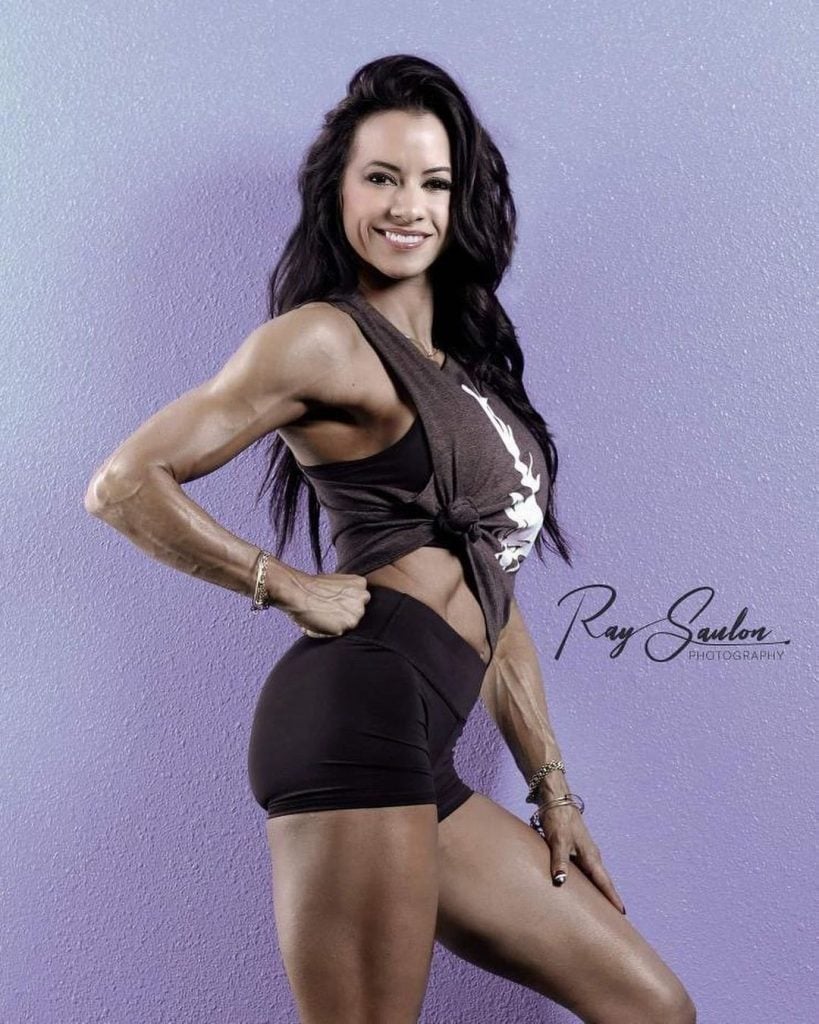 Rebekah Rasmussen's quest to bodybuilding champion started at a young age. On IG, she states that she was a competitive runner for over 20 years, which ruined her knees. And she credits weightlifting for keeping her in shape in her 40s. 
As her IG username suggests – heavyweights_n_proteinshakes – she believes heavy lifting is the key to building a stunning physique as you age. In the IG post below, she shows her transformation from her teens, 20s, and 30s to her 40s. 
View this post on Instagram
Thanks to weightlifting, Rasmussen expresses that she can now eat more foods and get abs as a middle-aged woman compared to running for miles on end during her younger years. Now, she aims for strength, not skinny. 
Outside of being a natural bodybuilding champion and keen weightlifter, Rebekah Rasmussen is a proud mother of three daughters.  
Generation Iron would like to congratulate Rebekah Rasmussen for her Bikini Divas Masters win at the 2021 Natural Olympia. And to other elite competitors, including Arely Ayala, who was the runner-up in Bikini Divas and first place winner in Bikini Angels. 
Follow us on Instagram, Facebook, and Twitter for more insight on natural bodybuilders!