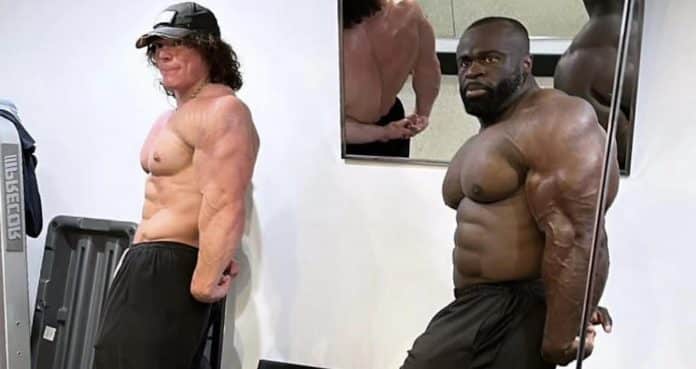 Samson Dauda showed off his 300+ pound physique during a recent posing session.
Samson Dauda is a bodybuilder that is gaining steam heading into the 2023 Olympia. He has shared physique updates ahead of the show and is looking shredded at over 300 pounds. Recently, he was joined by fitness star Sam Sulek for a posing session.
In June, Dauda appeared as a guest poser during the 2023 USA Fit Games. During this appearance, he shared that he was weighing 327 pounds. While on stage, Dauda showed off a massive and conditioned physique that continues to improve since his victory in Columbus. Dauda defeated Nick Walker for the Arnold Classic title back in March and since then, he has gained much more respect in Men's Open.
Sulek has built an incredible physique at just 21 years old. Fans have showed concern about his use of steroids at a young age but many around the fitness world, including Seth Feroce, believe that fans should not be involved in his decisions.
While Sulek has built an impressive physique at a young age, posing with Dauda showed just how big the pros are.
Fans Marvel At Size Of Samson Dauda
Both Hosstile athletes, Samson Dauda and Sam Sulek got together for a workout and posing session following.
"The best from the present and the future. HOSSTILE.

Reposted from @fouadabiad

Young blood is killing it 🔥"
View this post on Instagram
In the comments section of the post from the bodybuilder, fans marveled at the comparison and size of Dauda.
"This really shows how there's levels to this"

"dam Sam looks big when he's by himself. not so much next to Samson."

"It's crazy. Sam Sulek looks absolutely massive on his own in his videos. But when you put him next to this MONSTER Samson – you really see just how massive pro level open bodybuilders are. Wild shit 😳"
Dauda has burst onto the scene in recent years, most notably during the 2019 Chicago Pro. Dauda was always slowly improving and eventually made bigger splashes in 2021 with a top three finish at the Romania Muscle Fest Pro and the Arnold Classic UK.
Dauda also appeared as a guest poser in April during the 10x Ben Weider 2023 bodybuilding competition. His victory in March at the Arnold Classic was the result of some serious work that has been put in over the last two years. Now, he has his eyes on the biggest prize in the sport.
For more news and updates, follow Generation Iron on Facebook, Twitter, and Instagram.