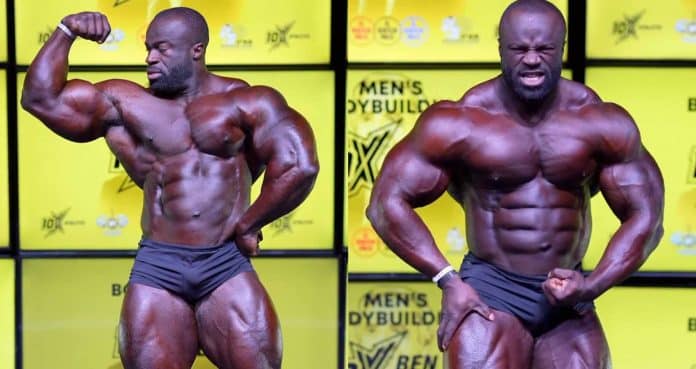 Samson Dauda showed off his massive size during a guest posing at the 10x Ben Weider 2023 bodybuilding competition
2023 Arnold Classic champion Samson Dauda gave us a new sneak peek at his massive physique during a guest posing at the 10x Ben Weider 2023 bodybuilding competition. Dauda has quickly become one of the most talked about pro bodybuilders and is seen as a true threat to the Mr. Olympia title. This guest posing comes only one month after his impressive victory at the 2023 Arnold Classic.
Samson Dauda is a UK pro bodybuilder who has been working his way up the ladder in the sport for quite some time. But 2022 and 2023 seem to be the year that his hard work truly paid off. He has no skyrocked into the most elite ranks – and is in the conversation as a top contender for any major bodybuilding show he competes in, including the Mr. Olympia later this year.
Dauda started initially showing potential in 2019 when he placed in the top ten of many competitions – most notably the 2019 Chicago Pro show. Dauda was always slowly improving and eventually made bigger splashes in 2021 with a top three finish at the Romania Muscle Fest Pro an the Arnold Classic UK. Now his name stands directly side-by-side with other new-generation elites such as Nick Walker, Andrew Jacked, and Derek Lunsford. A new era is truly upon us.
Samson Dauda's latest guest posing shows a monstrous package of size and symmetry
This weekend, Samson Dauda posted a video of his latest guest posing on Instagram at the 2023 10x Ben Weider bodybuilding event. You can watch the video below:
View this post on Instagram
Looking at this guest posing video, Samson Dauda seem to be maintaining his slow and steady improvements as he continues to move forward with his stellar pro bodybuilding career. While he is clearing now in the off-season, his package is truly massive and showcases the aesthetic that gives him a potential edge over mass monsters like Nick Walker.
Walker, while incredibly impressive, needs to rely more on mass to cover for his more blocky aesthetic. Samson Dauda brings in a more genetically pleasing frame. We've seen size win out over this in the past, but we've also seen the likes of Shawn Rhoden and most recently Hadi Choopan win the day with conditioning and aesthetics over size.
That's not to say Dauda's size is anything to downplay. He holds a truly massive and impressive physique. Some have compared his potential to that of Ronnie Coleman. It's too soon to make those kind of statements definitively – but it does provide proof of the hype and expectations for his next outing on stage.
This guest posing just one month after the Arnold Classic shows a competitor who is still pushing hard. We can't wait to see what kind of package he brings at the 2023 Mr. Olympia later this year.
Samson Dauda vs Nick Walker
It should also be noted that Samdson Dauda's Arnold Classic victory did not come without controversy. Many believed that Nick Walker deserved to win the show – and that politics played a part in Dauda's win. Many YouTubers have poured over the scoring sheets in effort to try and understand or uncover some sort of corruption for Dauda's win.
Ultimately, this just shows how fierce the competition is between Samson Dauda and Nick Walker. Dauda, who placed sixth at the 2022 Mr. Olympia compared to Nick Walker's third place – rose up and beat Walker just three months later. Many find that impossible. But this is likely just proof of how talented both of these competitors are.
The 2023 Arnold Classic face-off will likely not be the last time we see these two competitors battle side by side. With the likes of Andrew Jacked also just falling shortly behind – and other competitors returning to the 2023 Mr. Olympia such as Hadi Choopan and Derek Lunsford – we have a truly exciting fight ahead of us for the bodybuilding season.
You can watch Samson Dauda's latest guest posing in the video above. And don't forget to stick around the Generation Iron Fitness Network for more bodybuilding news and updates!