The King of Bodybuilding
When it comes to the sport of bodybuilding, there are plenty of big names out there that people know by heart, such as Arnold Schwarzenegger and Phil Heath. However, one of the most popular and interesting bodybuilders of all time, as well as an 8x Mr. Olympia champion, is Ronnie Coleman.
Below is a full breakdown of Ronnie Coleman's stats, training, and diet regimens.
Full Name: Ronnie Coleman (Men's Open Bodybuilder)

Weight
Height
Date Of Birth

297 lbs

5'11″

5/13/1964

Division
Era
Nationality

Men's Open

1990s, 2000s

American
Ronnie Coleman Biography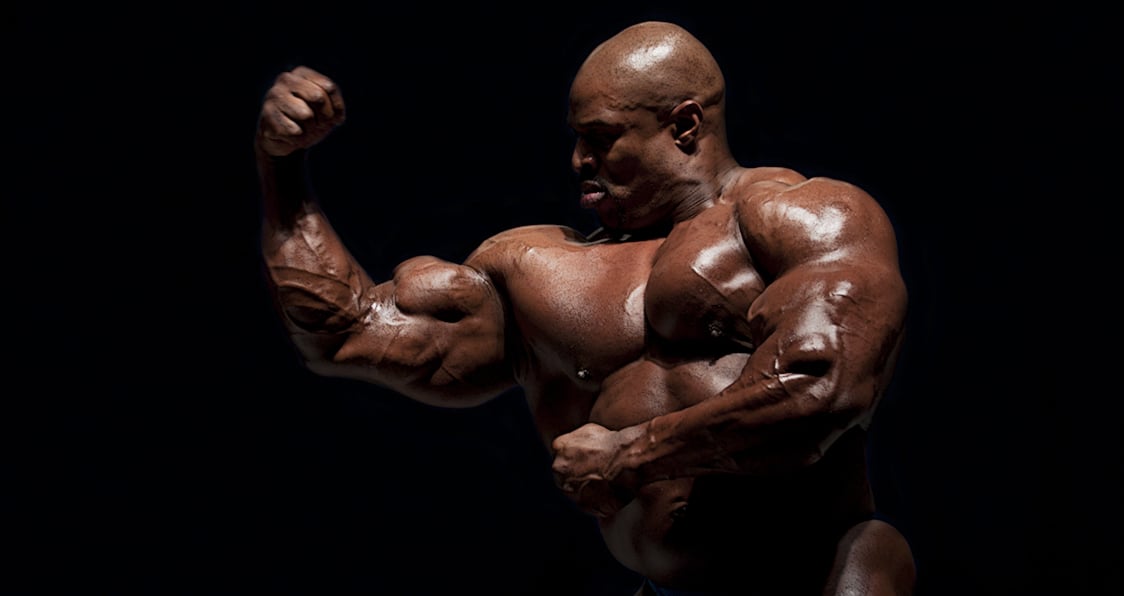 Arguably one of the greatest bodybuilders of all time, Ronnie Coleman is the definition of a living legend. Born and raised in Monroe, Louisiana, he graduated cum laude from Grambling State University in 1984 with a degree in accounting, but he wanted nothing to do with accounting. He then served from 1989 to 2000 as a police officer in Arlington, Texas, and as a reserve police officer until 2003.
At the recommendation of a friend, Coleman joined the Metroflex Gym, run by Brian Dobson. The two became fast friends and Dobson offered him free lifetime membership if he could train Coleman for the Mr. Texas bodybuilding title that year. Coleman was undeniably the overall winner of the Mr. Texas title in 1990 and this victory inspired him to go continue the bodybuilding journey and go pro.
His professional debut was in 1991 at the IFBB World Amateur Championships and his first win as a professional was at the 1995 Canada Pro Cup. Then after his first place win at the Canada Pro Cup, Coleman's meteoric rise to fame could not be stopped. He currently holds the record for most wins of the Mr. Olympia title (8 times, tied with Lee Haney) and the most overall wins for any IFBB professional (26 wins).
The Jay Cutler Rivalry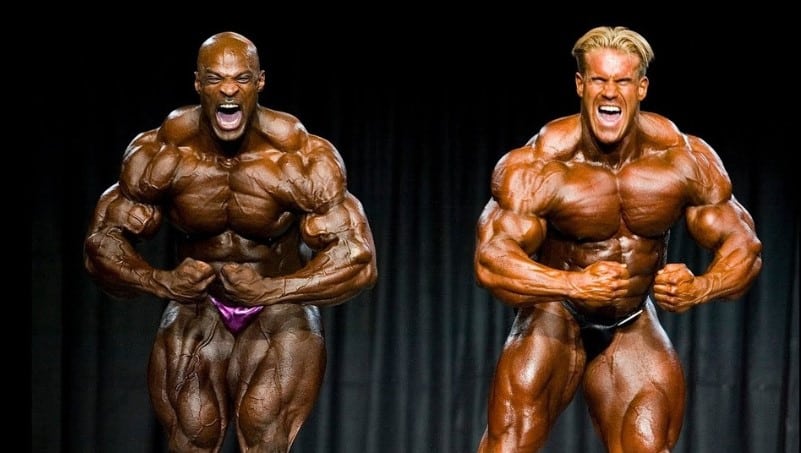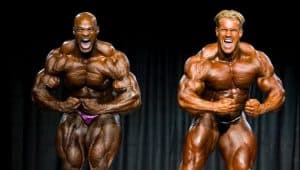 Perhaps one of the biggest rivalries in bodybuilding, aside from Phil Heath and Kai Greene, was Ronnie Coleman and Jay Cutler. Jay has gone on record to state that he was consistently chasing Ronnie Coleman during his reign as Mr. Olympia, and he was always right on Ronnie's heels. Even when Jay dethroned Ronnie in 2006, he stated that he "didn't beat the best version of Ronnie Coleman".
Ronnie Coleman's Injury
Unfortunately, in 1996, Ronnie had suffered a serious back injury that happened during squatting routine. Ronnie had 800 pounds loaded on the barbell during squats, and it was not just for one rep, he hit it for two. Even though he hit an 800 pound squat for 2 reps, this was what led him to dislocate a disk. He didn't seek medical attention immediately, instead he decided he would just go over to the leg press, which would change his life forever.
As a result, Ronnie has suffered a very serious spinal problem and also severely injured his back, shoulder, hips, and neck due to heavy weightlifting, and ended up leading to 13 total surgeries. The injury is what really caused him to retire from bodybuilding, as it got to the point where Ronnie says he was in too much pain to continue.
Training of Ronnie Coleman
Though he was known for screaming "light weight baby" before and during each set in the hot Metroflex gym, Ronnie Coleman did not get to the Olympia by lifting baby weight. Ronnie was a powerlifter before a bodybuilder, and he moved some seriously heavy weight.
Ronnie was a big fan of high volume and heavy weight. As far as his workout split, Ronnie actually favored the push/pull/legs split, which is a very popular split to this day, but he had his own take on it, which was pull/legs/push. Here is what that looked like:
Day 1: Back/Biceps/Shoulders (focusing on back thickness, so an emphasis on movements such as rows)
Day 2: Quadriceps, Hamstrings, and Calves (Full leg day)
Day 4: Back, Biceps, and Shoulders (focusing on back width, so an emphasis on movements such as lat pulldowns)
Day 5: Quadriceps, Hamstrings, and Calves
Day 6: Chest, Triceps, Calves, and Abs
Day 7: Rest
Ronnie also liked to use different exercises on each day, and not just on the back thickness and width days. For example, if he barbell bench pressed on the first chest/triceps day, then on the next one he might have used dumbbells.
Diet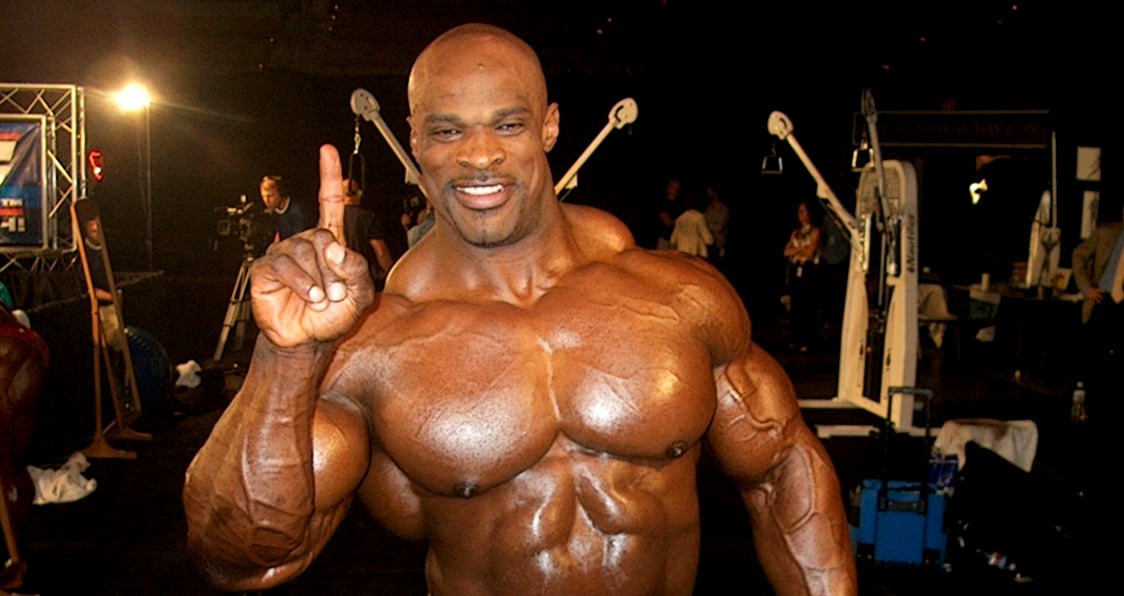 Aside from training, diet was another huge part of what really led Ronnie Coleman to the success that he had in the sport of bodybuilding. The amount of sheer muscle mass he had presented on stage, combined with his conditioning, were things that had never been seen before. So, what did he eat to get to that level?
For starters, Ronnie always ate clean foods, no cheat meals. He mainly stuck to lean beef, chicken, eggs, potatoes, rice, beans, and vegetables. And in terms of serving size, he would consume a ridiculous amount of each, but in a very structured way. Sure, for a lot of people this would be too much, but if you want to get big, you have to eat big.
So how much food did Ronnie eat throughout a single day? Six meals a day. And before we do a little more in depth on what his meals consisted of, you also must understand Ronnie's targeted calories and macros before you try to replicate it. His typical total daily calories were 5,562, almost 3x the suggested caloric intake. As far as macros, these were 546 grams of protein, 474 grams of carbs, and 150 grams of fat.
That is quite a lot of food, and the body can only handle so much at a time, especially of protein, as if you consume too much protein in one sitting it will just go to waste. As a result, Ronnie had to split his food up into six meals a day. Each meal consisted of 927 calories, 94 grams of protein, 79 grams of carbs, and 25 grams of fats. Nutrition is a science, and while this may seem like too much food, you have to remember that Ronnie Coleman put himself through intense physical training, as well as his bodyweight being around 300 lbs.
With all of that being said, the chances are you are not 300 lbs of straight muscle mass, so we would recommend that you try to use a total daily energy expenditure formula/calculator to figure out exactly how much you need to eat to put on muscle without too much body fat.
Personal Life
Ronnie's success as a bodybuilder has led to many endorsement deals and business ventures as well. He has released several weightlifting training videos and in 2011 started his own wellness and nutrition line, Ronnie Coleman Nutrition.
He married personal trainer Susan Williamson in 2016. As of 2009, he is retired from professional bodybuilding. Although he is retired, Ronnie still stays up to date with modern bodybuilding, and gives his opinion every now and then.
The King
The Generation Iron team was fortunate enough to spend some time with Ronnie Coleman to film the documentary Ronnie Coleman: The King (2018). This documentary details the life of the 8x Mr. Olympia champion, before, during, and after his domination of bodybuilding.
Ronnie Coleman Wrap Up
Overall, Ronnie Coleman is a household name when it comes to bodybuilding, as he is seen as the king of the sport. With 8 Olympia wins under his belt, and the sheer size that he brought to the stage, it is no secret that he dedicated his life to the sport.
What do you think of Ronnie Coleman?
---
Generation Iron may receive commissions on purchases made through our links. See our disclosure page for more information.
Let us know what you think in the comments below. Also, be sure to follow Generation Iron on Facebook, Twitter, and Instagram.