INBA PNBA natural bodybuilding legend Philip Ricardo Jr. signs a multi-media contract with Generation Iron and Iron Man Magazine. 
Philip Ricardo Jr. is the next natural athlete to sign a multi-media contract with Generation Iron, Iron Man Magazine, and the International Natural Bodybuilding Association (INBA)/Professional Natural Bodybuilding Association (PNBA). Everyone in natural bodybuilding knows icon Philip Ricardo Jr. This legend has been in the sport of natural bodybuilding for decades and has accomplished incredible feats.
He's been with the INBA PNBA since 1988, and since then, Ricardo Jr. has won Natural Olympia on multiple occasions – 2007, 2008, 2015, and 2019. And he's the reigning champion of the Men's Bodybuilding Grand Masters division. In an Instagram (IG) post, Philip Ricardo Jr. expressed his gratitude:
"Truly blessed to be given a multi-media contract with @ironmanmagazine and @generationiron [sic] This opportunity will bless me with a bigger platform to bring more recognition to the sport of natural bodybuilding. I am truly honored and grateful to the @inbapnbaglobal_official family [sic]"
In the IG clip, Ricardo Jr. voiced:
"For me to receive this at the age of 50, unbelievable. I'm just grateful that these contracts are going out to the natural athletes. That is something that is unheard of and unprecedented. A lot of natural athletes don't get the kind of notoriety they need. But the INBA PNBA always looks after their athletes and has been taken care of us for all these years since 1988."
You can see Philip Ricardo Jr.'s complete IG statement and a clip of him signing the contract below. 
View this post on Instagram
More on Philip Ricardo Jr.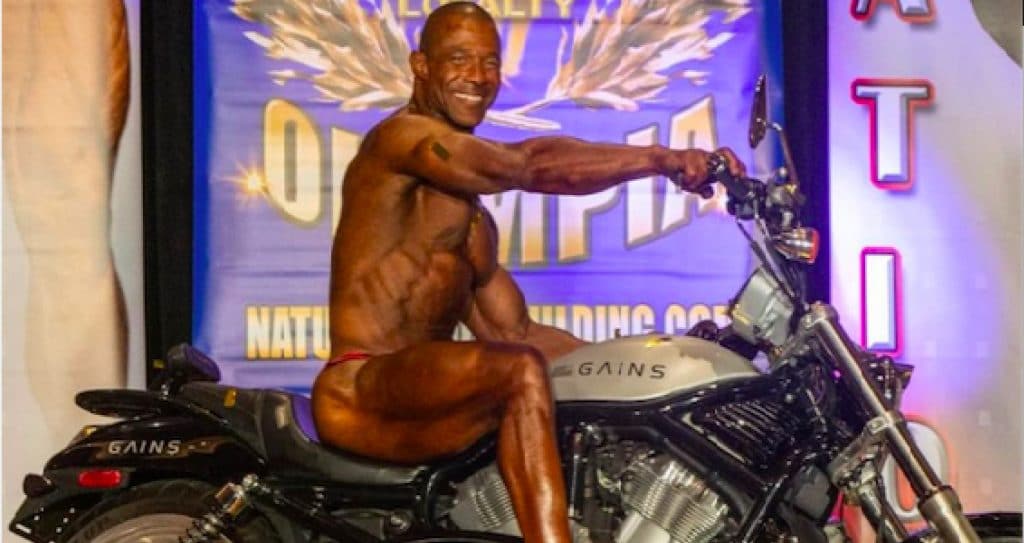 Aside from gold medals and multi-media deals with powerhouse companies, Philip Ricardo Jr. won the Harley-Davison grand prize at 2021 Natural Olympia! 
People regard him as one of the best natural physiques on the planet. Despite skeptics calling him a "fake natty." Although, Ricardo Jr. doesn't take offense to these comments and instead takes pride in these shameful remarks. Below is a Generation Iron interview of Ricardo Jr. expressing his feelings. 
Outside of competing under the biggest stage in natural bodybuilding, Philip Ricardo Jr. is a man of God, a U.S. Marine veteran, and a family man. 
Multi-media Contract Details
The natural athletes worthy enough to land a contract receive exclusive perks. Below is a breakdown of what each INBA PNBA athlete can expect upon signing.
Promotion 

Brand building – digital media write-ups, social media posts, photoshoots

Special guest appearances, posing, and seminar sessions 

Iron Man Magazine nutrition ads and endorsements
The INBA PNBA stated the deal is:
"An opportunity for a natural bodybuilding athlete to acquire renown and recognition in the sport of Natural Bodybuilding, exploiting Association's promotional campaign via the Iron Man Magazine, news and events, and the Generation Iron platform."
The natural bodybuilders bound to a contract are looking for professional growth opportunities and must be in good standing with the INBA PNBA. In addition, of course, the athletes will need to be cooperative with World Anti-Doping Agency (WADA) guidelines. 
Philip Ricardo Jr. is well-respected in the INBA PNBA league and sport of natural bodybuilding and has done spectacularly in his natural bodybuilding career thus far. 
Generation Iron wishes him much success in the rest of his INBA PNBA career! Also, congratulations on the contract! 
Follow us on Instagram, Facebook, and Twitter for the scoop on INBA PNBA athletes!