Everything you need to know about this nutrient-filled super green supplement from Staunch.
Product Overview
With so much going on in our lives and the constant strain and stress we find ourselves under, a solid super greens supplement can support our overall health. With so many on the market, the choice can be difficult and overwhelming. All claim to be the missing ingredient in your life, but how to tell which one will provide the most benefit can be a challenge. Staunch Koala Food Super Greens is a great supplement to build the foundation of your health and provide the much-needed nutrients to see big gains. A healthy body is one that is ready to grow and with the right fuel, the gains can be great.
Staunch Koala Food Super Greens is great for those looking to start a solid base to improve their overall health while getting all the proper vitamins and nutrients with a great-tasting supplement. Supporting immune health, boosting energy levels, aiding in detoxification, and enhances your overall wellness are reasons that super greens supplements have become popular and very beneficial for so many looking to improve their health.
Staunch Nation is a solid brand of supplements from Australian bodybuilder Calum Von Moger. With entertaining marketing strategies, Staunch as become a widely accepted and effective supplements company. Their hard-hitting formulas range from all kinds of supplements, and although their pre-workout Koala Freak was the flagship product, they expanded to include many more, including this Koala Food Super Greens product.
Staunch was created to bring an amazing line of supplements to consumers with the goals of producing powerful workouts to take bodybuilders and lifters to the next level and promote serious muscle growth. Each product contains essential elements of good-quality supplements for rock solid, efficient, and worthwhile workouts, as well as fast recovery. Koala Food Super Greens will give bodybuilders and athletes of any kind the vitamins and minerals they need to stay strong in the gym.
Staunch Koala Food Super Greens Highlights
Staunch has you covered with Koala Food Super Greens when it comes to your digestive and immune health. A combination of 16 organic fruits and vegetables along with digestive enzymes are in this product to aid in proper digestion and absorption and pump you full of those vital nutrients. Koala Foods Super Greens has a Super Greens Complex made up of an Organic Greens Blend and an Organic Fruits Blend, and the Digestive Enzymes Complex will help maximize all of the intended effects. With powerful antioxidants and enzymes to promote digestive health, increase your energy, and boost your overall health, this supplement tastes great and gives you everything you need to thrive in the gym.
Ingredients
Organic Greens Blend
As part of the Super Greens Complex, this blend includes organic kale, wheat grass, alfalfa, and spinach to pack you full of vitamins and nutrients. It contains chlorella which has great nutritional value with proteins, minerals, and fats and can help with hypertension and fibromyalgia (1). Spirulina has been shown to improve gut health and moringa is known to provide your body with essential amino acids and, along with acacia fiber, serve as an anti-inflammatory agent (2,3) to ease discomfort and irritation.
Organic Fruits Blend
The second part to the Super Greens Complex, this blend of fruits contains pineapple, which can load you with vitamins and minerals and help shorten infections (4). With loads of organic pomegranate, Stauch Koala Food Super Greens offers vitamin C, vitamin K, potassium, and loads of fiber from this juicy fruit. Goji berries are considered the superfood of the anti-aging world and can fight free radical damage associated with premature aging and also benefit your vision (5). They provide a good source of amino acids and can boost your immune system, as well as support skin health. The Organic Fruits Blend also contains organic freeze-dried coconut water powder and organic acerola cherry.
Digestive Enzymes Complex
The Digestive Enzymes Complex is made up of four ingredients including lipase, bromelain, protease, and amylase. Lipase is a pancreatic enzyme that catalyzes the breakdown of fats during digestion while protease works to break down proteins. Amylase works to convert starch and glycogen into simple sugars to smooth the digestive process out. Bromelain is a group of enzymes actually found in the juice or stem of a pineapple and is often used for muscle soreness and pain (6).
Price & Flavors
Staunch Koala Food Super Greens contains 30 servings per container with one scoop per serving. One tub costs $44.00 and provides a healthy and affordable option for your super greens needs. With two flavors being Apple Cinnamon and Peach Mango, you can enjoy this delicious supplement with a couple of options.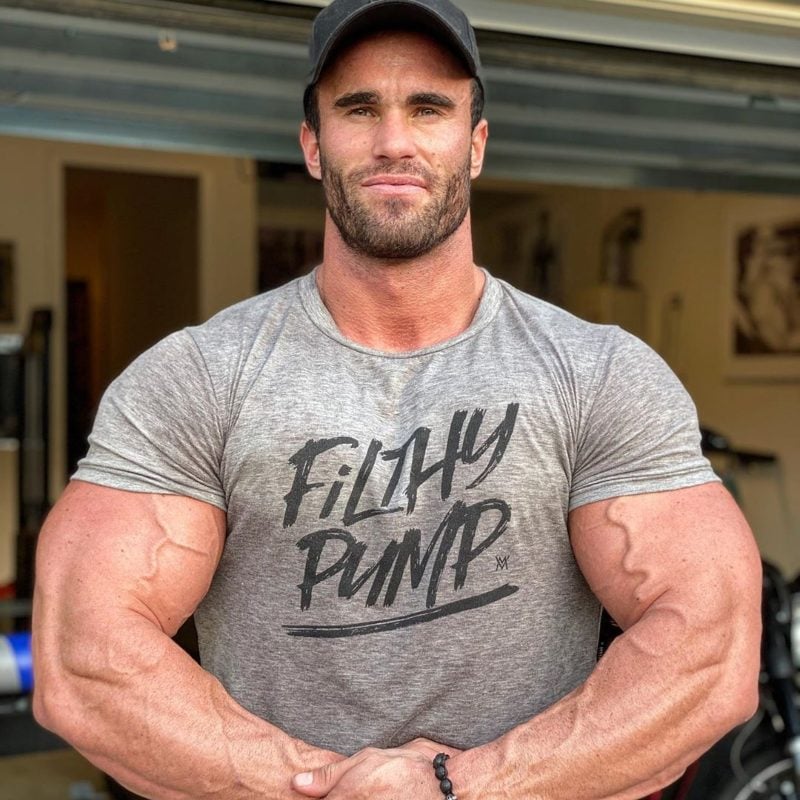 Athlete Spotlight
Professional bodybuilder and actor Calum Von Moger started Staunch to bring high-quality supplements  to bodybuilders and lifters to give them the best possible opportunities for huge growth. Calum has done incredibly well for himself in the world of bodybuilding and despite some injuries, he fought through to get back to peak condition. He was featured in Generation Iron 2 which followed his journey into entering the NPC/IFBB league and then again in Calum Von Moger: Unbroken, which chronicled his recovery and return to peak strength. He was also featured in Gucci's 2019 Fall Collection. Calum and Staunch continue to bring high-class supplements for those looking to change their overall health and improve their fitness.
Overall Value
Staunch Koala Food Super Greens is a great super greens supplement to give you immune and digestive assistance for your busy schedule. Between grueling workouts and life's activities, we all need a boost and some assistance for our overall health and well-being. Its Super Greens Complex and Digestive Enzymes Complex work hand in hand to bring all the benefits of a high-quality super greens supplement to you. With Staunch led by professional bodybuilder Calum Von Moger, his mission is to bring bodybuilders and lifters the best supplements possible to boost their performance and enhance their huge gains. What you are really getting is a solid super greens product from a company led by a true professional to aid in your digestive, immune, and energy needs.
Try Koala Food Super Greens at Staunch Today
Let us know what you think in the comments below. Also, be sure to follow Generation Iron on Facebook, Twitter, and Instagram. 
*Images courtesy of Staunch and Calum Von Moger Instagram
References