This well-rounded pre-workout is one to seriously boost your gains by raising your energy levels and focus.
Product Overview
With pre-workout supplements being a very popular and widely used exercise enhancing supplement, it seems like a must to add into your workout regimen.  If you haven't used a pre-workout supplement before, it might be time to give one a try. But with so many on the market, it can be crazy difficult to choose. For those who are more experienced with pre-workout, maybe a change is in your future and we have an option for you. Whatever your comfort or experience level is with pre-workout, Staunch Pre Original is one of those products perfect for all.
The benefits of a good pre-workout are great when it comes to enhancing your training and performance. A good quality pre-workout supplement can increase your heart rate and get your blood pumping for calorie burn, better blood flow, and enhancing cardiovascular and muscular training. This will provide for better muscle pumps and longer workouts. Increased calorie burn will work to shed unwanted fat, give you fuel for more intense workouts, and work to change your body composition so you see that desired physique unfold.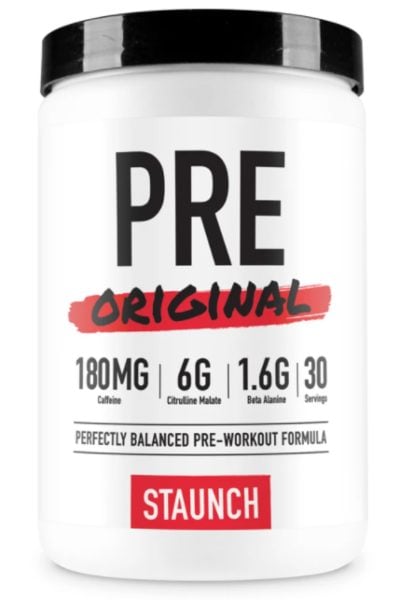 Staunch is a top tier sports supplement company started by Australian bodybuilder Calum Von Moger. Their goal is to design, create, and promote the best products to enhance gains for bodybuilders and other strength athletes. With high quality ingredients to create incredible formulas, coupled with fun and engaging marketing strategies, Staunch works to be both relatable and effective so you not only see gains but also trust the company and its products. Staunch works to deliver the best quality products around to enhance all areas of your training and performance.
---
Check out our list of the Best Pre-Workouts to see other energy-boosting, muscle-pumping supplements!
---
Staunch Pre Original Highlights
This pre-workout from Staunch is a well-rounded pre-workout supplement designed to deliver quality ingredients at effective dosages to give you jitter-free energy and focus to take on any workout.
For those looking to get a serious pump without bouncing off the walls, this pre-workout offers all the great benefits of a pre-workout without the negative side effects. With great flavors and benefits, Staunch Pre Original is a great option for your pre-workout needs that is ethically created and safe to use.
Ingredients
Pump Complex
Citrulline Malate: Can change to L-arginine which boosts nitric oxide while maintaining blood flow for increased muscle pumps (1).
Arginine AKG: Will improve performance, reduce muscle fatigue, and enhance recovery.
Others: Agmatine Sulfate, L-Norvaline
Strength/Performance Complex
Betapure Betaine Anhydrous: Strengthens muscle power and reduces fatigue. Works to eliminate fat and avoid unwanted calories to help with body composition changes (2).
Beta-Alanine: Plays a role in supporting carnosine production which acts as a buffer for pH levels in your muscles to push past fatigue which in turn make your workouts longer.
Energy/Focus Complex
N-Acetyl L-Tyrosine: Works to boost cognition and alertness while also aiding in mood improvement and focus (3).
Others: Caffeine Anhydrous, L-Theanine, Hordenine
Other Ingredients: Thiamine, Niacin, Vitamin B6, Folic acid, Vitamin B12
Price, Flavors & Effectiveness
Staunch Pre Original is a well-rounded pre-workout to really enhance all aspects of training and performance without crazy jitters. This pre-workout supplement comes with three great tasting flavors including Peach Mango, Blue 'Baz' Berry, and Aussie Apple. With 30 servings per container, one scoop as a serving size will pump you with the essentials so you get that great boost you know you'll love.
Pros: Great benefits and flavors to offer a really nice pre-workout product. Improves all areas of athletic performance in terms of strength and performance.
Cons: May contain artificial flavoring and some ingredients could be higher.
Price: $39.00
Featured Athlete
Calum Von Moger is a professional bodybuilder who founded Staunch as a way to bring high quality supplements to bodybuilders and athletes so they too could find success in their respective sports. Through hard work and sheer will, Von Moger has overcome adversity on numerous occasions and showed his fight and tenacity to be a force in the pro bodybuilding circuit. As an actor, he starred in Generation Iron's Calum Von Moger: Unbroken which follows his recovery back to peak condition after suffering a serious injury. The biographical drama Bigger saw Von Moger as a young Arnold Schwarzenegger. Staunch and Von Moger work to bring the best supplements to the game to help others achieve their training and performance goals.
Overall Value
Staunch Pre Original is a great pre-workout that is well-rounded, effective, and honest. Designed to provide jitter-free energy and great muscle pumps, this will increase athletic performance, offer enhanced focus, and work to strengthen those muscles so you see great gains. Staunch is a company who prides themselves on knowing the needs of athletes, which they do. What you are really getting is a top tier pre-workout that is effective and great tasting from a company who knows athletes. Try Staunch Pre Original today and see what this pre-workout can do for you.
Generation Iron may receive commissions on purchases made through our links. See our disclosure page for more information.
Let us know what you think in the comments below. Also, be sure to follow Generation Iron on Facebook, Twitter, and Instagram. 
*Images courtesy of Staunch and Calum Von Moger Instagram
References
Perez-Guisado, Joaquin; Jakeman, Philip M. (2010). "Citrulline malate enhances athletic anaerobic performance and relieves muscle soreness". (source)
Trepanowski, John F.; Farney, Tyler M.; McCarthy, Cameron G.; Schilling, Brian K.; et al. (2011). "The effects of chronic betaine supplementation on exercise performance, skeletal muscle oxygen saturation and associated biochemical parameters in resistance trained men". (source)
Coull, Nicole; Chrismas, Bryna; Watson, Phillip; Horsfall, Rachel; Taylor, Lee (2016). "Tyrosine Ingestion and Its Effects on Cognitive and Physical Performance in the Heat". (source)