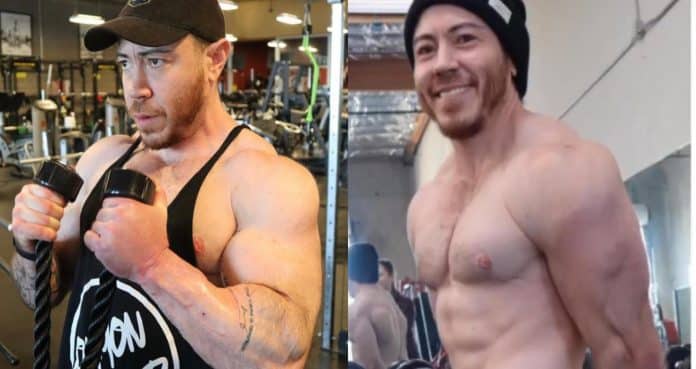 Cody Harman explained in an interview how bodybuilding has impacted him as a transgender man.
Fitness as a whole has saved many people from different forms of life. Whether people use fitness to improve their physical or mental health, it is beneficial. For fitness coach Cody Harman, it helped him find joy as a transgender man and believes that bodybuilding is great for transgenders.
Harman began weightlifting in his mid-20s and quickly developed a passion for it. After he began transitioning, he started dabbling in bodybuilding and was able to take his passion to the next level.
"I can't grow any taller but I can grow out."
At 37 years old, Harman has turned his love for fitness into a career. He currently serves as a nutrition coach and personal trainer. This career path came from many coaches who helped him along the way.
During a recent interview with Men's Health, Harman discussed how he got into bodybuilding and the impact he believes it can have on others.
"I had a few awesome coaches growing up who helped me see what I was capable of and pushed me to keep improving and believing in myself, even when I was going through some really dark times. I want to have that same positive impact on others."
View this post on Instagram
Cody Harman Believes Bodybuilding Is Great For Transgender Men
Cody Harman has competed as a bodybuilder while also helping others get stage-ready. As a transgender man, he knows what it is like to take on this challenge and believes that it is beneficial for others as well.
"When you think about it, bodybuilding is the perfect sport for trans men."

"A lot of trans guys and trans people in general come from this place where they've felt uncomfortable in their own skin their whole lives. So, this kind of training helps boost their confidence and what they believe they can accomplish."
View this post on Instagram
The topic of transgenders in strength sports has been brought to light recently, especially in powerlifting. In February, a court ruled that transgender women will be allowed to compete in USA Powerlifting. This came after Powerlifter JayCee Cooper filed a discrimination case against the federation after she was banned from competing in women's events. On Feb. 27, the court ruled in favor of Cooper.
Cody Harman believes there is a place in fitness for transgender men. The work that they do in the gym can help carry over into other aspects of life.
"Maybe they didn't think they were capable of staying consistent with something. Maybe they didn't think they could bench a certain amount of weight, but now they can."

"That carries over into other aspects of life, where perhaps they thought they weren't smart or good enough to do something…Now, they're like 'If i can achieve that in the gym then maybe I can do this.'"
For more news and updates, follow Generation Iron on Facebook, Twitter, and Instagram.