Everything you need to know about BULK's pre-workout for advanced muscle growth and powered training.
Product Overview
We tested Transparent Labs, a Utah-based supplement company that features two pre-workouts, "LEAN" and "BULK." BULK Pre-Workout focuses on advanced muscle growth. BULK is specifically formulated to help bodybuilders gain muscle mass using a patented blend of amino acids and testosterone support. We broke down the entire ingredient list below so that you can see what's really going on with your pre-workout powder to help you with your training.
Transparent Labs stand firm on their commitment to full-label transparency. Every single ingredient in their supplements, even the flavoring and sweetener, is listed in exact doses so you know you're getting precisely what's on the label (and just as importantly, nothing that isn't on the label). All Transparent Labs products are manufactured in a state-of-the-art facility that is certified current good manufacturing processes (CGMP) and registered with the Food and Drug Administration (FDA).
Code GENIRON10 For 10% Off
Transparent Labs PreSeries BULK is backed by science with clinically effective dosages to increase muscle size and mass. This pre-workout is perfect for reducing fatigue, aiding in muscle growth, and boosting energy levels for better overall performance.
Transparent Labs is on a mission to help consumers make smarter choices about what they put in their bodies so they can reap the benefits of quality supplements that are backed by scientific research and clinical studies. Most importantly, they can be confident that each bottle of PreSeries BULK is free from impurities and tested before being put on the shelf.
Main Takeaways
Great for muscle growth and bulking for advanced and powered training.
19 active ingredients that are clean and effective.
No artificial additives, coloring, or preservatives.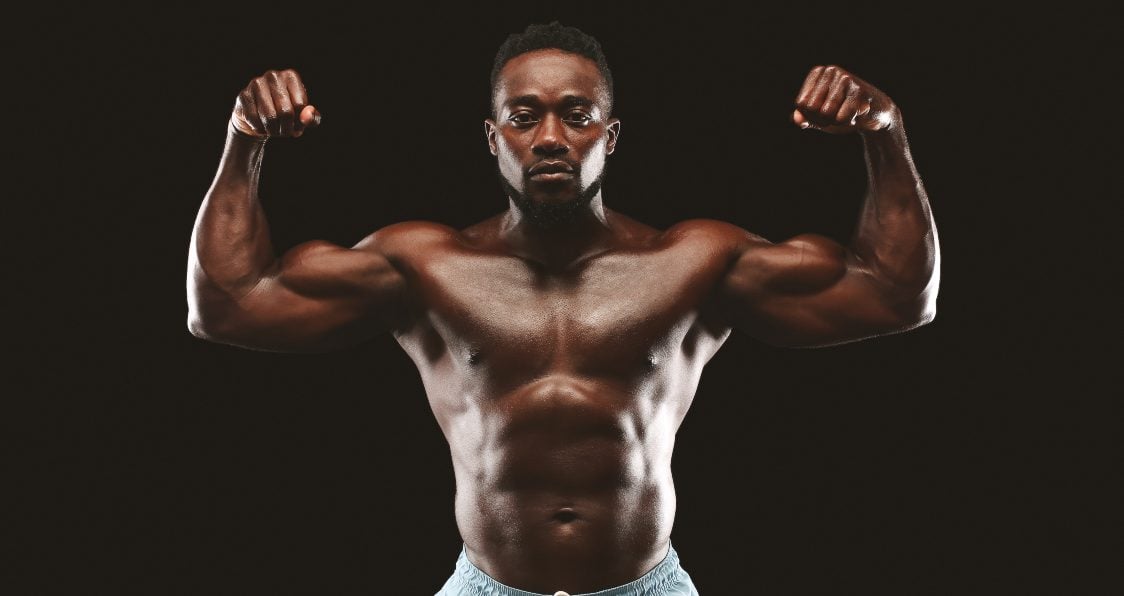 PreSeries BULK Highlights
PreSeries BULK features 20+ grams of 19 active ingredients per serving (30 servings per tub) and absolutely no artificial food coloring, no artificial sweeteners, no preservatives, no fillers, and no body-taxing chemicals that do nothing but detract from workout performance. Instead, PreSeries BULK is naturally flavored and sweetened with stevia, making it a sugar-free, vegan-friendly pre-workout formula that differs from other pre-workout supplements. This pre-workout is designed specifically for athletes, bodybuilders, and gym-goers who want to pack on lean muscle mass, maximize muscle cell volumization, enhance blood flow and muscle pumps, and increase strength.
WATCH: Check out our official GI review highlights of Transparent Labs BULK pre-workout above!
Ingredients
Citrulline Malate: Can improve strength, aerobic performance, and muscle endurance. May also raise nitric oxide levels in your blood (1).
Beta-Alanine: May improve exercise and aerobic performance and training volume while also increasing strength (2).
Branched Chain Amino Acids (BCAAs): Can increase muscle growth and muscle protein synthesis and decrease soreness while working for your benefit with less muscle breakdown and improved muscle endurance (3).
Betaine Anhydrous: Works to reduce fatigue and encourage muscle growth while aiding in intense workout for less next day muscle soreness from intense exercise (4).
L-Theanine: Can take away some side effects of caffeine and may reduce anxiety and stress (5).
Caffeine Anhydrous: Caffeine can increase energy and focus for better workouts while raising your level of alertness (6).
L-Norvaline: May work for increased cardiovascular support while promoting growth, muscle mass, and recovery.
Bioperine: Can increase absorption of these ingredients so they work more effectively for your gains.
Other Ingredients
Taurine, N-Acetyl L-Tyrosine, Choline Bitartrate, Mucuna Pruriens, Synephrine HCL, Hordenine, Natural Flavor, Stevia, Calcium Silicate, Silicon Dioxide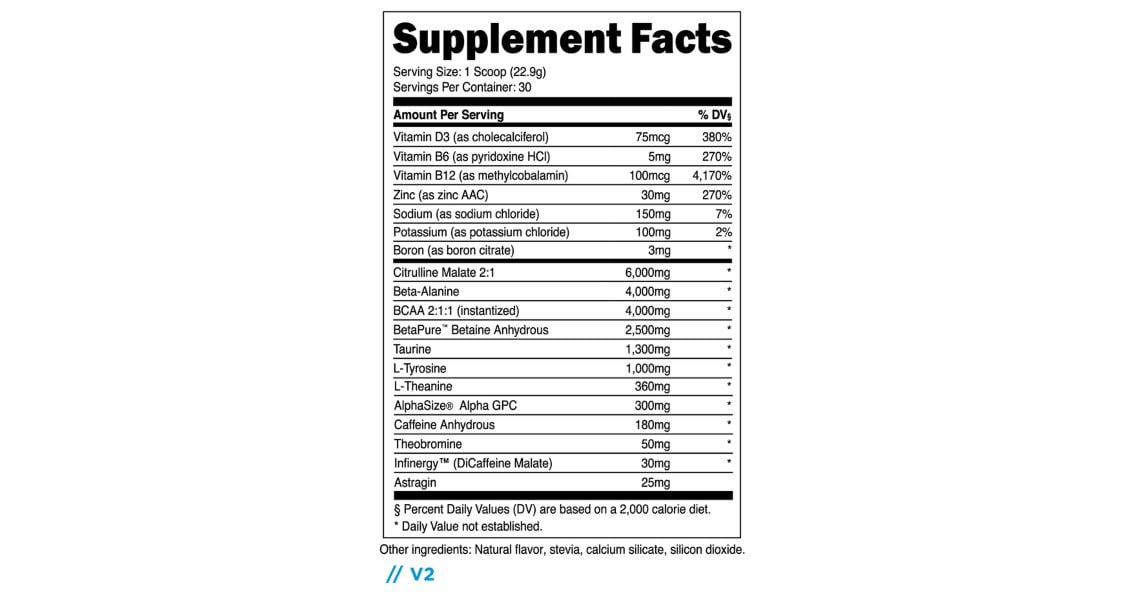 | | |
| --- | --- |
| Stim Or No Stim | Stim |
| Calories | 0 |
| Carbs | 0g |
| Sugar | 0g |
| Number Of Servings | 30 |
| Flavors | Orange, Green Apple, Sour Grape, Blue Raspberry, Tropical Punch |
| Best Way To Take | Mix 1 scoop with 16-24 fl. oz. of water 20-30 minutes before your workout. |
Price, Flavors, and Effectiveness
When it comes to BULK Pre-Workout, this is a great pre-workout formula and supplement to increase lean mass, improve cognitive function, work for those muscle building goals, reduce muscle fatigue, and change body composition, all in efforts to improve overall exercise performance. With six delicious flavors to choose from, you won't grow bored of the taste.
Flavors include: Lemon Lime, Watermelon, Sour Grape, Green Apple, Orange, Blue Raspberry, Strawberry Lemonade, Tropical Punch
Pros
Great benefits for increasing muscle growth and physical performance
Clean, honest, and transparent label and pre-workout formula
From a reputable company in Transparent Labs
Cons
Premium priced option
Only available directly from their website
Price: $49.99
Who Should Buy & Who Shouldn't Buy
Who Should Buy: Those looking to bulk and see an increase in muscle mass. Also, those looking for a stim driven formula with plenty of great ingredients.
Who Shouldn't Buy: Those who want to cut or slim down. Also, those sensitive to caffeine who may suffer unwanted side effects.
What To Consider Before Buying
Before buying your pre-workout, there are some important factors to consider.
Pre-workouts tend to be driven by stimulants, like caffeine, which provide for great energy and focus. However, for some people, stimulants may not be exactly what you are looking for because you can suffer from those unwanted side effects.
Aside from stimulants, you want to look for those added ingredients that may help with caffeine jitters, enhance performance, reduce soreness, and a host of other benefits that can assist with your gains.
Your pre-workout should taste good too and looking to great flavors can be a game changer for those goals. With great flavors, that are preferably from natural sources, you won't grow bored with your product.
Supplements can get expensive, but with the right product it is possible to get quality while it still being affordable. Be sure to look at price and price per serving to compare to get the best option.
---
Check out our list of the Best Pre-Workouts and see where Transparent Labs BULK landed!
---
Overall Value
Transparent Labs BULK is an excellent choice based off of the formula alone to improve strength and physical performance. The fact that it tastes good, is available in many flavors, and is not the most expensive formulation is just icing on the cake and this Bulk pre-workout review hopefully has changed your mind on this supplement. What you're really getting is a high-quality and transparent pre-workout designed to improve strength, performance, and aid in your desired physique. Try Transparent Labs BULK today and see what this can do for all your gains.
---
Generation Iron may receive commissions on purchases made through our links. See our disclosure page for more information.
Let us know what you think in the comments below. Also, be sure to follow Generation Iron on Facebook, Twitter, and Instagram. 
*Images courtesy of Transparent Labs and Envato
References