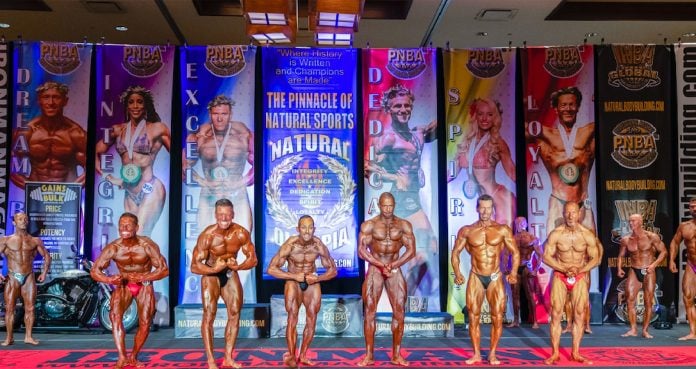 The INBA PNBA will offer an exclusive category for vegans at 2022 Natural Universe. 
The International Natural Bodybuilding Association (INBA)/Professional Natural Bodybuilding Association (PNBA) will offer an exclusive category for vegans at Natural Universe in Tampa, FL, on September 3, 2022. 
Michael Ferencsik, a devoted vegan and animal rights activist who competes in the PNBA Men's Bodybuilding Grand Masters category, went to Instagram to express his gratitude. Ferencsik stated:
"I honestly could not have ever imagined a day that a category would be set aside for vegan athletes in one of the preeminent natural bodybuilding competitions in the world.

The @inbapnbaglobal_official INBA / PNBA NATURAL UNIVERSE has always held a special place in my competitive career.

It is the first international title that I won and have been blessed to win several times over the years.

I wanted to thank the INBA / PNBA for once again being a leader in the natural bodybuilding and fitness industry by offering yet another exclusive, a VEGAN DIVISION."
You can see Michael Ferencsik's full post below. 
View this post on Instagram
Veganism in Natural Bodybuilding 
Michael Ferencsik isn't the only vegan INBA PNBA athlete. 2021 Natural Olympia Classic Physique Masters champ Tamer Barakat is also an avid vegan. Of course, a vegan natural bodybuilder's diet will look much different than other natural athletes who eat meat. But Ferencsik and Barakat prove that you can still build the physique of an elite natural bodybuilder without eating animal products. 
Tamer Barakat's diet is 90% plant-based foods and includes spinach, mushrooms, quinoa, and oatmeal. And Ferencsik lost 40 pounds from his vegan diet. Ferencsik says you can get all the protein, calcium, and omega-3 you need without meat, milk, or fish. 
Veganism isn't the first new category. The INBA PNBA added a new division earlier this year for women, Wellness, and they've continued to innovate the world of natural bodybuilding. 
INBA PNBA Pioneers in Natural Bodybuilding 
The INBA PNBA has been leading the way in the sport of natural bodybuilding. They are the most prominent league in natural bodybuilding, with competitors from over 60 countries. They also payout the most considerable cash and prizes and host the most significant natural bodybuilding event, Natural Olympia.
The INBA PNBA has been growing steadily since 1990, when Denny Kakos, the American Bodybuilding Association (ABA) co-founder, aspired to create a natural bodybuilding organization for athletes who qualified for professional status. That's when the PNBA came to life. Four years later, Kakos wanted to merge natural bodybuilding worldwide, birthing the INBA in 1994. 
The INBA PNBA has continued to do everything it can to grow and give natural bodybuilders professional growth and recognition. One thing they've implemented is signing athletes to multi-media contracts with Generation Iron, Iron Man Magazine, and the INBA PNBA. And recently, three INBA PNBA athletes were selected to appear in an upcoming bodybuilding movie starring Kristen Stewart, Ed Davis, and Dave Franco, Love Lies Bleeding. 
Follow us on Instagram, Facebook, and Twitter to stay up to date with the latest INBA PNBA news!