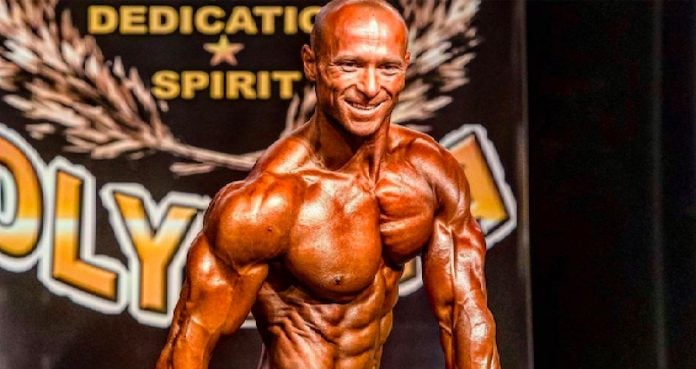 PNBA natural bodybuilder Adrian Pietrariu signs a multi-media contract with Generation Iron, Iron Man Magazine, and the INBA PNBA. 
The sport of natural bodybuilding is continuing to expand thanks to the progressive measures the International Natural Bodybuilding Association (INBA)/Professional Natural Bodybuilding Association (PNBA) are taking. They've been signing many athletes to multi-media contracts with behemoth bodybuilding, strength sports, and fitness media companies Generation Iron and Iron Man Magazine. PNBA athlete Adrian Pietrariu is the next athlete to sign a multi-media contract. 
Adrian Pietrariu was the INBA PNBA's Athlete of the Year in 2018. And he was inducted into the INBA PNBA Hall of Fame in 2020. Adrian Pietrariu released a statement on Instagram (IG) regarding his contract. Pietrariu stated:
"BIG NEWS BIG NEWS!!!!

Honored for another huge opportunity in Natural Bodybuilding. 

Today is my honor to sign this multi media contract with @inbapnbaglobal_official, @generationiron and @ironmanmagazine 

I feel in love with INBA/PNBA from the first day I competed with them at Mr. California in Hollywood and from there is History. I traveled with INBA all over the world and had some amazing amazing athletes and made the best experiences. INBA/PNBA is truly the best natural bodybuilding organization and the only one that is global! Love my @inbapnbaglobal_official Fam 

The Memories and Experiences don't stop here. We have more people to meet and more experiences to make!

I want to Thank all of you for your continued Love and Support"
Pietrariu's IG post expresses his appreciation for signing the contract below. 
View this post on Instagram
INBA PNBA 
The INBA PNBA is the largest natural bodybuilding federation and hosts the world's largest natural bodybuilding competition – Natural Olympia. In addition, the INBA PNBA gives away the most considerable cash and prizes. For example, legend Philip Ricardo Jr. won a Harley-Davidson at 2021 Natural Olympia. 
The INBA PNBA represents athletes in 60 countries. Arely Ayala from Mexico won first place in Bikini Angels and received second place in Bikini Divas at 2021 Natural Olympia. Kristy Graham-Kumabe represents INBA Australia, and she's a 4x pro natural physique Australian champion. Graham-Kumabe won the PNBA Australian national pro Physique and Figure in 2021. 
In addition, the INBA PNBA vets all athletes through the most strenuous drug testing standards – the World Anti-Doping Agency (WADA). Any athlete who fails to follow these drug testing measures will be banned from the sport and hung in the Hall of Shame. In addition, they'll never receive the merits of signing a multi-media contract. 
Multi-Media Contract Details 
Each athlete who signs a multi-media contract gets special perks. These benefits include brand building (via social media posts, write-ups, and photoshoots), special guest appearances, and posing and seminar sessions. Moreover, multi-media athletes will get Iron Man Magazine nutrition ads and endorsements. 
The INBA PNBA stated the following about multi-media contract athletes:
"An opportunity for a natural bodybuilding athlete to acquire renown and recognition in the sport of natural bodybuilding, exploiting association's promotional campaign via the iron man magazine, news and events, and the generation iron platform."
Generation Iron will be covering every INBA PNBA show throughout the year. Here you can see the INBA PNBA's full competition schedule! 
Follow us on Instagram, Facebook, and Twitter for the latest INBA PNBA news!