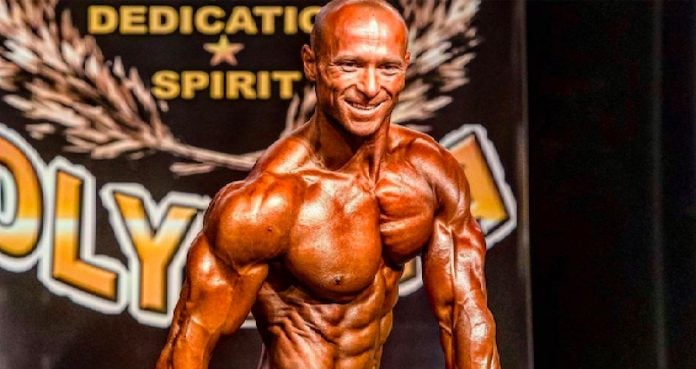 INBA PNBA athlete Adrian Pietrariu shares his secret oblique exercise for shredded abs. 
Everyone wants washboard abs, but anyone who's been training in the gym for years knows that getting abs is no easy task. It takes a disciplined diet and the correct movements. Some key muscle groups of your abdominals are your obliques. These muscles on the side help give you the awe-dropping V-taper. International Natural Bodybuilding Association (INBA)/Professional Natural Bodybuilding Association (PNBA) athlete Adrian Pietrariu shared his secret exercise for obliques on Instagram (IG). 
In 2018 Adrian Pietrariu was the INBA PNBA's Athlete of the Year. In addition, he was inducted into the INBA PNBA Hall of Fame in 2020. On IG, Adrian said:
"This Exercise is one of my Secrets to getting those Obliques to show like the Shark Gills 

I do 4 to 6 sets of 30 reps each side."
Below is a video of Adrian Pietrariu performing this movement. 
View this post on Instagram
The exercise Adrian Pietrariu is doing is known as oblique extensions. Oblique extensions target your obliques. You can add weight to them as well. 
Key To Abs
Of course, everyone wants chiseled abs, but it's imperative for a competitive bodybuilder. The right exercises can help tone your abs. However, as the adage goes, abs are made in the kitchen.
A lot of people think that by doing more ab exercises, they'll get abs. However, it's cutting body fat via a caloric deficit that truly gives you washboard abs. Although, the correct movements will make your abs stronger and help them be more noticeable once you get down to lower body fat levels. But you must have low body fat levels if you want your abs to show. We recommend between 10-12% body fat for visible abs. 
Other Ab and Oblique Exercise
Of course, nutrition is essential to get low body fat levels, but critical exercises are also crucial. Aside from oblique extensions, there are a variety of other exercises you can do to target your core. To name a few, we created a list of a few ab exercises you can try next time you workout. 
Ab Movements
Natural Bodybuilding
As the name suggests, natural bodybuilding is a sport that prohibits drugs. Bans against drugs are especially true in the INBA PNBA league. That's because this natural bodybuilding league vets every athlete through the utmost drug testing standards – the World Anti-Doping Agency. 
Competitors that fail a WADA-compliant drug test at any point during the year – the INBA PNBA does both in-season and off-season testing – will be stripped of their title and banned from competing. And instead of earning a spot on the Hall of Fame as Adrian Pietrariu has. They'll be ridiculed on the Hall of Shame. 
Below is a Generation Iron exclusive interview with Pietrariu on his perspective on whether he thinks a bodybuilder is natural if they used to take steroids but don't now. 
If you're looking to develop your obliques and get one step close to a Greek-God V-taper, give Adrian Pietrariu's secret oblique exercise a try next time you're in the gym. 
Follow us on Instagram, Facebook, and Twitter for more workout tips from natural bodybuilders!