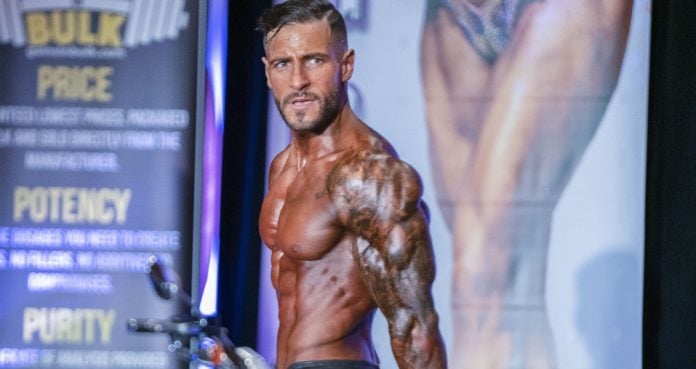 3x Natural Olympia champ Brandon Lirio discusses his new business venture–the World's Strongest (Every) Man. 
The competitors of the World's Strongest Man have incredible strength. They're pulling busses and lifting atlas stones weighing over 400 pounds. However, these men are behemoths with some standing 6'6" – 6'9" and weighing between 350-400 pounds. For example, the 2022 World's Strongest Man champ, Tom Stoltman, is 6'8" and 397 pounds. Professional Natural Bodybuilder Association (PNBA) champ Brandon Lirio wanted to create a World's Strongest Man, except with a slight twist–one for the everyman. 
Brandon Lirio competes in the Classic Physique division and is a 3x Natural Olympia champ. He also has a multi-media contract with Generation Iron, Iron Man Magazine, and the INBA PNBA. In addition, Lirio has a new business venture similar to the World's Strongest Man. But it's for men with a more ordinary physique. Generation Iron received some insight from Lirio on his new project. Lirio stated:
"WSEM came about when my kids were just born and I was training in my basement. I watch videos constantly of Giants Live and WSM and I thought… how close could a strong but regular guy come to this level of strength if they learned from the pros.

I was infected with the idea that not only would it be compelling to watch, but it would show people that a lot of their weaknesses could just be missed training cues."
How Good of a Strongman Is Brandon Lirio?
Brandon Lirio acknowledges that it's up to the other strongmen and the audience to decipher how good he is as a strongman athlete. However, he noted that professional strongmen Matt Mills and Stefan Torfason–Iceland's strongest man– said they were impressed with his strength and invited him to train. 
Traveling to Iceland to Lift the Husafell Stone
Brandon Lirio spent some time in Iceland, where he attempted to lift the Husafell Stone–a stone located in Husafell, Iceland weighing 186 kg (410 lb). Lirio said:
"Traveling to Iceland to lift the Husafell was an absolute dream of mine."
Brandon Lirio heeded that he would be releasing a YouTube video in the upcoming weeks to answer the question: did I lift the stone? You can check out Lirio's training with Stefan Torfason below, though. 
Weightlifting With Iceland's Strongest Man Part I
Weightlifting With Iceland's Strongest Man Part II
Iron Man Magazine Feature
Brandon Lirio was issued in the Iron Man Magazine's spring 2022 edition. Lirio expressed:
"Being on the cover of Iron Man is an incredible goal that I spent years just focusing on myself until those who MADE the magazine thought I was good enough to be on the cover. Arnold, Bob Paris, Frank Zane… the names of those who were on the cover before me is a who's who of bodybuilding greats. 

I'm going to spend the rest of my career trying to even hold a candle to their legacies."
2022 Natural Olympia Quest
2021 Natural Olympia Brandon Lirio placed well, receiving 2nd place in the Classic Physique division behind Derek Joe. But this year, Lirio plans to take back the throne. Lirio asserted:
"As for the Natty O, 3x I hoisted that title over my head and that's on top of the universe, national, continental, and world titles to my name. Every one of them was earned by looking inward and forcing myself into new territories to be the best version of myself.

DJ was told BY ME after his first Olympia appearance that soon he would be just as important to our division as I was. I meant it. But this year, I plan on going back to focusing inward to call myself 4 time.

All respect too every competitor up there, but I'm climbing the mountain this year to come back with crown."
Follow us on Instagram, Facebook, and Twitter for the latest INBA PNBA news!