Blessing Awodibu wins the 2022 New York Pro!
The 2022 New York Pro was next up on the schedule this season taking place on Saturday, May 21, 2022. Aside from the Olympia and Arnold classic, the New York Pro might be the biggest show over the course of the year. There were nine divisions fighting for titles on Saturday at the Marriott at Glenpointe in Teaneck, NJ looking to qualify for the 2022 Mr. Olympia. In the end, it was Blessing Awodibu highlighting the 2022 show with a victory in Men's Open.
Awodibu came into the show as the favorite after winning the Indy Pro just last week. This was his return to the stage and now, he was looking for redemption at the NY Pro, where he finished sixth in 2021. There was a late shakeup as Indy Pro runner-up Charles Griffen decided to pull out of the event on Friday.
Sadik Hadzovic also returned to the stage in New Jersey after his Men's Physique victory in Men's Physique. Despite already holding a ticket to the Olympia, Hadzovic wanted to prove that he is ready for the biggest stage. Lauralie Chapados was victorious in Bikini while Neil Currey won Classic Physique.
The full results from the show have been announced. There were a total of nine divisions present during the New York Pro. Checkout the full breakdown from each event along with the official scorecards from the night.
2022 New York Pro Results: All Division Winners
Men's Open: 

Blessing Awodibu

Classic Physique: Neil Currey
Men's Physique: Kyron Holden
Men's 212: Noel Adame
Women's Bodybuilding: Donna Salib
Women's Physique: Natalia Abraham Coelho
Bikini: 

Lauralie Chapados

Figure: Jossie Nathali Alarcon Becerra
Wellness: Sunny Andrews
2022 New York Pro Results Breakdown
Men's Open Results – Top 5
First Place – Blessing Awodibu
Second Place – Andrea Presti
Third Place –

Maxx Charles

Fourth Place – Theo Leguerrier
Fifth Place – Justin Rodriguez
View this post on Instagram
Men's Open Winner — Blessing Awodibu
Blessing Awodibu has always found success outside of Bodybuilding. After going Pro, Blessings spoke at length with Generation Iron and explained his plan to not only become Mr. Olympia but to also change the face of bodybuilding. His win at the NY Pro demonstrated a great physique with muscle mass. His rivalry with IFBB Pro Nick Walker was reignited when he let Walker and the audience at the 2022 NY Pro know that he looks forward to a rematch at the 2022 Olympia. He predicted he would beat Walker and looked forward to his Olympia debut.
Men's Open Second Place – Andrea Presti
Andrea Presti is well known for his big win at The 2021 Mr. Big Evolution Pro in Portugal after beating out top competition such as Tim Budesheim and Vlad Suhoruchko. Going into the 2022 NY Pro, Presti was not a favorite to win the show but he was the most improved in the division. He was able to significantly improve his legs and earn points towards an Olympia qualification.
Men's Physique
First Place – Kyron Holden 
Second Place – Alexander Toplyn
Third Place – Sadik Hadzovic
Fourth Place – Jeremiah Maxey
Fifth Place – Ramses Rams
View this post on Instagram
Classic Physique Results – Top 5
First Place – Neil Currey
Second Place – Alexander Westermeier
Third Place – Camilo Diaz
Fourth Place – Ruben Stouth
Fifth Place – Dancovea Anderson
View this post on Instagram
Men's 212 Results – Top 5
First Place – Noel Adame
Second Place – Sung Yeop Jang
Third Place – Abdullah Alsaif
Fourth Place – Derik Olsan
Fifth Place – Enmanuel Rodriguez
View this post on Instagram
Women's Bodybuilding Results – Top 5
First Place – Donna Salib
Second Place – Stephanie Flesher
Third Place – Michelle Jin
Fourth Place – Keisha Oliver
Fifth Place – Saqweta Barrino
Women's Physique Results – Top 5
First Place – Natalia Abraham Coelho
Second Place – Ji Hye Lee
Third Place – Alex Hall
Fourth Place – Amanda Peles
Fifth Place – Orlandina Balin
Bikini Results – Top 5
First Place –

Lauralie Chapados

Second Place –

Elisa Pecini

Third Place – Janet Layug
Fourth Place – India Paulino
Fifth Place – Erin Stern
Figure Results – Top 5
First Place – Jossie Nathali Alarcon Becerra
Second Place – Tereza Linhartova
Third Place – Ericka M. Morgan
Fourth Place – Courtney Jacobs
Fifth Place – Yelena Larina
View this post on Instagram
Wellness Results – Top 5
First Place – Sunny Andrews
Second Place – Kassandra Gillis
Third Place – Jasmine Payne
Fourth Place – Judian Winston
Fifth Place – Rafaelle Zen
Blessing Awodibu Interview: Trash Talk, New York Pro, & The Future Of Bodybuilding
Last year Generation Iron had the pleasure of interviewing Blessing Awodibu before his battle at the 2021 New York Pro. He ultimately didn't take home the first place prize that year – after much hype leading into the competition. His win this year is a sort of vengeance compared to his package last year. Awodibu has shown incredible improvement – that has been catching many people's eye including Johnnie O. Jackson as well.
In the above interview, you can gain some insight into Blessing Awodibu's view on trash talk and hype before a bodybuilding show, the future of the sport, its physiques, and much more.
2022 New York Pro Official Score Cards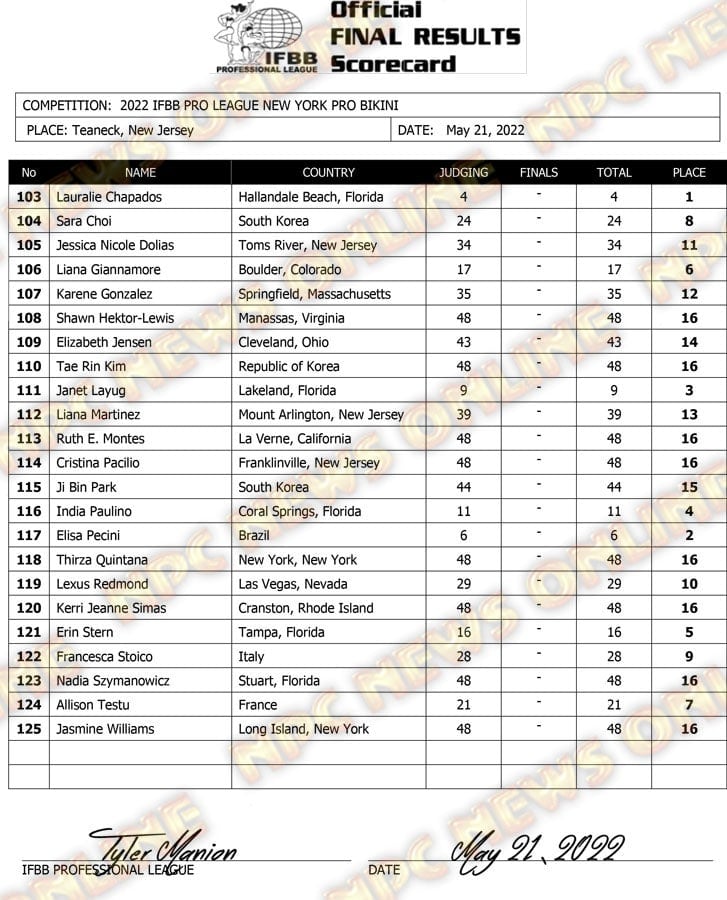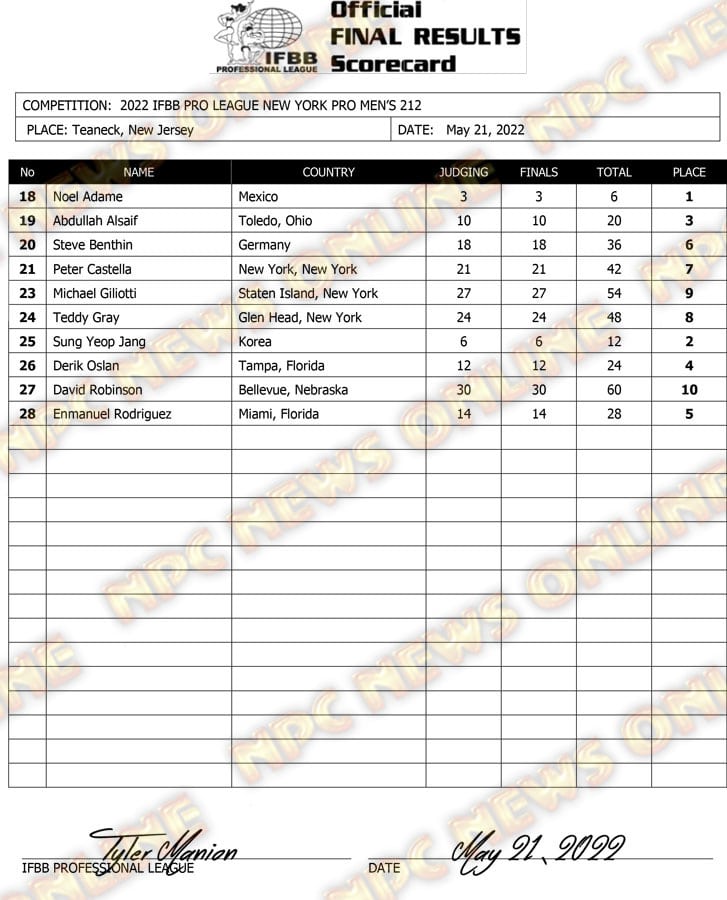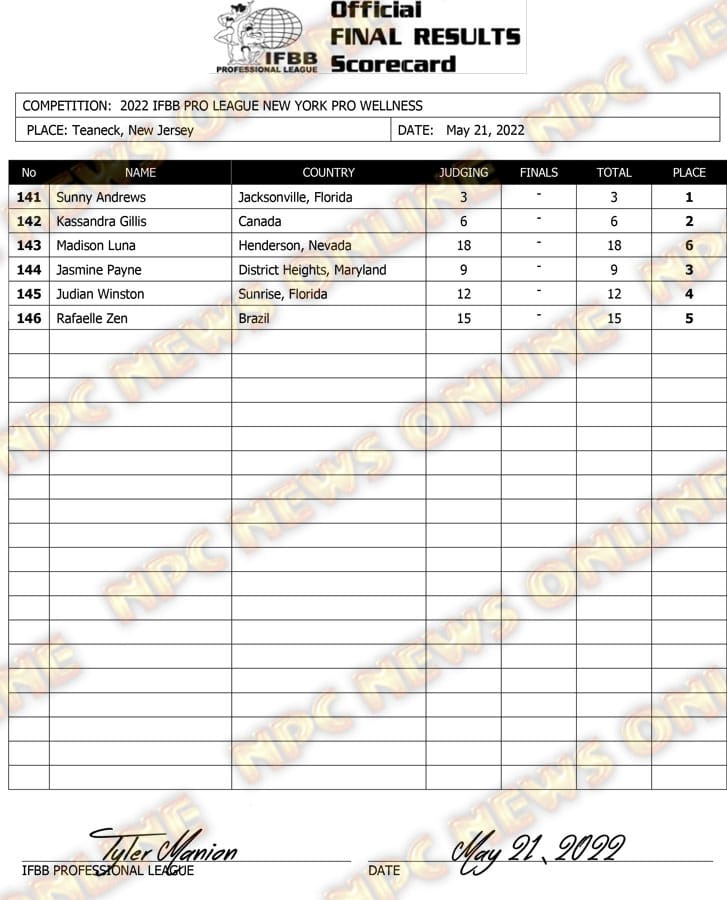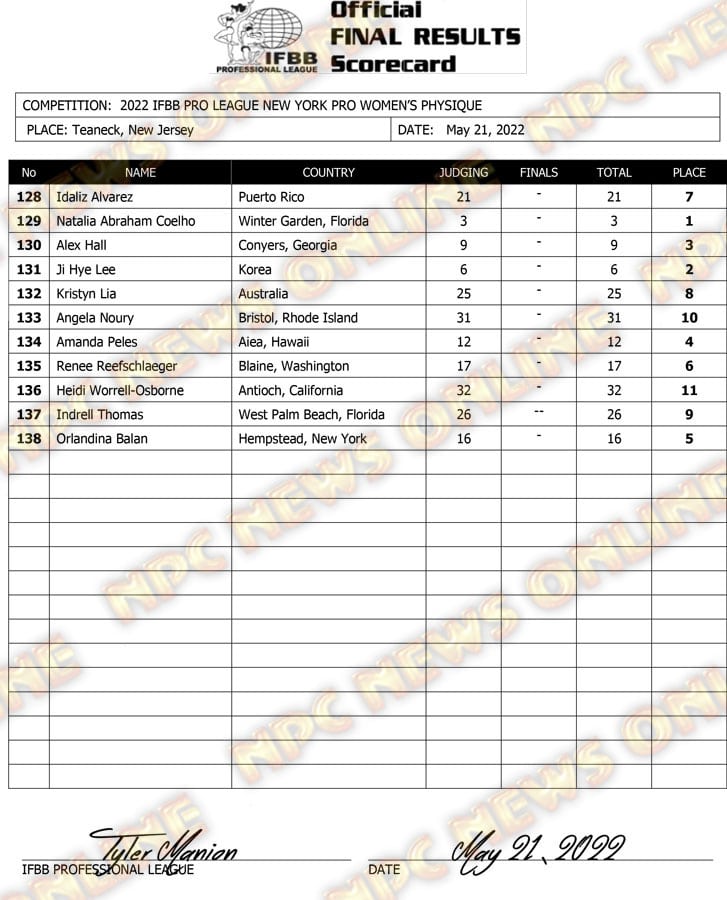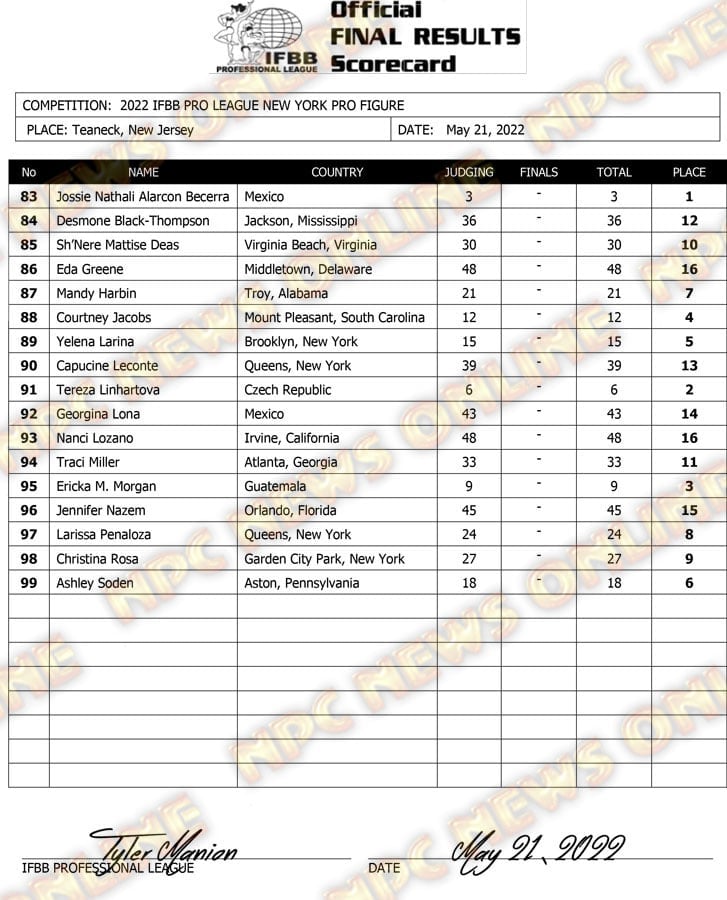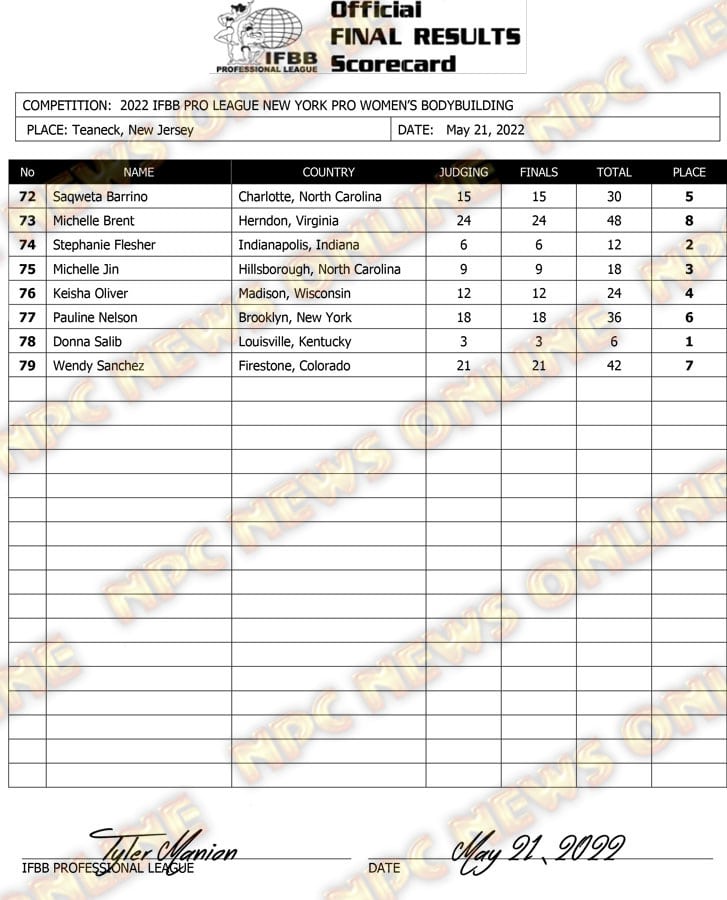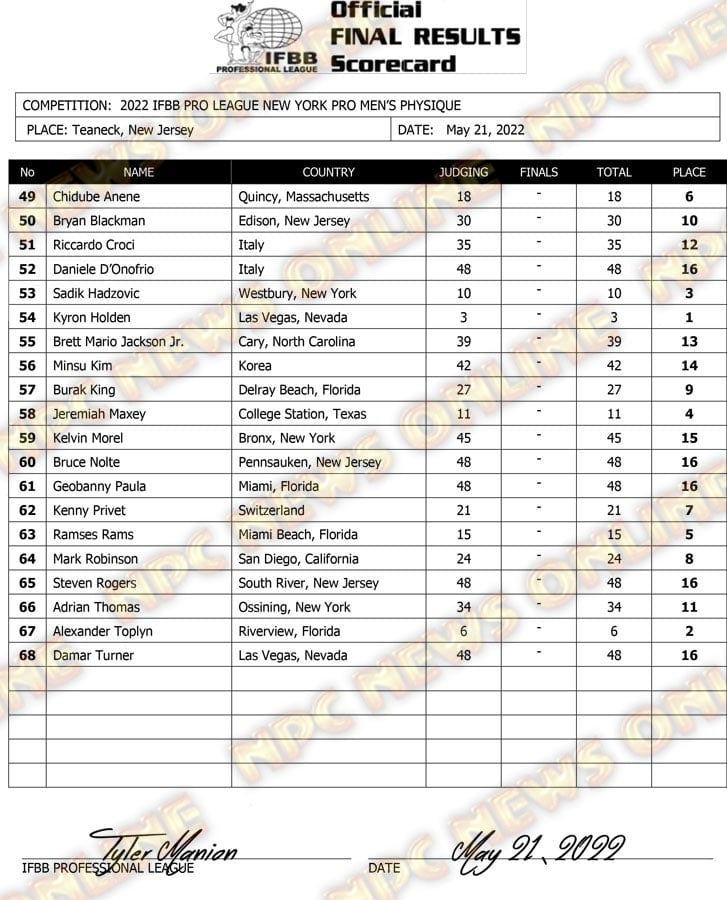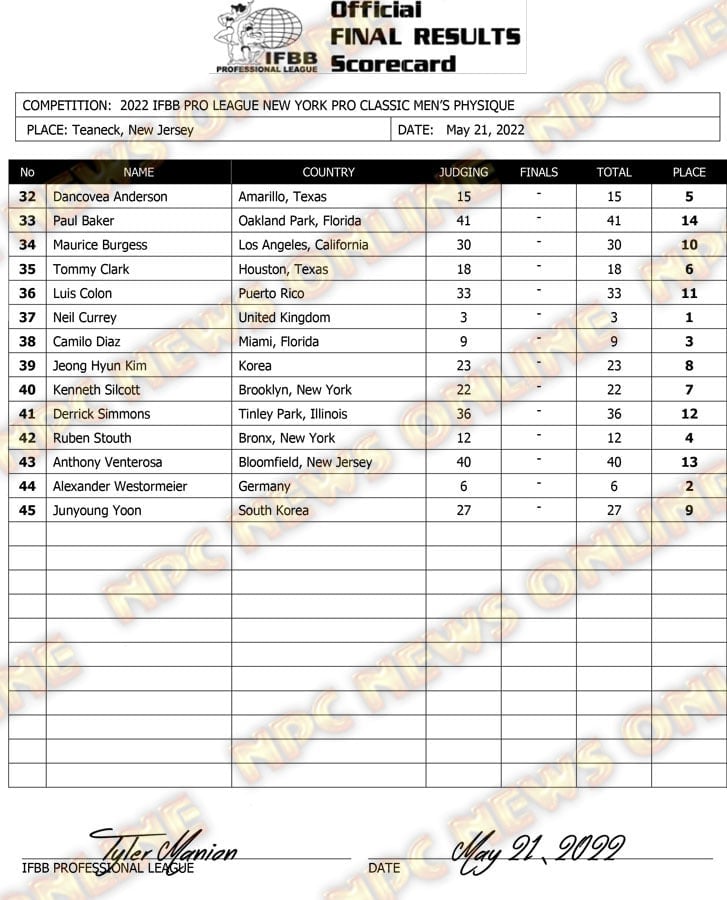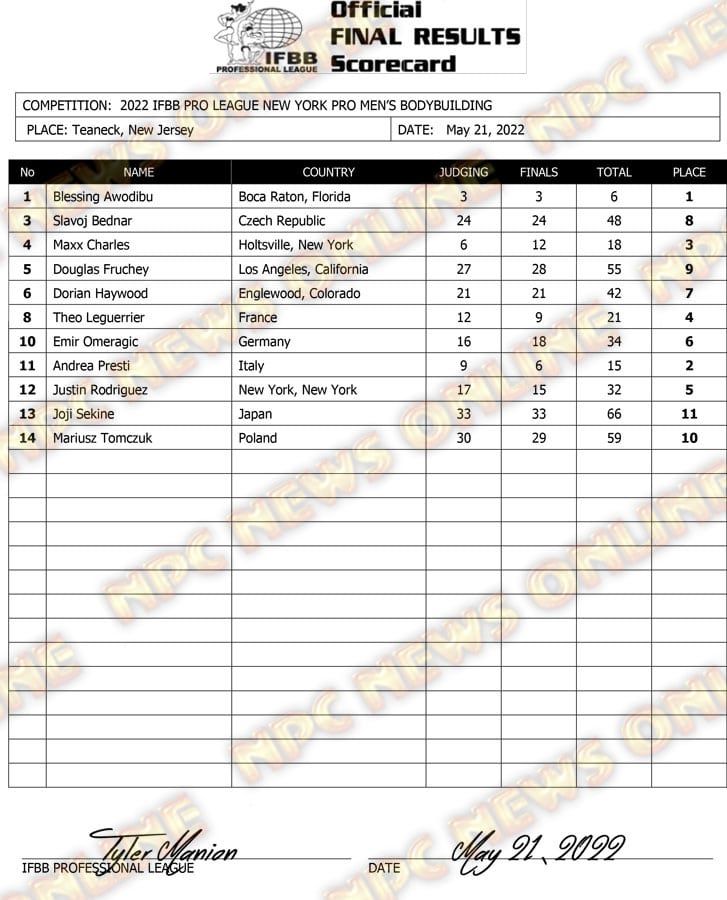 Generation Iron wishes to congratulate all the great athletes who earned a win at the 2022 IFBB New York Pro. Make sure to check out our full IFBB Pro results page from this year and previous years right here to catch up on any action you may have missed!