The biography, life, and accomplishments of Alicia Marie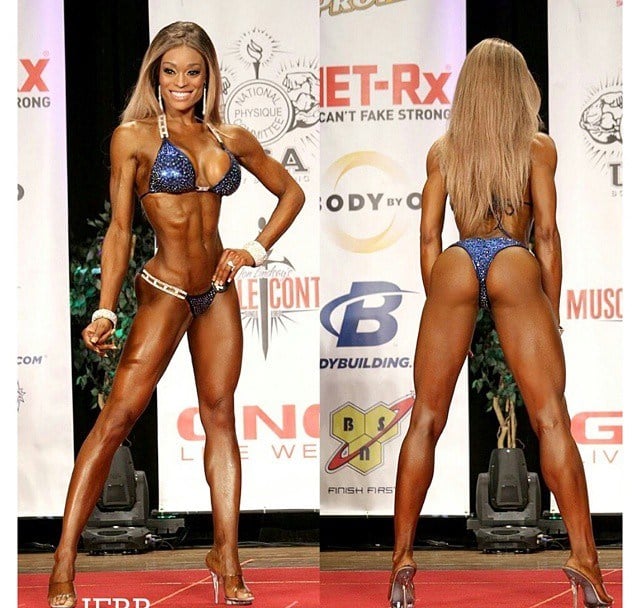 Alicia Marie, also known as "The Machine," is an American professional Figure and Bikini competitor, fitness model, TV personality, costume artist, and author. 
Marie started her competitive bodybuilding journey in the bikini division. Alicia is a renowned health, diet, and fitness expert and has featured in many magazines and TV shows.
Below is a complete breakdown of Alicia Marie's profile, stats, biography, training, and diet regimens. 
Full Name: Alicia Marie

Weight
Height
Date Of Birth

125-135 lbs

5'10″

15/9/1975

Division
Era
Nationality

Figure, Bikini, Fitness Model

2000, 2010

American
---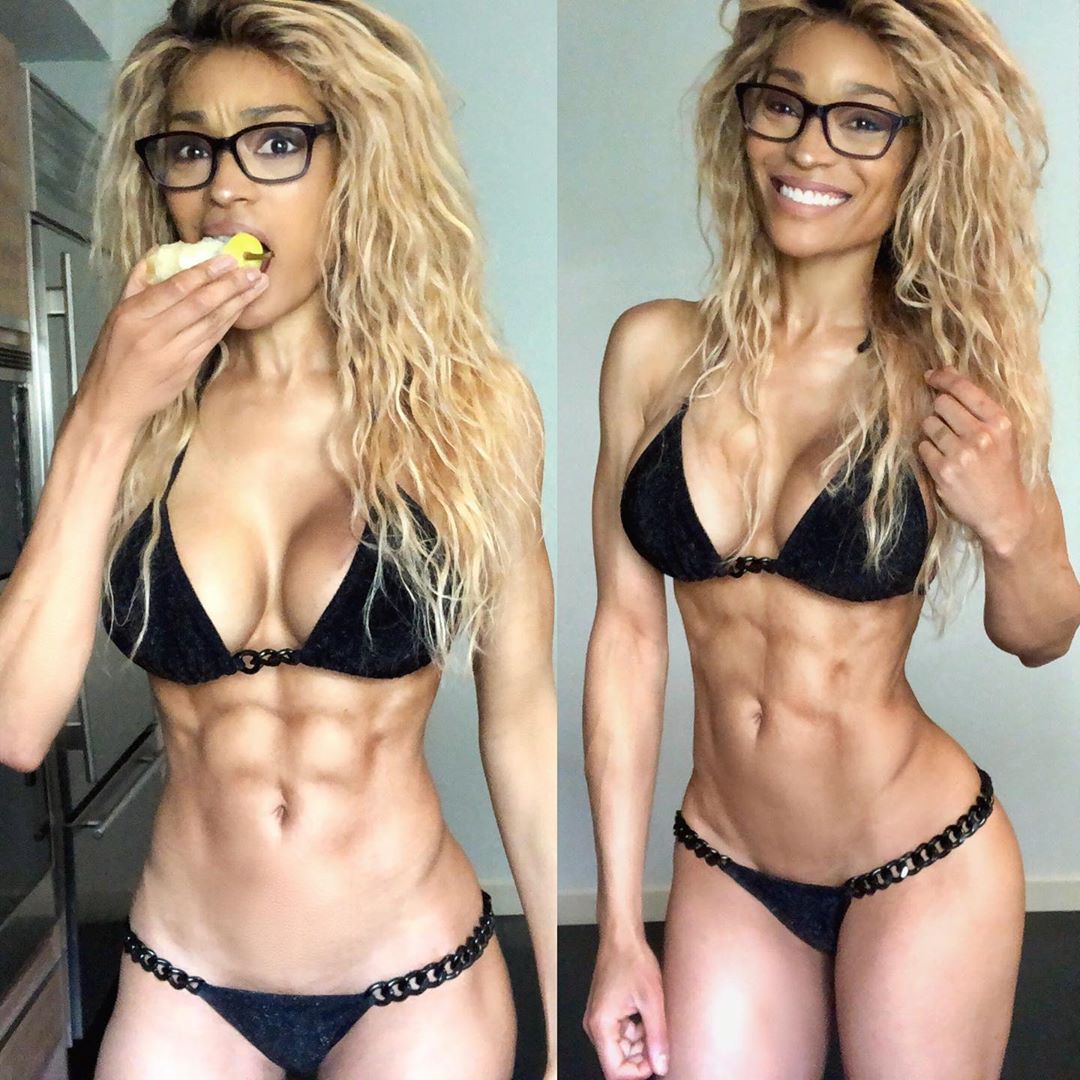 Biography 
Born on Dec. 15, 1975, in Connecticut, Marie had an active childhood and was engaged in several sports growing up, including track and field, softball, martial arts (Kali, weapons), and gymnastics.
Marie started lifting weights while still in high school, and because of her strength and endurance, she got the nickname "The Machine" from her friends. 
Since her early years, Marie has been fascinated with comic books and always wanted to look like a superhero. Learning about bodybuilding and body transformations helped her work towards achieving her dream physique. Alicia Marie is a costume artist (cosplay) and a regular at comic cons. 
Alicia Marie went to Columbia University to study broadcast and has a degree in neuroscience. It was in college that she started dedicating more time to weightlifting. 
Shortly after starting working out regularly in college, Alicia Marie developed superhuman strength. She set impressive strength records, squatting almost 300 pounds in her junior year in college. 
Turning Passion into a Career
After graduating from college, Alicia moved to LA, California, to turn her passion for fitness into a full-time career. 
Marie found success as a fitness model and has been featured on the covers of more than 80 publications. She was the celebrity fitness trainer on MTV's "Made" and co-created Liongate Media's 30-Day Buttlift DVD exercise series. Alicia Marie has also authored the 2012 book "The Booty Bible."
Become a Pro Athlete
Alicia Marie always had a competitive side to her. As she noticed improvements in her physique, she started training to compete in local contests. 
Marie competed in her first show in 2003 and was hooked to the competitive bodybuilding circuit from the moment she stepped onto the stage for the first time. She won several bikini and figure contests over the next few years. 
Her first big competition was the 2007 NPC Arnold Amateur Bodybuilding show, where she placed second in the figure and fitness class. 
Alicia Marie earned her IFBB Pro card by winning the 2008 NPC Team Universe Bodybuilding, Fitness & Figure National Championships. 
Marie made her pro debut in 2009 at the IFBB Europa Super Show & Supplement Expo, where she finished 12th. She had to wait six years before her first pro title win at the 2015 IFBB Muscle Contest Pro Bikini. 
Trivia: Alicia Marie is 70% deaf in her left ear and about 30% deaf in her right from a 2005 boxing injury.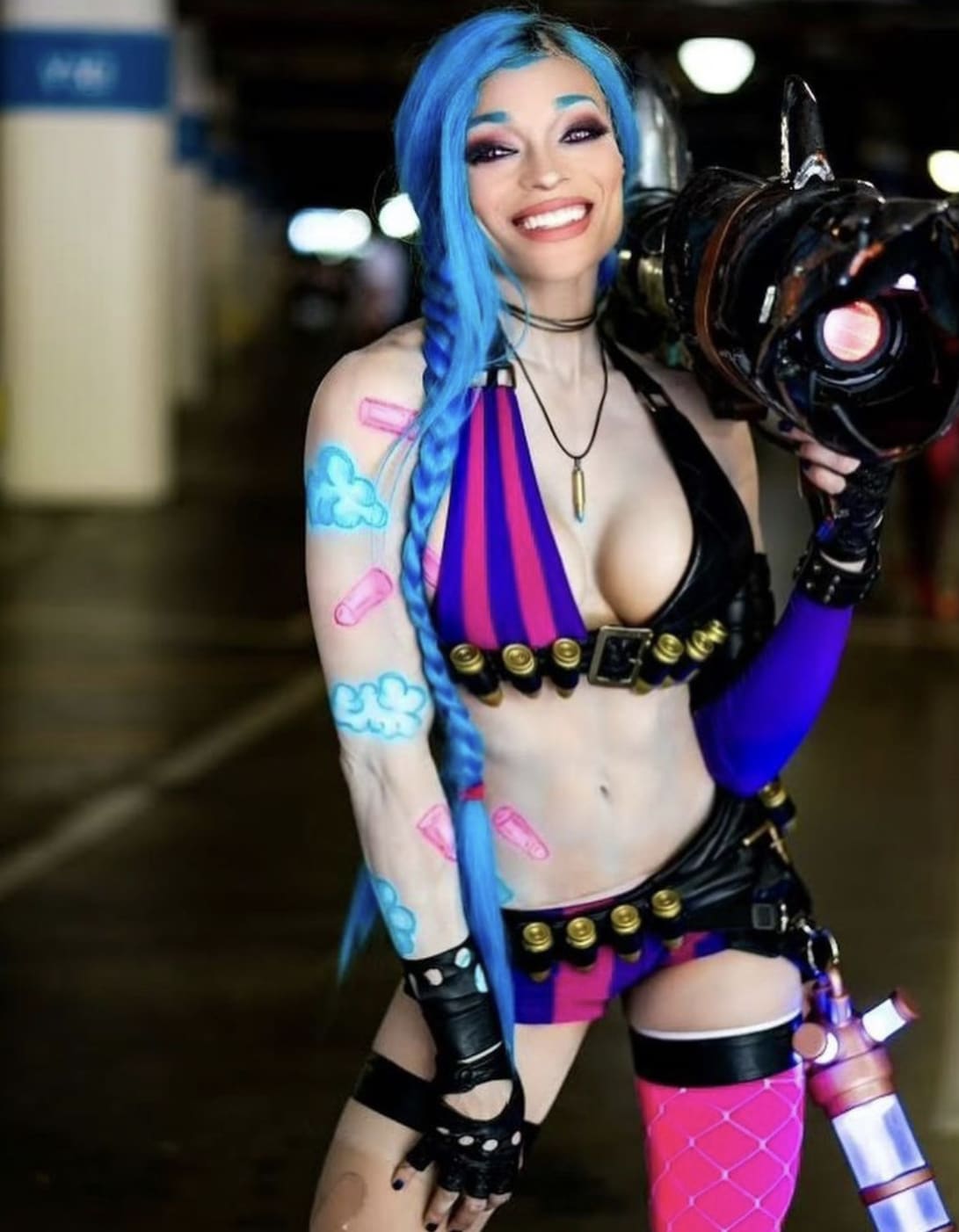 Accomplishments
Here are a few of Alicia Marie's competitive bodybuilding accomplishments:
2015 IFBB Musclecontest.com Pro Bikini, 

1st

2008 NPC Team Universe Bodybuilding, Fitness & Figure National Championships, 

1st

2008 NPC USA Bodybuilding & Figure Championships, 

2nd

2007 NPC Arnold Amateur Bodybuilding, Figure and Fitness, 

2nd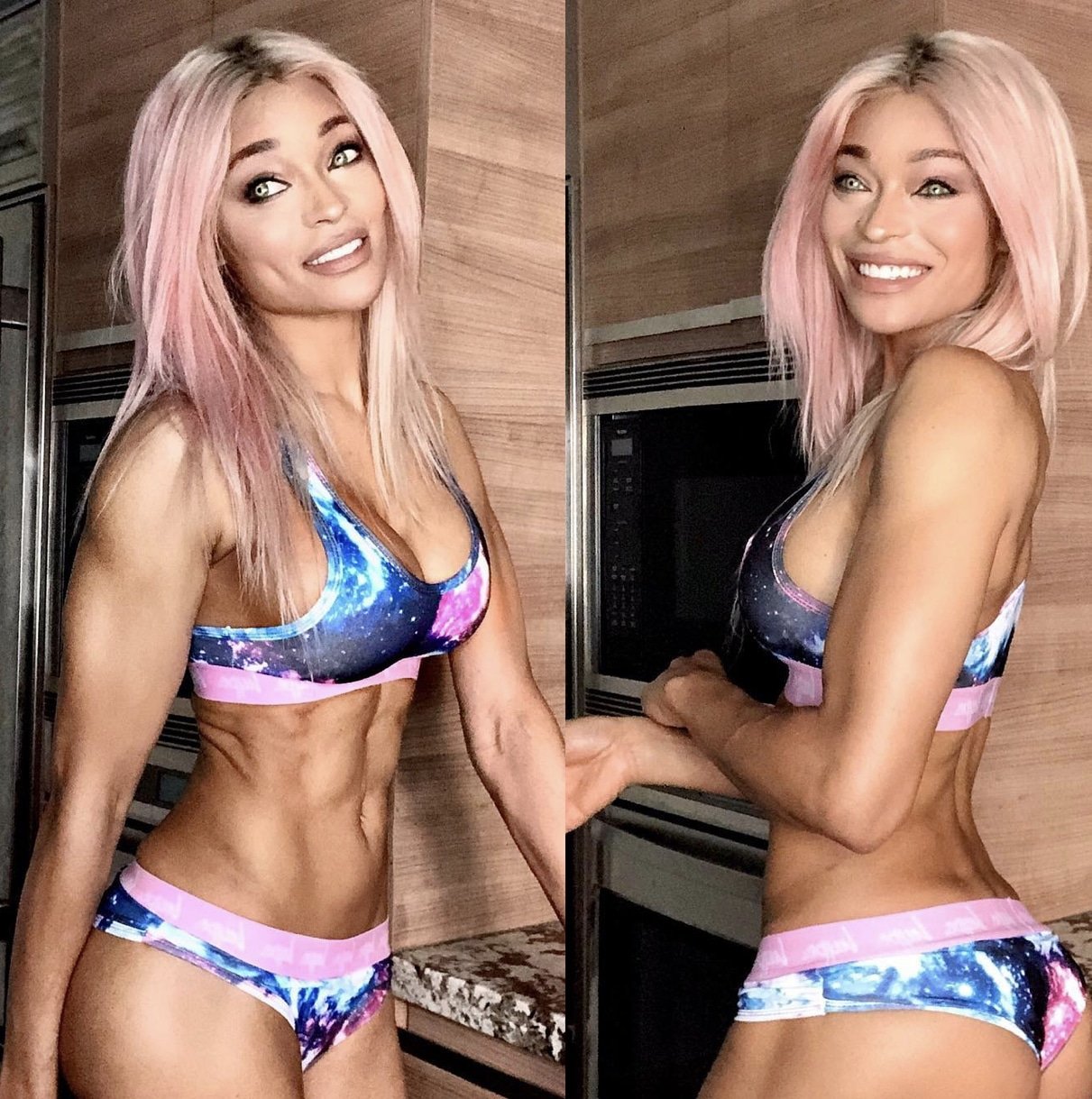 Training 
Alicia Marie's training regimen has changed significantly since her competitive days. She currently focuses on cardio to maintain her chiseled abs and low body fat percentage. Marie performs cardio up to five days a week on a treadmill or Stairmaster.
Workout Routine
During her competition days, this is what Alicia's training split looked like:
Monday: 

Cardio or Calves, Back/Biceps, Abs

Tuesday: 

Triceps, Light Chest, Cardio 

Wednesday: 

Off/Cardio only or martial arts (Eskrima)

Thursday: 

Shoulders, Abs

Friday: 

Legs/Glutes, Light cardio for stretching

Saturday: 

Cardio, Abs

Sunday: 

Martial Arts (weapons, Kali)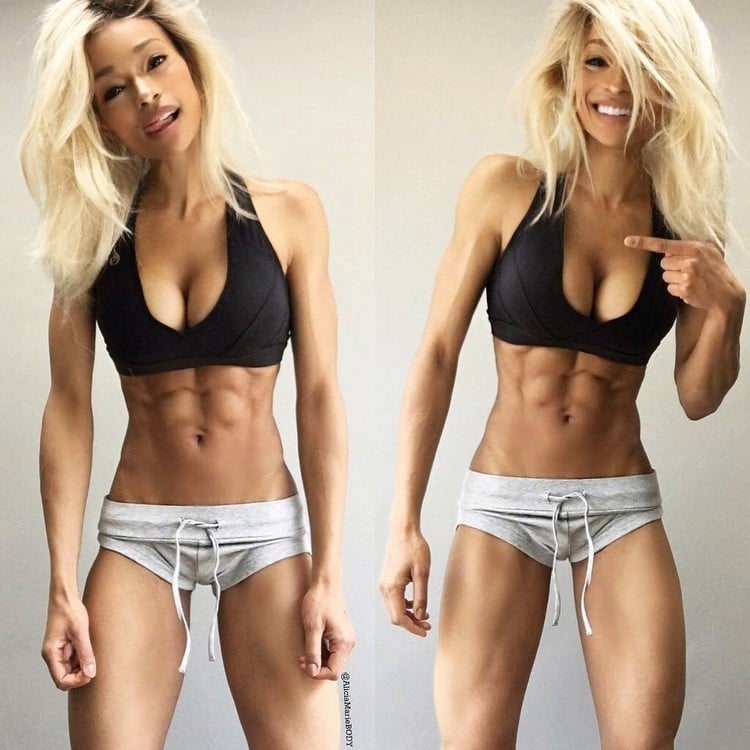 Nutrition
"You can do 100 crunches every night, but you still can't out-exercise a bad diet. You might as well hear it now so you can get to work!" — Alicia Marie on building abs
Alicia Marie follows an IIFYM (if it fits your macros) diet, also known as a flexible diet, to help stay in shape throughout the year. On her IIFYM diet, Marie sticks to nutrition-dense whole foods and stays away from junk food. 
Here is a list of Alicia Marie's favorite foods from each macro group:
1. Protein Sources:
Protein plays a vital role in building muscle mass and promotes recovery. It can also keep you feeling full for longer, which can help avoid snacking on unhealthy foods.  
Egg whites

Whey protein powder

Lean beef cuts

Turkey

Chicken

Tuna (water-packed)

Fresh fish (tilapia, halibut, organic roughy, and snapper)
2. Fats Sources:
The macronutrient "fats" are required for optimal body functioning as they play a role in brain function, joint lubrication, organ insulation. It can also improve skin and hair quality. 
Avocado

Coconut oil

Nuts, peanut 

Almond butter

Extra-virgin olive oil
3. Carbohydrate Sources:
Carbs provide you with energy for daily tasks and are the primary fuel source for your brain's high energy demands. (1)
Fruits (berries especially) 

Veggies

Rice (brown, jasmine, wild, black) 

Potatoes (red and white)

Quinoa

Oats 
Favorite Protein Pancake Recipe 
Alicia Marie loves protein pancakes and eats them five days a week on her training days. 
1 scoop of dry oats blended into smaller bits, mixed with 2 egg whites

1 cup of unsweetened applesauce

Topped with blueberries or cinnamon

1 cup of protein powder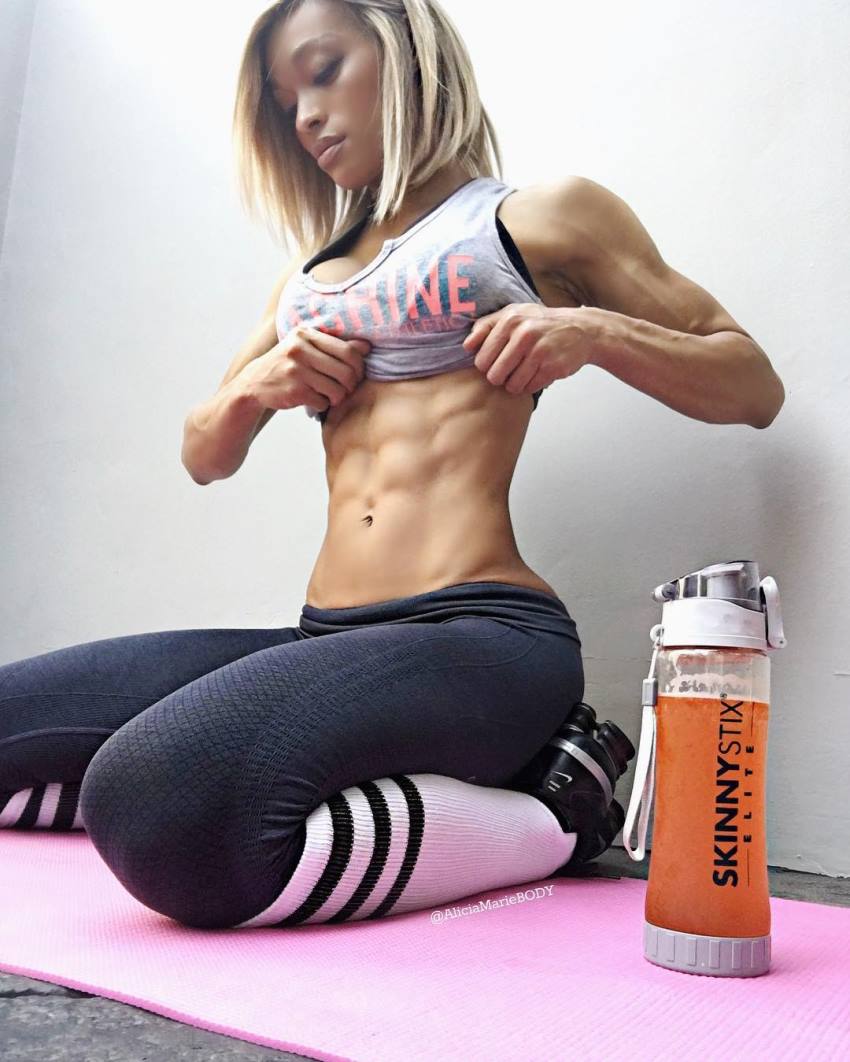 Supplements
"The Machine" uses the following supplements to improve her overall body functioning and recover better after her workouts:
References
Elia M, Folmer P, Schlatmann A, Goren A, Austin S. Carbohydrate, fat, and protein metabolism in muscle and in the whole body after mixed meal ingestion. Metabolism. 1988 Jun;37(6):542-51. doi: 10.1016/0026-0495(88)90169-2. PMID: 3374320.