Arnold Classic 2020 Results and Winners
One of the biggest bodybuilding events of the year, the Arnold Classic 2020, has come to a close. This year's event took place on the weekend of March 6th-7th, 2020. It was one of the most challenging in over 30 years due to the epidemic of covid-19. The promoters were forced to cancel the Arnold Fitness Expo at the Columbus Convention Center. Despite the cancellation of the expo events, the promoters were still allowed to hold the Arnold Classic Bodybuilding events and Strongman events.
The line up was an incredibly exciting one across all divisions that allowed for no easy win upon any of the top competitors. Some of the best pro bodybuilders in the world competed this weekend in Men's Open, Classic Physique, Men's Physique, Bikini International, Pro Wheelchair, Figure International, Strongman, Fitness International, and Women's Physique.
We now have the official results in. Check out the full list of results and winners for the Arnold Classic 2020 below. Brought to you by New Millen and Generation Iron Plus.
Arnold Classic 2020 Results
1. William Bonac
2. Dexter Jackson
3. Big Ramy
4. Steve Kuclo
5. Sergio Oliva Jr.
6. Cedric McMillan
Ed Corney Most Muscular Award
Franco Columbu Best Posing Routine Award
Official score card below: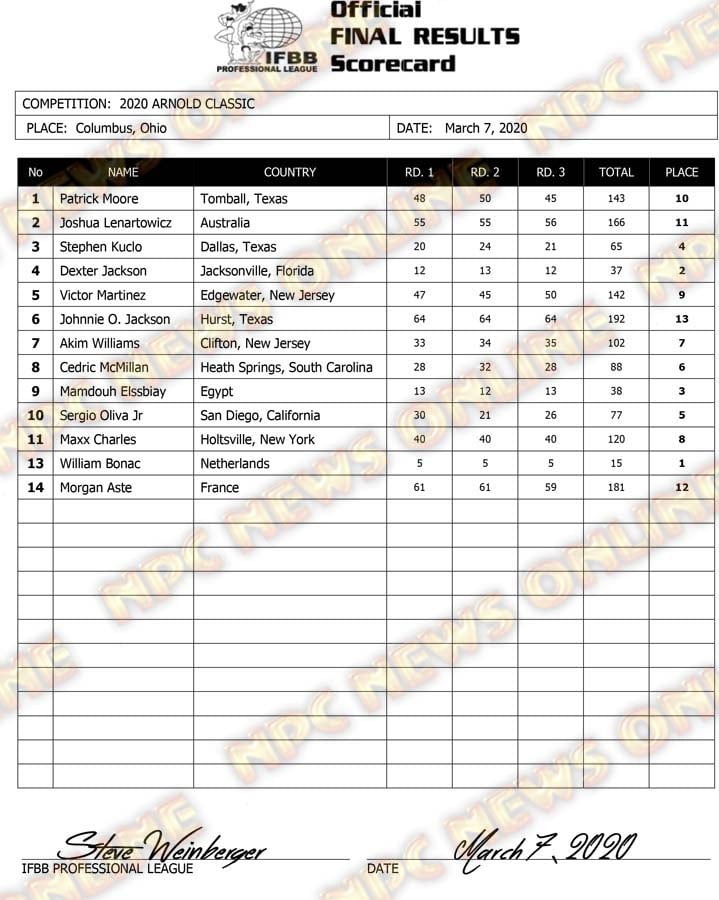 "Big Ramy" (Kuwait) and William Bonac (The Netherlands) were certainly the ones to watch heading into the competition this year. They went head-to-head with other legends of the sport, including Nathan De Asha (UK), Lionel Beyeke (France), Cedric McMillan (USA), and Dexter Jackson (USA). Brandon Curry, who won in 2019, will not be competing this year. William Bonac and Cedric McMillan won the previous two years at The Arnold Classic.
Earlier in the prejudging round, the judges narrowed the competition down to four leading bodybuilders. Steve Kuclo, Dexter Jackson, Big Ramy, and William Bonac stood tall in the top 4. Bonac and Jackson were initially placed in the center but in a dramatic turn of events, Jackson was swapped out with Ramy. This seemed to show the judges torn on who should land in second, Ramy or Jackson. Bonac stood consistent as a frontrunner to win the whole show.
This is arguably one of the greatest line ups in Arnold Classic history. Despite the absence of 2019's winner Brandon Curry (and now Mr. Olympia champion as well), this year's list of competitors truly brought an action packed show. Certainly suitable for one of the biggest bodybuilding events of the year.
Previous Men's Open Winners
2015: Dexter Jackson
2014: Dennis Wolf
2013: Dexter Jackson
2012: Branch Warren
2011: Branch Warren
2010: Kai Greene
2009: Kai Greene
2008: Dexter Jackson
2007: Victor Martinez
2006: Dexter Jackson
2005: Dexter Jackson
2004: Jay Cutler
2003: Jay Cutler
2002: Jay Cutler
2001: Ronnie Coleman
2000: Flex Wheeler
1999: Nasser El Sonbaty
1998: Flex Wheeler
1997: Flex Wheeler
1996: Kevin Levrone
1995: Michael Francois
1994: Kevin Levrone
1993: Flex Wheeler
1992: Vince Taylor
1991: Shawn Ray
1990: Mike Ashley
1989: Rich Gaspari
Some images from the Men's Open finals below: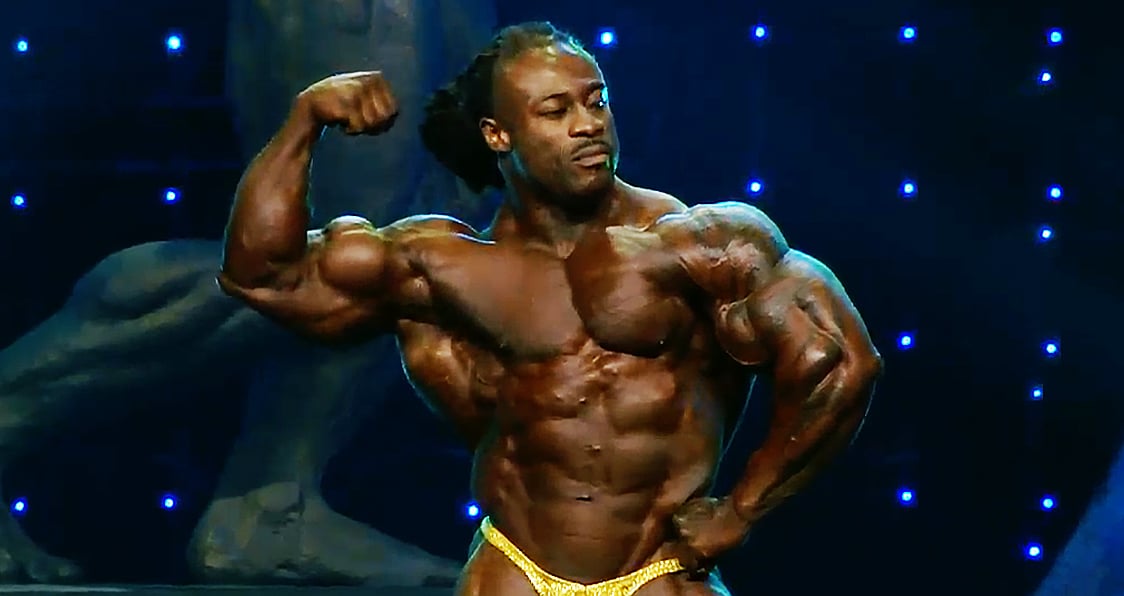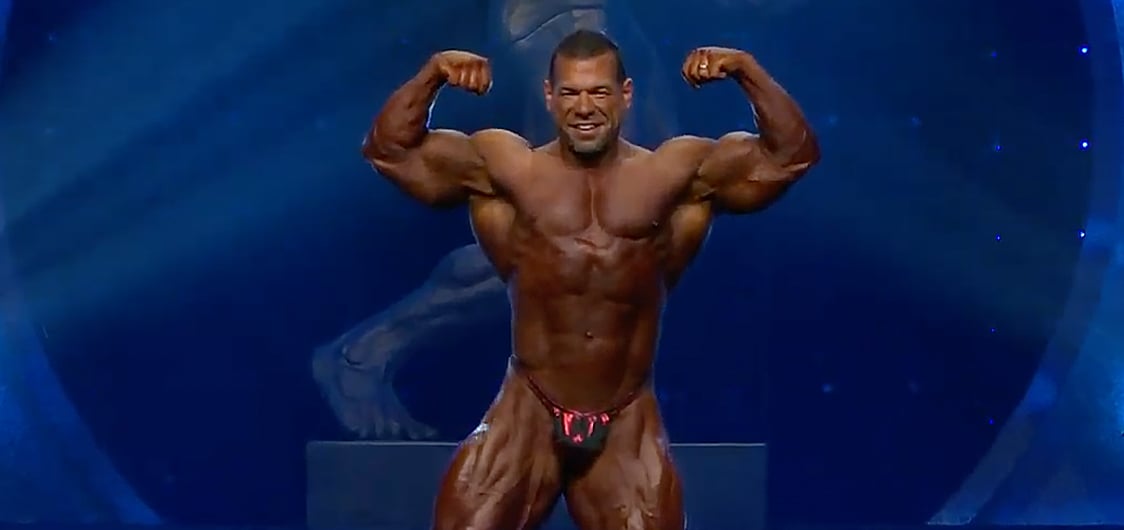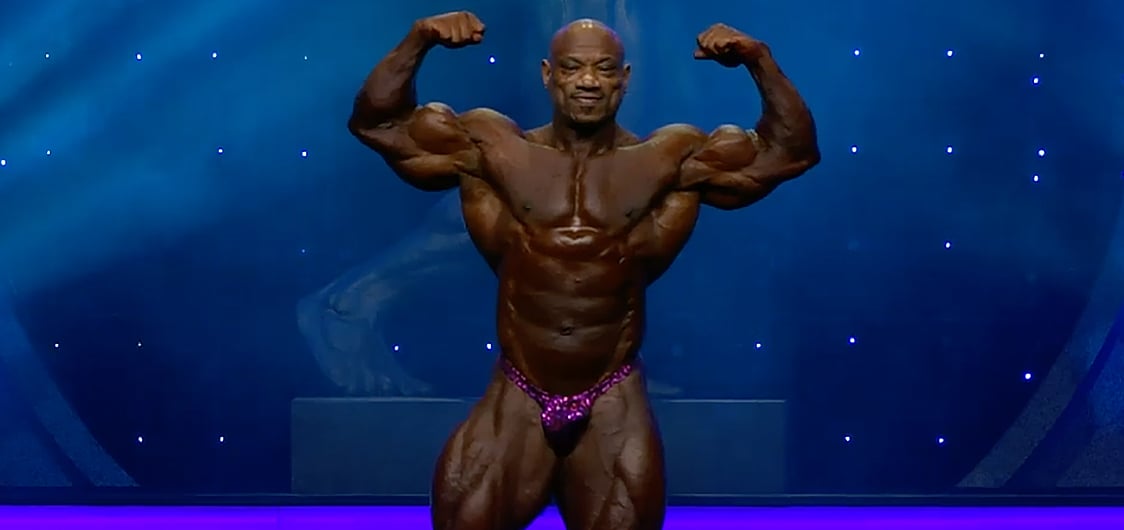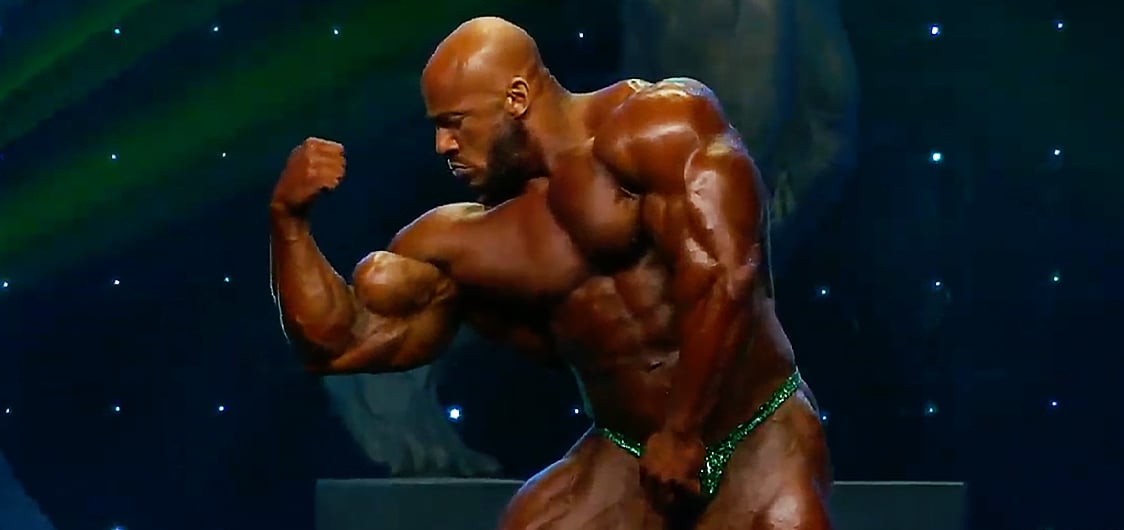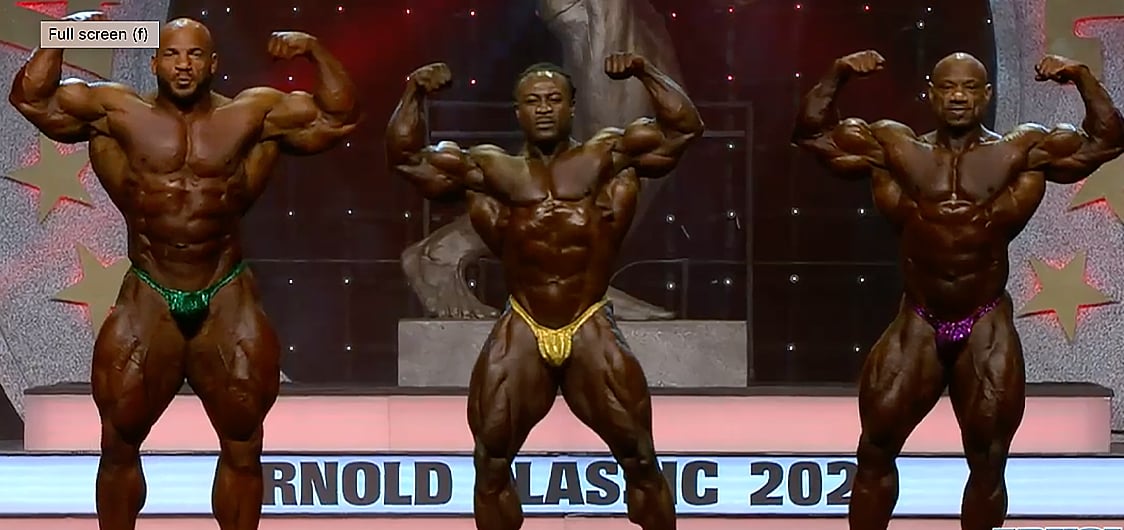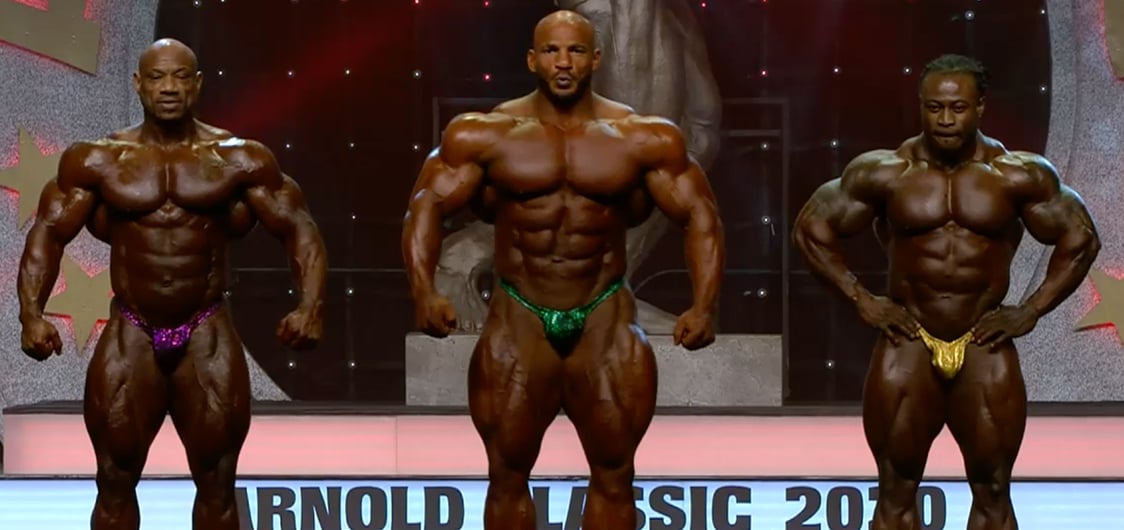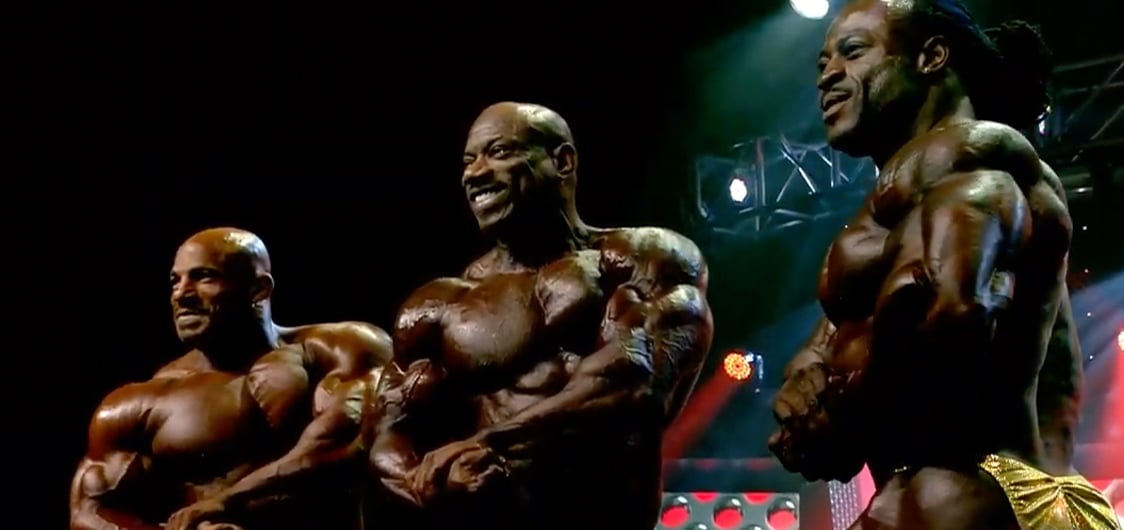 Arnold Classic 2020 Men's Physique Results
1. Andre Ferguson
2. Brandon Hendrickson
3. Steven Cao
4. George Brown
5. Carlos DeOliveira
6. Yasser Fernando Chala Blandon
Official scorecard below: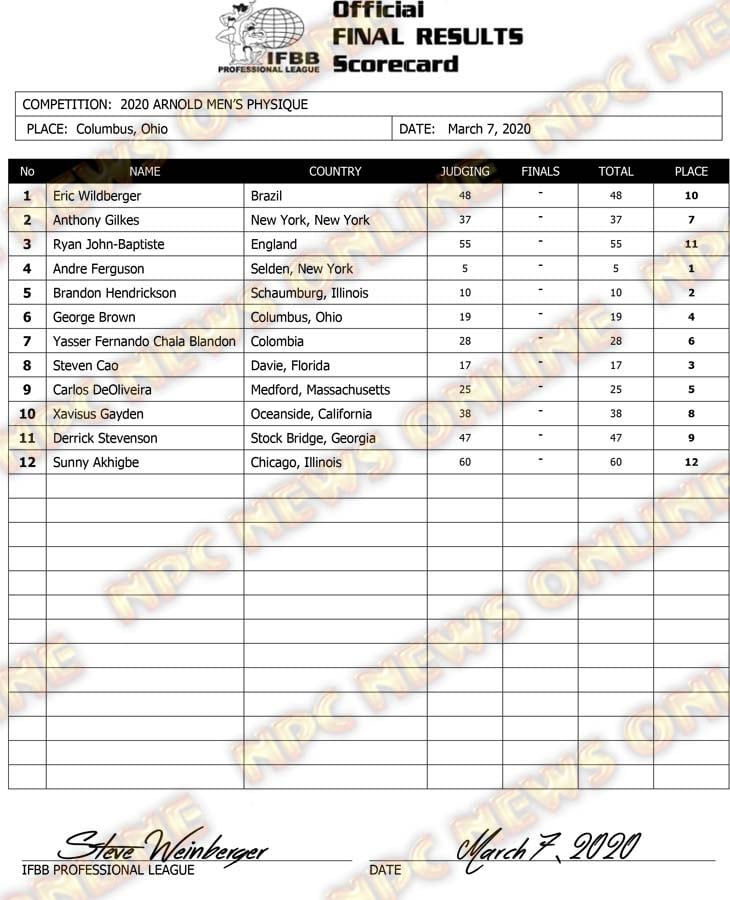 Arnold Classic 2020 Bikini Results
1. Elisa Pecini
2. Angelica Tiexiera
3. Janet Layug
4. Priscila Leimbacher
5. Etila Santiago Santos
6. Jennifer Ronzitti
Official scorecard below: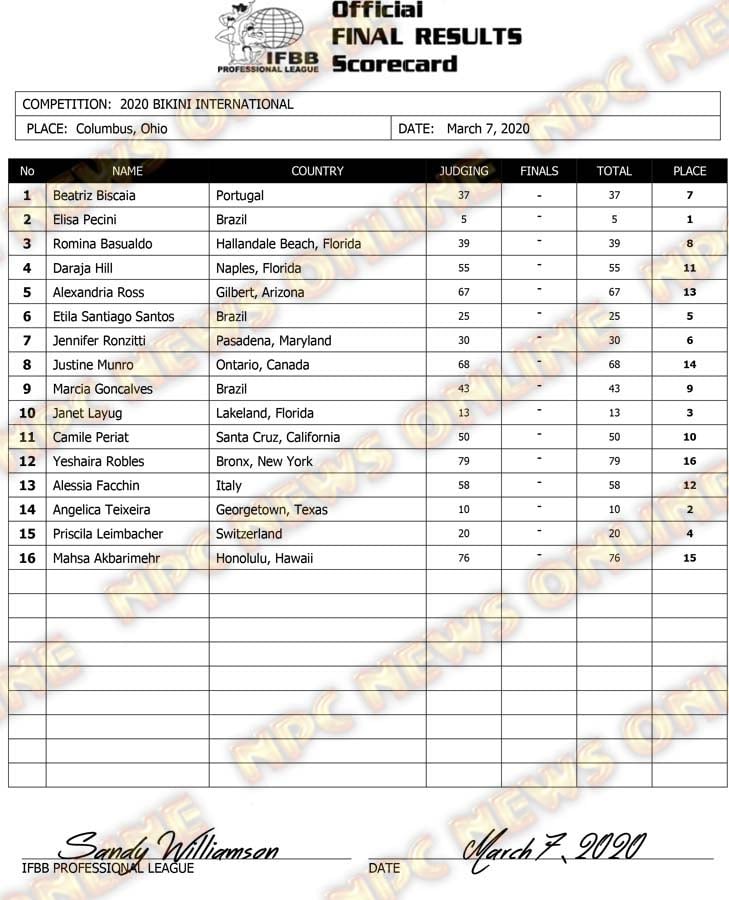 Arnold Strongman Classic 2020 Results
1. Hafthor Bjornsson
2. Mateusz Kieliszikowski
3. Martins Licis
4. Jean-Francois Caron
5. Alexi Nobikov
6. Rob Kearney
7. Mikhail Shivlyakov
8. Jerry Pritchett
9. Bobby Thompson
10. Matjaz Belsak
Arnold Classic 2020 Pro Wheelchair Results
1. Harold Kelley
2. Antoni Khadraoui
3. Bradley Betts
4. Johnny Quinn
Official scorecard below:

Arnold Classic 2020 Classic Physique Results
1. Alex Cambronero
2. Terrence Ruffin
3. Steve Laureus
4. Abner Logan
5. Rickey Moten
6. Santiago Aragon
Official scorecard below:

Arnold Classic 2020 Women's Physique Results
1. Natalia Abraham Coelho
2. Ann-Loraine Mohn
3. Margita Zamalova
4. Dasunka Dawson
5. Jennifer Taylor
6. Claudia Diaz
Official scorecard below:

Arnold Classic 2020 Fitness International Results
1. Missy Truscott
2. Ariel Khadr
3. Tiffany Chandler
4. Darina Wilson
5. Darrien Borello
6. Marta Aguilar
Official scorecard below:

Arnold Classic 2019 Figure International Results
1. Natalia Soltero
2. Bojana Vasiljevic
3. Jessica Reyes Padilla
4. Ashley Soto
5. Anna Banks
6. Lola Montez
Official scorecard below: