Supplements to get you to optimal testosterone levels
When it comes to testosterone, this is a hormone you do not want to play around with. It does naturally decrease as time goes on, but you certainly want to do everything you can to slow down and combat that process. While some may turn to anabolic steroids, some may look to use testosterone replacement therapy, and some may use natural testosterone supplements. But, in a world full of junk supplements, what is the best over the counter testosterone booster?
Testosterone Overview
The first thing to establish is what exactly testosterone is. Many think that testosterone is just what helps a man build muscle mass and grow a beard, but it is much more than that. Testosterone is needed for things like muscle building, libido, and some other things. Let's look.
Here are some benefits of having high testosterone levels:
Less body fat

Sharper mentality 

Increased muscle mass

Increased sex drive

Stronger bones

Physical Strength
What to Look for in an Over the Counter Testosterone Booster
Now that we have established what the hormone is, we should discuss what exactly you should look for in an over the counter testosterone booster. You more than likely will not want to go and buy the first one you see, as there are so many products out there that guarantee results that you will never truly get. So, what are some things to keep an eye out for with an over the counter test booster? 
Promises
The first thing you should look for is what exactly the product tells you it is going to do. A good testosterone booster will advertise to do things such as: 
Increase strength

Increase libido

Increase muscle mass
Price
A big driving factor between purchasing or removing a product from your cart, is price. While you do not want something that is far out of your budget, keep in mind that you pay for quality. This means that the best over the counter supplement will not necessarily be cheap. Find something that is in the middle! 
Ingredients
Perhaps the most important thing to look for in an over the counter testosterone booster are the ingredients. There are a few key things to look for in these products, so let's break it down.
These are the ingredients to look for: 
These are only a few of many ingredients that, when combined, can be great for your testosterone levels. While you can buy them all as separate supplements, it makes it much easier and cheaper to find one supplement that combines them. This is what we would consider to be considered the best over the counter testosterone booster.
So, what would our choice be?
MUTANT TEST
Higher testosterone levels make it easier for you to gain muscle mass, lose fat, feel energetic and have a healthy libido, and as you get older your levels will drop. MUTANT TEST is here to help.
As stated above, you should want to find an over the counter testosterone booster that combines all of those ingredients into one. MUTANT TEST does just that, and then some. No, you cannot escape the inevitable reality of dropping testosterone levels, but you can fight back with our top choice for an over the counter testosterone booster, MUTANT® TEST. It is a pro-caliber formula with concentrated levels of 18 ingredients designed to raise your testosterone levels like never before.
Ingredients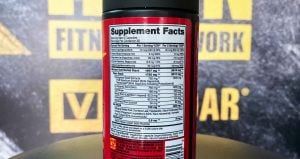 Ingredients are undoubtedly a big factor that can make a product worth buying or not. When it comes to an over the counter testosterone booster, you should want something that really works for you, and MUTANT TEST does that. Many test products only increase total testosterone (mostly bound forms), which your body cannot use for muscle growth signaling. MUTANT TEST is different from other test boosters on the market, as the key ingredient in it is Testosurge®, which is a patented fenugreek seed extract that has been clinically shown to quickly & naturally increase the active testosterone forms you need to get results you want, and MUTANT has the results to back it up, check it out.
"In a double-blind placebo controlled study, participants using Testosurge® experienced a 313% increase in total testosterone, a 220% increase in bioavailable testosterone, and 120% increase in free testosterone in just ten hours!² This premium ingredient also sustains newly generated free testosterone levels while inhibiting estrogen by attaching to sex hormone binding globulin (SHBG), acting as an anti-aromatase inhibitor and 5 α-reductase inhibitor."
On top of that, MUTANT® TEST is filled natural herbs that include:
Oat Straw
Maca Root (Lepidium meyenii)
Cranberry
Eleuthero Root Extract
Stinging Nettle Root
Damiana Leaf, Hesperetin
Giant Knotweed Root Extract (Polygonum cuspidatum) (50% Trans resveratrol),
Turmeric Root Extract (95% Curcuminoids)
That is a very abundant blend of herbs! These natural herbals all contribute to anti-aromatizing (testosterone protecting) effects. This means that the extra testosterone you are producing will not convert to estrogen in the body, as estrogen is known to cause side effects such as water retention, gynecomastia, low sex drive, amongst others. The anti aromatizing effects can also help enhance your muscle recovery and growth, kickstart your libido, improve body composition and elevate energy.
The ingredient list does not stop there, however, as MUTANT TEST also includes:
D-Aspartic Acid (DAA)
Zinc
Vitamin D
Vitamin B6
Magnesium
Selenium
These ingredients are enhanced with BioPerine® Black Pepper Extract (95% Piperine) which helps the body really absorb everything.
| | |
| --- | --- |
| Number Of Ingredients | 18 |
| Number of Servings | 30 |
| Serving Size | 3 Capsules |
| Highest Dosed Ingredient | Mutant Test Herbal Stack 1.9G |
| Best Way To Take | Take 3 capsules in the morning on an empty stomach |
As you can see, it comes with 30 servings and each serving is 3 capsules that you take right in the morning before breakfast, making it an easy to take supplement.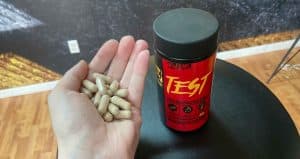 However, as our choice for the best over the counter testosterone booster, you may want to see the pros and cons!
Pros
Top-quality innovative formula with scientifically backed ingredients

Vegan-friendly

Manufactured in a cGMP approved facility to ensure a clean process
Cons
The magnesium dose could be a bit higher
Check out our review for MUTANT TEST!
Frequently Asked Questions
When it comes to finding and purchasing the  best over the counter testosterone booster, you may have some questions. 
When do I need a testosterone booster?
Everyone is different, but you may notice a few key symptoms when your testosterone levels begin to decrease. Symptoms of low testosterone can include: 
Higher body fat

Lower sex drive

Loss of strength 

Loss of muscle mass

Fatigue

Depression
Now of course, you may experience only some, or all of these symptoms, and it may not mean that you have low test right off the bat. For that reason we strongly encourage you to see a physician to get your levels tested before looking for the best over the counter testosterone booster.
How effective are testosterone boosters?
This is another thing that depends on who you are. Testosterone boosters are supplements, they are designed to give you that extra boost, not replace what you already have. For example, if you are taking a testosterone booster and looking to have a high sex drive and get jacked, but you're still eating junk food and not lifting correctly, then a test booster might not be the best choice. 
That being said, make sure you have your diet and lifting regimens in order when you go out looking for the best over the counter testosterone booster. 
Will a testosterone booster help erectile dysfunction?
Testosterone boosters might help with erectile dysfunction, but it is best to consult with a physician if this is an issue. 
Best OTC Testosterone Boosters Wrap Up
Overall, testosterone is something that you really want to be optimized, as it has so many health benefits to your physical and mental being. While TRT may not be an option for everyone, finding the best over the counter testosterone booster is certainly something to consider, and out choice would have to be Centrapeak?
Do you agree with our choice for the best over the counter testosterone booster?
Let us know what you think in the comments below. Also, be sure to follow Generation Iron on Facebook, Twitter, and Instagram.