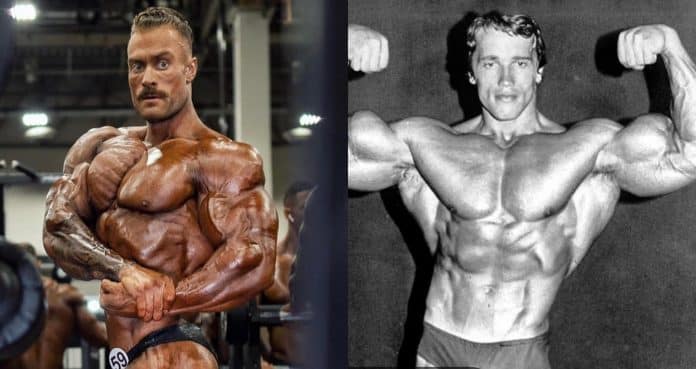 Chris Bumstead spoke on what a matchup against Arnold Schwarzenegger would look like.
Chris Bumstead is not only the top competitor in Classic Physique but he is also one of the biggest figures in the sport of bodybuilding. Naturally, the conversation of dream matchups comes up against some of the all-time greats. At the top of the list is Arnold Schwarzenegger. During a recent interview, Bumstead shared some insight on what this matchup might look like.
Bumstead is the reigning four-time Classic Physique Olympia champion. During the 2022 event, he was tested by Ramon Dino but in the end, Bumstead was able to win fairly comfortably. At the end of the year, he will look to make it five wins in a row. On stage, Bumstead has been unbeatable. Off stage, he has built a brand for himself that continues to grow.
Of course, this is what Schwarzenegger did as well. He revolutionized bodybuilding when he was competing. Following a career that has dubbed him the best of all-time, Schwarzenegger dabbled in both acting and politics.
Chris Bumstead: "Times Change…In Last Year's Olympia, I Think I Beat Him"
Obviously, it is impossible to know how Chris Bumstead and Arnold Schwarzenegger would look compared during the heights of their careers. During an appearance on the Full Send Podcast, Bumstead was asked who would win this matchup.
"It's really hard to say because people back then people weren't as lean. If I went back looking – I'd be the leanest person they'd ever seen they wouldn't even know what the f**k is going on. I don't know if they would even want that.

Maybe he would win because of that but he were to come today and compete against me in last year's Olympia, I think I would beat him because he's not in shape enough, you know, he wasn't."
View this post on Instagram
These conversations happen all across sports, no matter what it is. The only thing to say is how sports change and there are many factors at work when thinking about some of these fantasy pairings.
"It's like sports progress. Everything progresses. Like bay in the day, 90's NBA players used to drink beer at halftime. Now, they're f***ing having IVs put in them and all this shit just to perform at the highest level. Times change."
Chris Bumstead admitted that he has not spoken to Arnold Schwarzenegger many times but appreciates being in the same sentence as him.
"I've talked to him like once, for a short conversation. He's a busy man. I really don't see or talk to him at all.

It's an honor, for sure. He's the absolute GOAT. I don't think I'd ever replace him as the GOAT in bodybuilding. Some people have talked about that. I don't think you can compare the impact he had on the sport."
Bumstead ended the topic by acknowledging all that Schwarzenegger did for bodybuilding. It begins with performing on stage and now worrying about the prize money. Off the stage, Schwarzenegger wanted to bring attention to bodybuilding and he is one of the reasons that it is where it is today.
For more news and updates, follow Generation Iron on Facebook, Twitter, and Instagram.