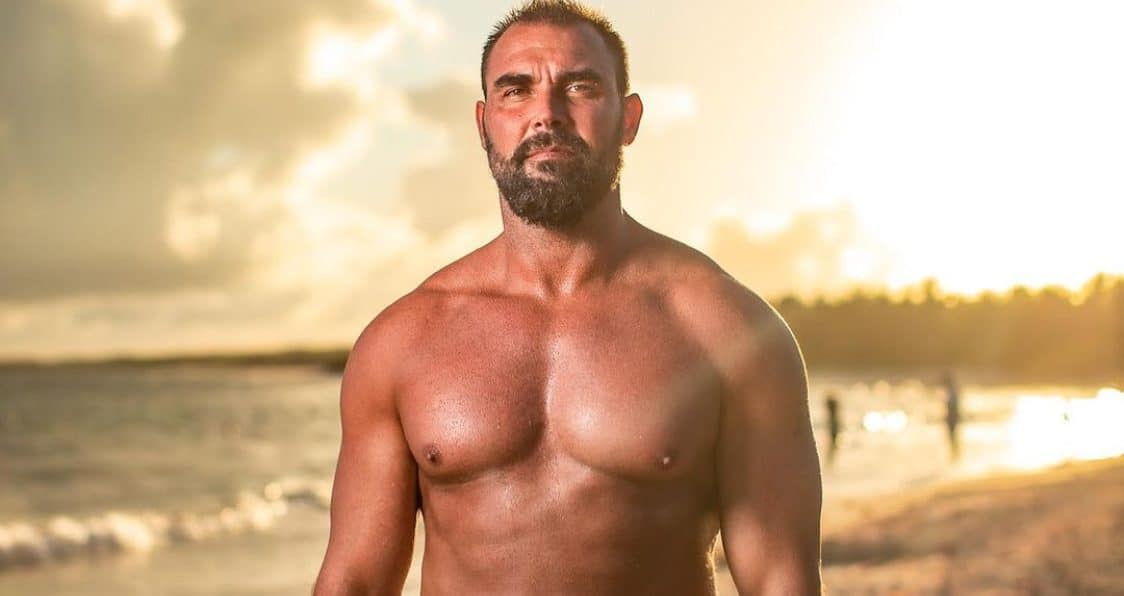 This workout from "The Glute Guy" will give you those toned glutes to add to your shredded aesthetic.
Bret Contreras is a fitness trainer and someone who many see as the world's expert on glute training. Nicknamed "The Glute Guy", his website contains everything you need to know about glute training, as well as all things related to sports science.
For many of us, finding the right workouts to really get us going can be difficult. With so many out there, looking for those top workouts that are most suitable for us can be a real challenge. But why not look to professionals, experts, bodybuilders, and trainers for help? They've made their life focus to do all things related to health and fitness and it would be a disservice to not listen to them. Plus, they are living proof that these workouts do in fact work.
With Bret's knowledge and fame as "The Glute Guy", toning and sculpting your glutes hasn't seemed easier. Sure, you have to put in the work, but don't let that deter you from getting a great workout done.
Full Name: Bret Contreras

Weight
Height
Date Of Birth
N/A
6'4''
07/26/1976
Profession
Era
Nationality
Personal Trainer, Social Media Personality
2010
American
With his expertise in the gym and his personality out of it, Bret has built a massive following for those in-person and online. As someone who knows a thing or two about sports science, he seeks to help others and give them the best advice to further their gains.
About Bret Contreras
Bret Contreras is an American personal trainer and online personality nicknamed "The Glute Guy" for his knowledge and expertise on how best to build those toned and sculpted glutes. He has a variety of credentials with a Master's from Arizona State University and a PhD in Sports Science from AUT University. The author or co-author of a number of books, as well as the founder of gyms and programs, Bret as earned the reputation as the world's expert on all things glutes. With his website and massive following on social media, he also has the platform to reach a wide array of people to give them the best advice as they seek to tone and sculpt not only their glutes, but their entire physique.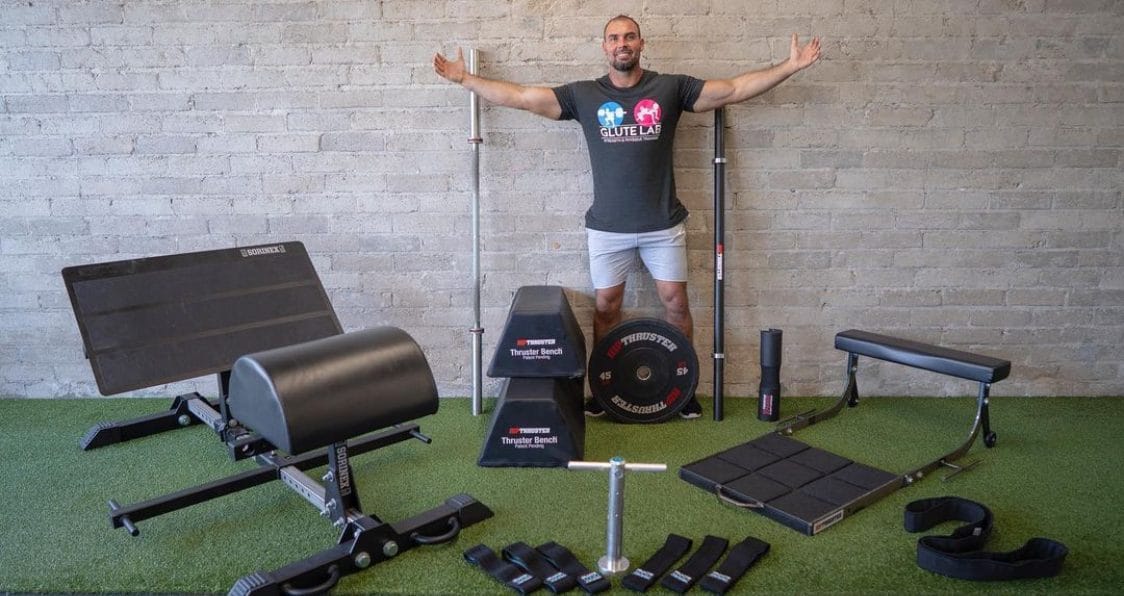 Bret Contreras Workout
This 4-day workout is one to seriously fire up those glutes, as well as provide for a full body session. A mix of great exercises each targeting specific needs, you can't go wrong with this full body workout*.
Monday
| | | |
| --- | --- | --- |
| Exercises | Sets | Reps |
| Barbell Hip Thrust Pyramid | 1 of each | 10, 8, 6, 15 |
| Goblet Squat | 3 | 12 |
| Heavy Kettlebell Deadlift | 2 | 15 |
| 45-Degree Hyper | 2 | 20 |
| Band Seated Hip Abduction | 2 | 20 |
| Incline Press | 2 | 10 |
| Lat Pulldown | 2 | 10 |
Tuesday
| | | |
| --- | --- | --- |
| Exercises | Sets | Reps |
| Band Hip Thrust | 3 | 10 |
| Walking Lunge | 2 | 50 (25 per leg) |
| Reverse Hyper | 3 | 10 |
| Lateral Band Walk | 3 | 20 |
| Push-Up | 2 | AMRAP |
| Hammer Strength Row | 2 | 10 |
Thursday
| | | |
| --- | --- | --- |
| Exercises | Sets | Reps |
| Barbell Hip Thrust | 3 | 6 |
| Bulgarian Split Squat | 2 | 10 |
| 45-Degree Hyper | 2 | 30 |
| Pendulum Quadruped Hip Extension | 2 | 10 |
| Band Side Lying Clam | 2 | 20 |
| Dumbbell Shoulder Press | 2 | 10 |
| One Arm Row | 2 | 10 |
Friday
| | | |
| --- | --- | --- |
| Exercises | Sets | Reps |
| Double Band Hip Thrust | 3 | 20 |
| Cybex Leg Press | 3 | 10 |
| American Deadlift | 2 | 8 |
| Band Standing Hip Abduction | 2 | 20 |
| Dumbbell Bench Press | 2 | 10 |
| Inverted Row | 2 | 10 |
*Workout from Bret Contreras' website
Some Of Bret's Favorite Glute Exercises
Since Bret is "The Glute Guy", let's take a look at some of his favorite glute building exercises to give you that definition.
The goblet squat is a great exercise to improve strength and mobility and to establish a better movement overall. A great variation of the squat, this can be done with a kettlebell or dumbbell and will work your glutes and quads.
The Romanian deadlift is a functional movement that works many muscles including your back, legs, glutes, core, and other upper body muscles to build strength and aid in overall performance (1).
A great exercise to use with a barbell, hip thrusts are perfect for lessening knee pain, aiding in better low back health, and promoting glute strength and explosiveness for all your needs (2).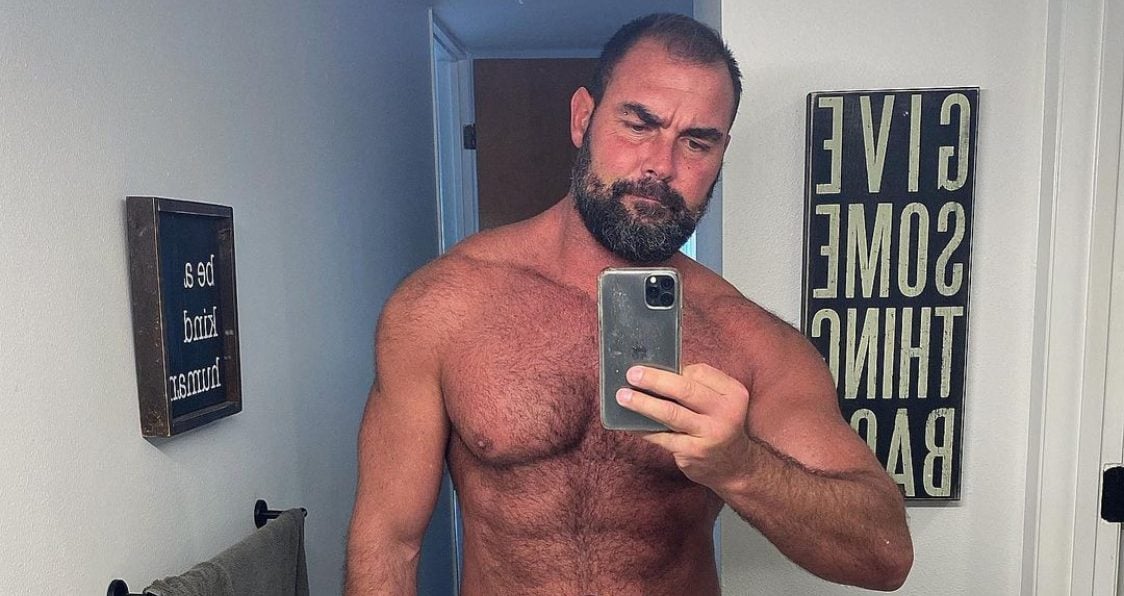 Great Supplement For Post-Workout Growth & Recovery
For those post-workout needs, it is best to find a great protein supplement that will work wonders for all your recovery and muscle building needs. After a grueling and tough workout, nothing beats a great protein shake to really capitalize on all your gains.
Transparent Labs 100% Grass-Fed Whey Protein Isolate
Code GENIRON10 For 10% Off
Transparent Labs 100% Grass-Fed Whey Protein Isolate is organic, non-GMO, and gluten-free, boasting a great formula for a top protein powder. With nothing artificial added, this is a clean protein that is easier on your stomach.
Transparent Labs 100% Grass-Fed Whey boasts an impressive array of eco-friendly accomplishments. It's organic, non-GMO, and gluten-free. There are no artificial sweeteners — a rarity in a world full of whey protein powder, which are almost always filled with chemical flavorings to disguise the chalkiness of protein. There are also no artificial colorings or preservatives added. If you have a sensitive stomach, allergies, or just care about the environment, this is an excellent whey isolate for you and your body weight goals and is easy to digest compared to a whey concentrate.
Use the promo code GENIRON10 for 10% off! Check out our individual review for Transparent Labs 100% Grass-Fed Whey Protein Isolate here!
---
Click here for our list of the Best Protein Powders for more great protein products!
---
Wrap Up
This workout from Bret Contreras offers a full body workout so you can target all of those muscle building, calorie burning, and physique needs. As "The Glute Guy", Bret works to put a real emphasis on the glutes, but with many accreditations and tons of experience, his knowledge of full body work is immense. With a massive following on social media, Bret works to inspire others to be their best and this workout will help get you to where you want to be yourself.
---
Generation Iron may receive commissions on purchases made through our links. See our disclosure page for more information.
Let us know what you think in the comments below. Also, be sure to follow Generation Iron on Facebook, Twitter, and Instagram. 
*Images courtesy of Bret Contreras Instagram
References
Fisher, J.; et al. (2013). "A randomized trial to consider the effect of Romanian deadlift exercise on the development of lumbar extension strength". (source)
Neto, W.; et al. (2019). "Barbell Hip Thrust, Muscular Activation and Performance: A Systematic Review". (source)